Offshore wind power fundamentals drive Vietnam's green transition: project developer
Thursday, 18:24, 16/02/2023
Offshore wind power will be fundamental to delivering Vietnam's green transition goals, said Stuart Livesey, the Vietnam Country Director for Copenhagen Offshore Partners (COP) - the offshore wind project developer of Copenhagen Infrastructure Partners (CIP).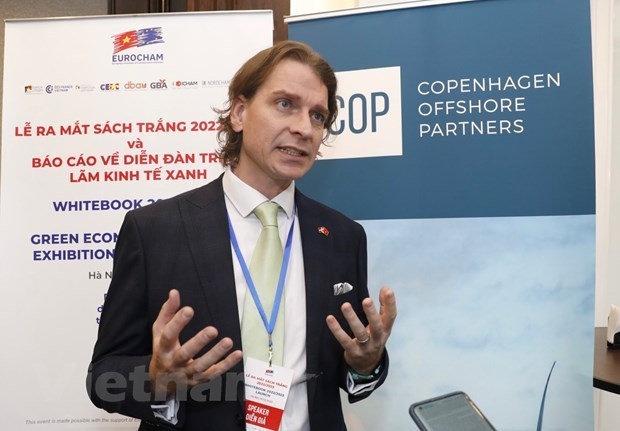 CIP is implementing La Gan offshore wind project in the central province of Binh Thuan.
On the sideline of the release of the 2022-2023 Whitebook "Working Toward a Green Economy and Sustainable Development" by the European Chamber of Commerce in Vietnam (EuroCham) on February 16, Livesey said that currently, Vietnam's offshore wind resource is relatively untapped, and establishing this industry has many benefits in comparison to other renewables.
Offshore wind power will likely be much cheaper and more sustainable than other energy sources, and can utilise many of Vietnam's existing and future labour force and supply chains, he said.
However, the official added that it is fundamentally impossible to deliver a commercial offshore wind farm in Vietnam due to a lack of necessary regulatory framework and a lack of flexibility for the offtake of energy to transition to allow for these offshore mega-projects.
Both national and international developers and investors are keen to invest in offshore wind in the Vietnam market.
However, the delays in key decision-making requirements and lack of ownership by aspects of the government to enable this industry could result in huge delays to green energy targets. Delays will cause billions of dollars of direct in-country investment, and potentially deter global investors from pursuing Vietnam when so many other emerging markets strive for their own offshore wind goals, he said.
For large international developers, ESG (Environmental, Social, and Governance) is increasingly important as part of their working policy, as these companies need to meet IFC (International Finance Corporation) standards to satisfy lenders and international organisations that have high standards to meet.
"Regulations should recognise the need to use these internationally recognised standards to establish qualified and transparent procedures on large-scale infrastructure projects," he recommended.
Talking about the need for green energy development in Vietnam, Livesey said that Vietnam has made some bold and commendable targets at COP26, actively taken a stance to combat climate change, and paid more attention to green energy generation for today and future generations.
"Green and sustainable energy is critical for both the future of Vietnam and its predicted growth, where there are needs from its people, and the industries and the global supply chain Vietnam provides," he said.
Countries and suppliers around the world are now setting their targets for green-sourced supply chains and green energy.
Many of those have strong commitments to the energy transition, so Vietnam must speed up the transition to maintain its position as a key export market in Southeast Asia, he said.