New generation FTAs help spur export growth in 2021
Friday, 00:24, 24/12/2021
VOV.VN - Vietnam's spectacular export growth can largely be attributed to the fact that local firms have effectively maintained traditional export markets and maximised the benefits of new-generation free trade agreements (FTAs), according to industry insiders.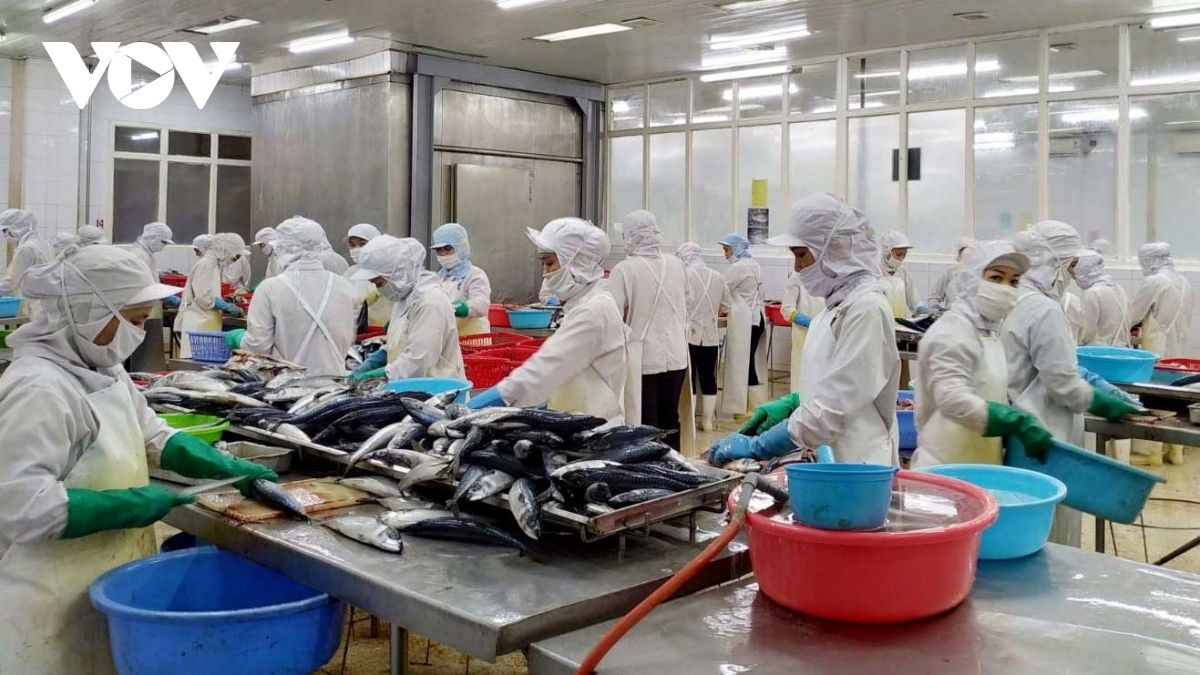 Experts point out that despite suffering a negative impact caused by the COVID-19 pandemic, Vietnamese exports have secured spectacular growth this year, with 11-month export turnover reaching approximately US$300 billion. The figure is expected to rise to US$331 billion by the year's end, representing a year-on-year increase of 18%, and beating the set target by 4 – 5%.
There were 34 export commodities with turnover surpassing over US$1 billion each, making up more than 93% of total export turnover this year. Notably, the group of computers, electronics and components grossed more than US$100 billion in import-export turnover for the first time.
Furthermore, the processing and manufacturing industry continued to represent the driving force for economic growth, accounting for more than 86% of the country's export turnover.
Tran Thanh Hai, deputy director of the Import-Export Department under the Ministry of Industry and Trade, points out that textile and footwear businesses in southern provinces which were hard hit by the prolonged COVID-19 outbreak have rapidly picked up steam, making a significant contribution to export growth.
In addition, the agricultural sector, which makes up less than 15% of the entire economy's export value, has provided fresh impetus to the country's export growth, as its farm produce exports brought back US$43.5 billion over the past 11 months. It is projected to record approximately US$47 billion in export turnover for the whole year, thereby exceeding the set target of some US$5 billion.
Among key farm exports as  Dr. Pham Tat Thang, a senior trade expert, reveals Vietnamese lychees have made inroads into high-end markets for the first time this year, while rice has also yielded high export value thanks to the promotion of prestigious brands in overseas markets.
Experts mainly attribute this robust export growth to Vietnam's efforts in maintaining its traditional export markets such as the United States, China, the European Union, ASEAN, the Republic of Korea, and Japan.
Moreover, Vietnamese enterprises have effectively utilised opportunities from new-generation FTAs ​​such as the Comprehensive and Progressive Agreement for Trans-pacific Partnership (CPTPP), European Union – Vietnam Free Trade Agreement (EVFTA), and United Kingdom – Vietnam Free Trade Agreement (UKVFTA), in order to diversify markets and expand exports to potential markets.
Statistics from the Ministry of Industry and Trade indicate that Vietnamese exports to the EU and UK have increased by 10.6 and 14.5% respectively since the EVFTA and UKVFTA came into force.  
Meanwhile, exports to CPTPP markets such as Canada, Mexico, and Peru have continued to record high growth of 17.6%, 43.9%, and 84.3%, respectively.
Such impressive export growth proves that the Government's efforts to expand markets overseas through bilateral and multilateral trade negotiations have paid off, helping Vietnamese goods, especially agro-fisheries products, gain entry into demanding markets.
Deputy Minister of Industry and Trade Tran Quoc Khanh points out Vietnam has obtained success in export growth thanks to effectively maintaining production and export activities, especially at major industrial complexes such as Bac Ninh, Bac Giang, and Thai Nguyen amid the complicated developments of COVID-19.
The country has also made every effort to promote the circulation of goods and at the same time ensure safety for major export gateways during the social distancing period.
Despite bright spots in the year's overall export picture, experts suggest local firms pay close attention to trade remedy cases to proactively respond to them. In addition, there remain a number of inadequacies in the export structure as the export proportion of the foreign invested enterprise (FDI) sector still accounts for more than 70% of total export turnover.
This means that businesses should meet high requirements in terms of labour and environmental standards set by new-generation FTAs to accelerate exports in a sustainable manner, say experts.