National economy under inflationary pressure
Tuesday, 11:38, 26/10/2021
VOV.VN - Inflation has been kept at a low rate in Vietnam since the beginning of the year, although pressure is starting to build up moving into the remaining months of the year and early 2022, according to economists.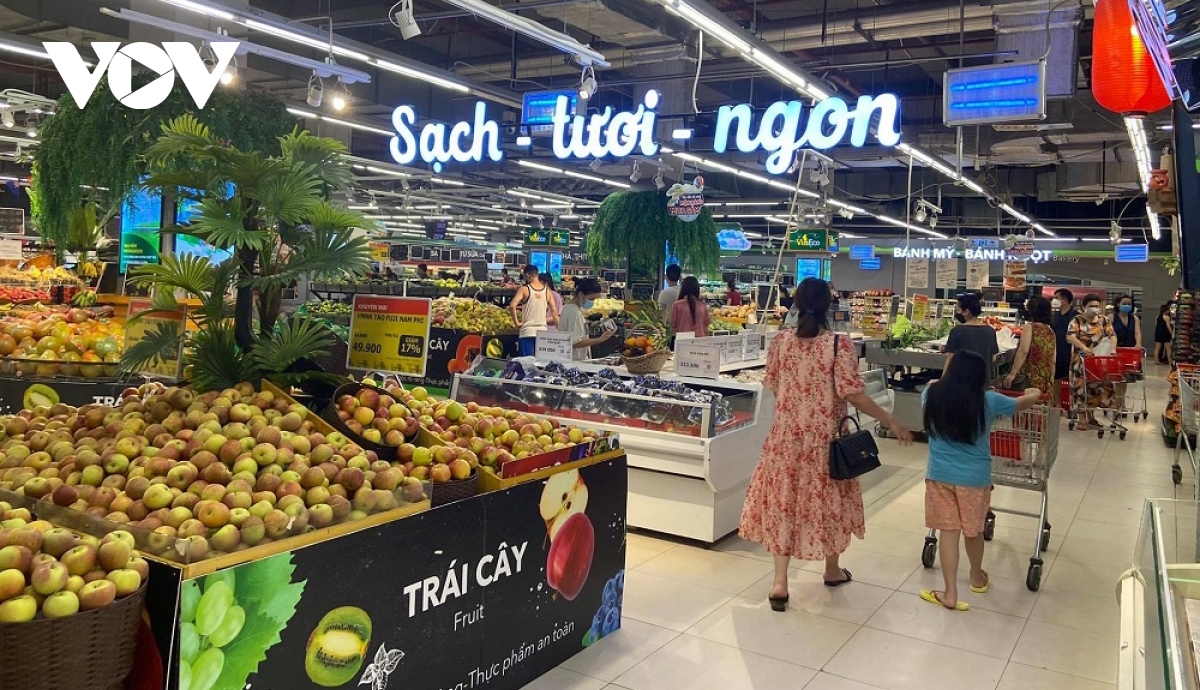 The General Statistics Office (GSO) reports that the opening nine months of the year saw average inflation rise by 0.88% year-on-year due to a poor purchasing power caused by the impact of the COVID-19 pandemic. This figure is rather low, making it easier for the country to rein in inflation this year.  
Dr. Nguyen Duc Do, deputy head of the Finance-Economic Institute, forecasts that this year's inflation is likely to hover at around 2%, with the current rise in food prices coming as a result of supply chain disruption not lasting long.
"When the pandemic is completely controlled, food prices will drop again," explains Do. "Generally, COVID-19 causes people's incomes to decrease, and when the purchasing power is low, prices are unable to soar sharply," Dr. Do explained.
"For some materials, their prices may increase sharply, but the proportion of these products in the consumer price index (CPI) basket is not large. For instance, steel prices have increased sharply in recent times, but steel is part of a group of housing, electricity, water, fuel and construction materials that account for less than 20% of the currency basket," he analyses.
In contrast, other experts warn there remain factors that are set to fuel inflation in the remaining months of the year and into the start of 2022.
Dr. Pham The Anh of Hanoi-based National Economics University, says the low CPI rate mirrors the true nature of the ailing economy which has been hit hard by COVID-19, although it will be a different story when the nation moves to fully reopen its economy.
"When the economy opens up and market demand increases again, inflationary pressure will rise considerably, especially given the current monetary context," says the economic expert.
"Deposit interest rates are low, there is almost no demand for production loans, and banks are also finding it difficult to mobilise capital. Meanwhile, huge amounts of money have been poured into the stock and real estate markets. The property bubble has already happened, prompting housing prices to increase double or triple in the past year. Therefore, room for the monetary policy is very narrow," analyses Dr. Anh.
Sharing Dr. Anh's view, Dr. Nguyen Duc Thanh, director of the Vietnam Institute for Economic and Policy Research, says that production costs will also start to pick up very strongly ahead in the coming months, with this taking time to incorporate rising costs into product prices.
According to the expert, commodities prices are currently starting to rise, although the purchasing power is not much, meaning that it is possible the country falls into a mixed situation of both inflation and stagnation.
"Vietnam needs bailout packages to support post-pandemic economic recovery, but monetary policies should be implemented in a flexible way so as not to pressure inflation," Dr. Thanh suggests.