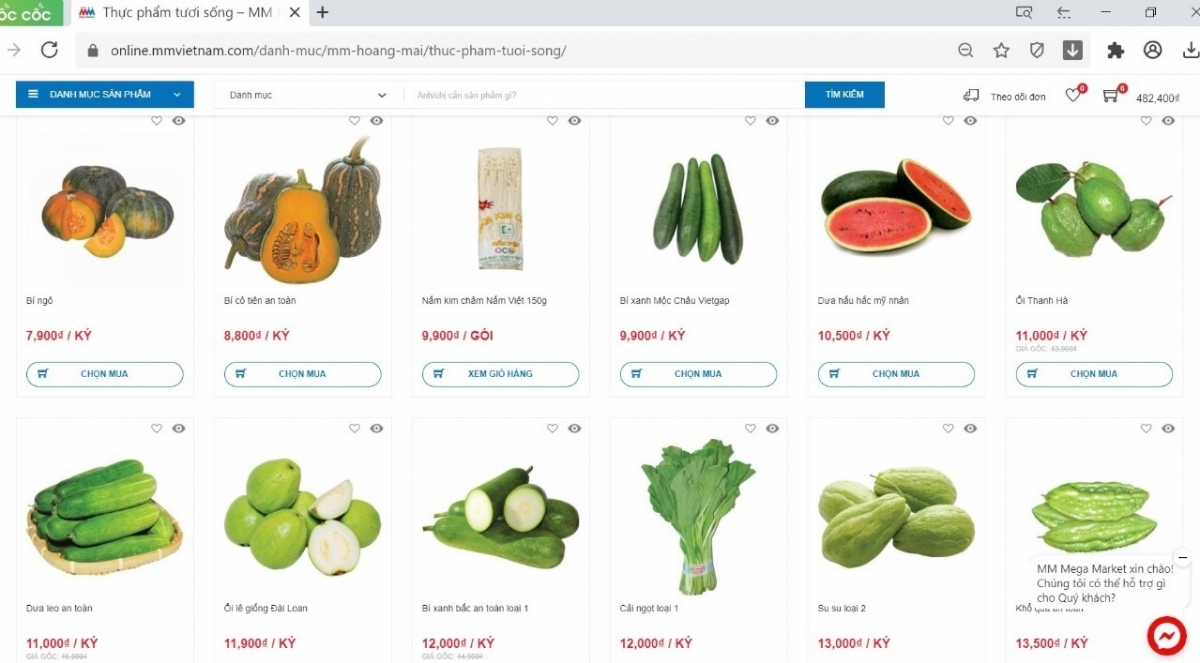 The company provides three flexible online shopping channels leveraging customers' habits, including MM Click and Get website (https://online.mmvietnam.com); hotlines of each supermarket (telesales); and MM's official Zalo account channel.
"Nowadays, online shopping is increasingly popular and it is becoming a global trend. At MM Mega Market Vietnam, one of our four core values is technology and innovation, we always look to expand omni channel operations to offer customers a comprehensive shopping experience in the digital transformation era," said Bruno Jousselin, managing director of MM Mega Market Vietnam.
"In the context of the COVID-19 outbreak as well as responding to the government's call to implement the 5K message, online shopping will be a safe choice for consumers at peak hours. We are committed to enriching our online offers and services to better serve customers. Our target is to also timely update customers on the status of our system and website in the event of any slowdown in services or other issues with clear visibility of their order status so we are working closely with all logistics service providers to tackle this point," he noted.
Great diversity of products and promotions
MM Mega Market's online shopping channels currently allow customers to access about 7,000 products of various categories, from fresh, frozen, and dry goods to essential items which are wholly available and fully stocked.
Its Ultra Fresh products are certified for food safety and hygiene and ensure traceability with MM's.
MM's online shopping channels have been constantly updated with attractive promotions such as 1Super Good Prices, Weekend Shock Prices, or Fresh Goods at Best Prices Every Day, along with and seasonal programmes like those linked with the European football championship 2020.
Multiple online shopping channels
Besides the variety of products, various online shopping channels, user-friendly interface, and simple process are also an added value of MM's online shopping solutions. From home, the office, or even on the road, customers can easily order products from MM through any electronic device with an internet connection.
When ordering on MM Click & Get website or on Zalo, customers will receive a confirmation call from supermarket staff before shipping. In addition, customers can also directly call the nearest MM Mega Market centre via its hotline to place an order.
In particular, MCARD – an extremely convenient application with many benefits for loyal customers – was introduced to the market by MM and has received great feedback. With MCARD App, customers can accumulate points to exchange for gifts or vouchers or receiving exclusive promotions. If you are an MM Member, remember to download the MCARD App to automatically benefit from the company's loyalty programmes.
Free delivery and lead time within four hours
MM Mega Market's online shopping solutions offer customers free shipping within 10km and in four hours. The company has made strides to enrich its delivery network to shorten delivery time. Customers can place orders at home through a few simple clicks. Orders placed after 5pm will be shipped on the next day. Besides cash on delivery (COD), customers in lockdown areas can pay via bank transfer to minimise direct contact.
According to MM Mega Market's top leader Bruno Jousselin, since the fourth outbreak of the COVID-19 pandemic in Vietnam, the number of orders coming from online shopping channels has increased 7-8 times over the previous wave. Online shopping not only helps customers save time and effort in daily consumption, but also offer the most safety for themselves, their family, and society.
"With the desire of bringing joy and convenience to our customer when they experience online shopping, we are committed to continuously invest in our digital channels for both B2B and B2C customers in the future. Furthermore, we are studying and attempting to put into practice the Pick & Go service. Powered by AI technology, customers will no longer have to wait in long queues – they will be able to simply grab what they want and walk out the store while their account is automatically charged within seconds," said Jousselin.