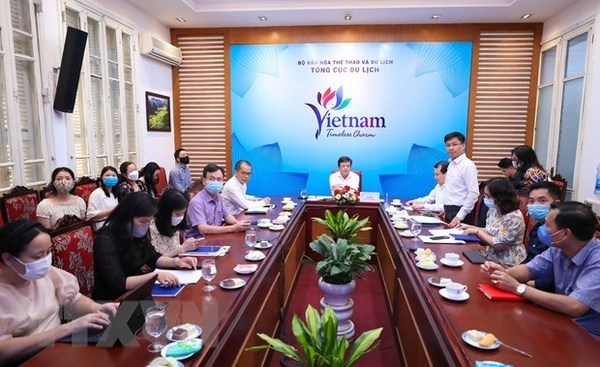 Participants at the function shared information regarding a pilot scheme aimed at opening up Phu Quoc island in Kien Giang province to international visitors, boosting tourism promotion activities, and increasing the connection of businesses to prepare for the full opening of the international tourism market.

The Ministry of Culture, Sports and Tourism has worked alongside localities and travel operators as they strive to prepare for the reopening of domestic tourism once COVID-19 is brought under control, Deputy Minister Viet said, adding that the local tourism sector is finalising steps to welcome back tourists to Phu Quoc.
The local tourism sector has received great support from various diplomatic activities, with numerous representative agencies abroad serving as bridges which can connect foreign tourists with the nation, he stated.
During the course of the meeting, various ambassadors and heads of Vietnamese diplomatic representative agencies in several countries, including Japan, the Republic of Korea, Singapore, Thailand, the United States, the UK, Germany, Spain, Russia, China, and Malaysia, said that people are now seeking safe and friendly tourist destinations. In addition, convenient immigration and quarantine policies for people who are fully vaccinated against COVID-19 is also a main factor when travelers come to choose their holiday destination.
They therefore suggested the nation should work alongside other countries regarding a mutual recognition of vaccine certification. Indeed, the country should also issue consistent
procedures to welcome foreign tourists and quickly announce them in order to ensure safety for both tourists and local residents, they emphasised.
Meanwhile, Deputy Foreign Minister Dung affirmed that the Ministry, embassies, and Vietnamese representative agencies abroad will continue to accompany and support the Ministry of Culture, Sports and Tourism in carrying out international tourism activities, with the reopening of Phu Quoc being the first step. As a result, the Ministry has proposed the reopening of domestic and international air routes to Phu Quoc.
So far, both Kien Giang and the Ministry of Culture, Sports and Tourism have successfully agreed on the time to start the pilot scheme to welcome foreign tourists back to Phu Quoc, which is in late November. The Vietnam National Administration of Tourism has also outlined a tourism communication and promotion programme to invite additional tourists to the island, while also making preparations to reopen the entire Vietnamese tourism market moving forward.