Local electrical, electronic, and telecoms products face hurdles in EU market
Wednesday, 12:05, 31/05/2023
VOV.VN - Vietnamese electrical, electronic, and telecoms products have encountered numerous difficulties in making inroads into the EU market due to the strict requirements imposed regarding the rule of origin, sustainable development, and technical barriers to trade (TBT), heard a hybrid workshop held on May 30 in Ho Chi Minh City.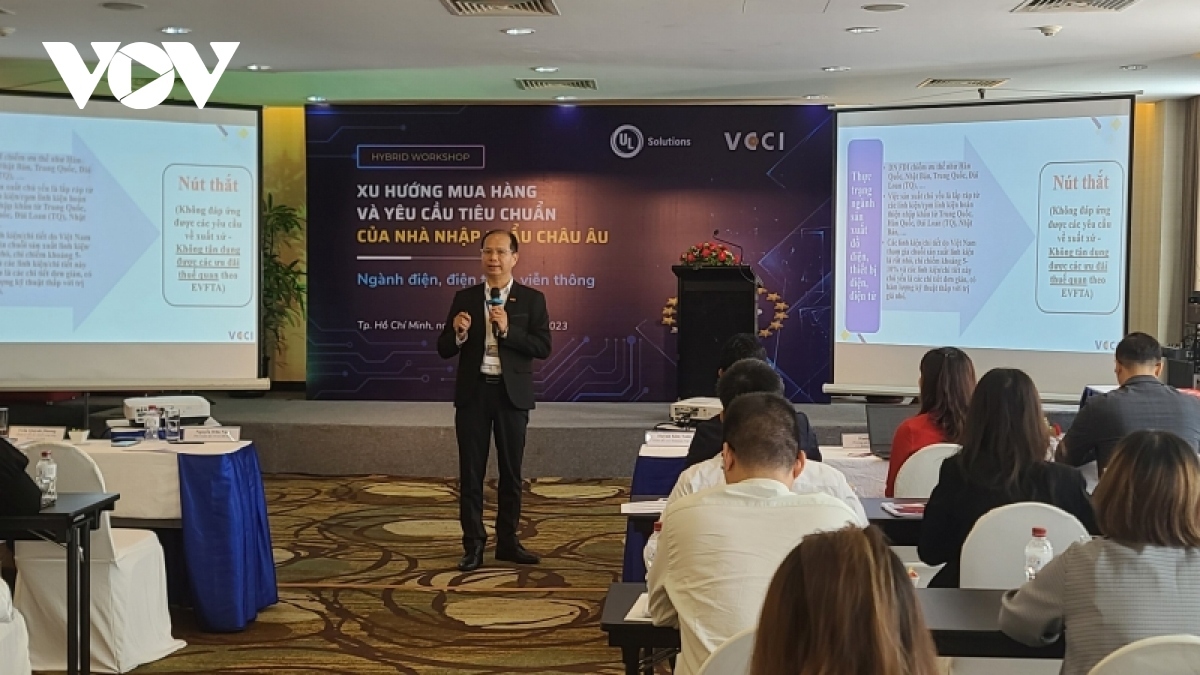 At the event, Nguyen Huu Nam, deputy director of the Vietnam Chamber of Commerce and Industry's Ho Chi Minh City Branch, pointed out that the enforcement of 15 free trade agreements (FTAs) has made Vietnam's electrical, electronic, and telecommunications products enjoy preferential tariffs of 0% when exporting to the EU market.
Furthermore, local businesses are also allowed to become involved in the supply chain of raw materials within the EU. However, they are required to meet the stringent requirements set by European importers to enjoy these incentives.
At present, the production and assembly of components and accessories for electrical, electronic, and telecommunications products in the country depends heavily on imported components.
The situation has therefore put Vietnamese goods at risk of not being able to meet the regulations on origin traceability, thereby not being able to take the full advantage of the incentives from the EU-Vietnam Free Trade Agreement (EVFTA).
Nam added that Vietnamese electrical, electronic, and telecommunications products are also required to meet other requirements related to sustainable development from EU nations.
Moreover, consumers in Europe have a lot of requests related to humanity, people, the environment, and society, he said, noting that businesses will have to ensure that they fully comply with the requirements related to TBT when exporting their products to the bloc moving forward.