Japan increases investment in Vietnamese market despite COVID-19 challenges
Thursday, 12:34, 23/09/2021
VOV.VN - Despite facing a range of adverse impacts caused by the COVID-19 pandemic, several foreign investors have maintained their investment in the Vietnamese market, with Japan being the only major investor to increase its capital in the country.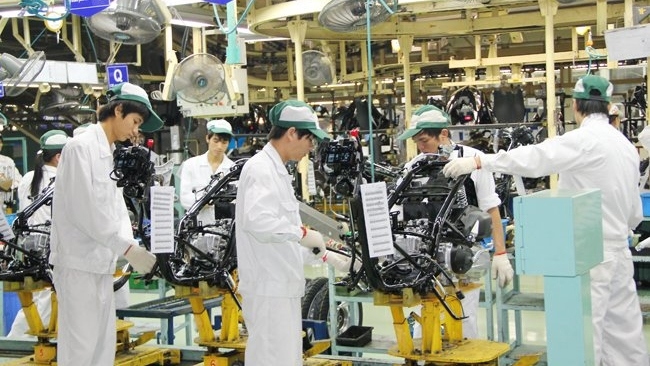 Ta Duc Minh, Vietnamese trade counselor in Japan, said the East Asian nation is currently the fourth largest Vietnamese trading partner with a total two-way trade turnover reaching US$40 billion.
During the opening seven months of the year, mutual import-export turnover surged by 11.9% to reach US$24.5 billion against the same period from last year
Japan represents the second largest foreign investor with 4,690 projects capitalised at US$62.9 billion, thereby accounting for roughly 16% of the total foreign investment capital in the nation.
Among 92 countries and territories investing in the country during the initial eight months of the year, Japan has an investment capital exceeding US$3.2 billion,  accounting for 16.8% of total investment capital, and representing an annual rise of 94.9%, behind only Singapore.
Most notably, only the East Asian nation is moving to increase investment capital in the country, while other major partners like Singapore and the Republic of Korea have tended to reduce investment capital amid COVID-19 challenges.
Minh elaborated that while the global economy is seeing a strong wave of M&A on a large scale, the M&A market domestically has also become bustling with major deals, thereby turning the nation into the leading M&A destination in Southeast Asia.
Amid the trend of shifting production out of China which began back in mid-2020, several foreign investors, including Japanese financiers, have selected the Vietnamese market as a destination to redirect their focus, largely due to its political stability and positive economic growth, despite the COVID-19 pandemic impacting the world economy.
The Vietnamese M&A market continues to be led by investors from four countries, including Japan, the Republic of Korea, Thailand, and Singapore.
According to experts, the size of the Vietnamese M&A market this year will be between US$4.5 billion and US$5 billion, with a specific focus on fields such as consumer goods, retail and real estate, industry and agriculture.
As a means of attracting more foreign investors, apart from fine-tuning the legal system and improving the local investment climate, the nation needs to be more flexible in taking pandemic prevention measures. This can be done by accelerating vaccinations for employees, reducing taxes for enterprises to stabilise production, while resolving issues regarding logistics and supply chains, said Minh.
In order to minimise the adverse impacts of the pandemic, the Government should also consider relaxing social distancing measures, while simultaneously creating favourable conditions for experts and foreign investors to return to the country to work and survey the investment climate, the Vietnamese trade counselor added.