IMF forecasts Vietnam's GDP to see highest growth in ASEAN 5 group
Friday, 07:29, 15/10/2021
VOV.VN - The International Monetary Fund (IMF) has forecast Vietnam's GDP to grow at around 3.8% this year, higher than that of its regional peers, Malaysia, Thailand, the Philippines, and Indonesia.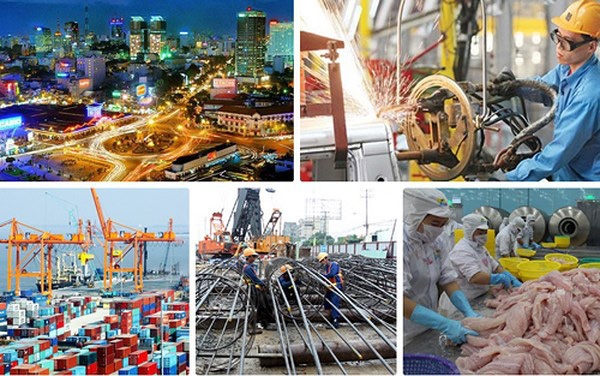 The IMF said in its "World Economic Outlook" report released recently that Asia's economic growth this year is predicted to stand at about 6.5%, with some countries enjoying good GDP growth rates such as Singapore at 6% in comparison to last year's negative growth rate of 5.4%, and China at 8% compared to 2.3% recorded in the previous year.
The remaining 4 countries, Indonesia, Thailand, the Philippines, and Malaysia last year all recorded negative growth, and this year's growth forecast is also below 3.5%, the IMF said, while forecasting that Thailand will grow at a mere 1% compared to last year's GDP negative growth of 6.1%.
According to the IMF, supply chain disruptions and price pressures are restraining the recovery momentum of economies. As a result, the global growth forecast for 2021 was downgraded to 5.9%, representing a slight drop from the previous figure of 6% and unchanged forecast for 2022 at 4.9%.
This organization said the labor force participation in the market remains lower than the pre-pandemic level. Overall, the labor market in emerging and developing countries is more affected than in developed ones.
Elsewhere Vietnam's GDP growth forecast for this year has been lowered to 2-2.5%, according to the World Bank's October 2021 Vietnam Macro Monitoring.
Vietnam's GDP in the third quarter of 2021 fall by 6.2% from the same period last year, the sharpest decline since the nation announced its quarterly GDP, the WB estimated.
Given the sharp contraction of the GDP in the third quarter and depending on the strength of the economic rebound in the fourth quarter, GDP growth for 2021 is projected to be in the 2% to 2.5% range, well below the WB's August forecast of 4.8%, it said.