HCM City ramps up co-operation with Seoul
Thursday, 18:06, 04/08/2022
VOV.VN - Ho Chi Minh City has always sought to create the optimal conditions possible for Seoul's firms to seek investment opportunities in Vietnam in general and the southern hub in particular, said Phan Van Mai, chairman of Ho Chi Minh City People's Committee.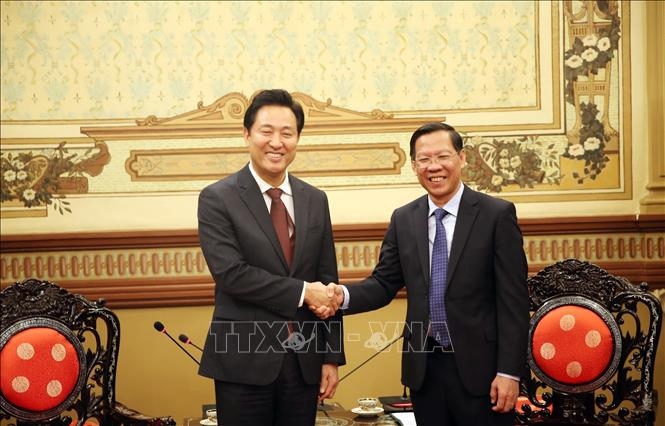 Mai made the statement during talks held on August 4 with Mayor of Seoul Oh Se-hoon, who is paying a working visit to the city as a means of strengthening co-operation between the two localities.
At the function, the municipal leader highlighted the comprehensive and extensive relationship between Vietnam and the Republic of Korea (RoK) across multiple fields, especially after both countries moved to upgrade their strategic co-operative partnership back in 2009.
At present, the RoK remains the southern city's third largest investor with over 1,900 valid projects capitalised at US$5.3 billion, he said, adding that Ho Chi Minh City has since gone on to establish friendly and co-operative ties with the RoK's seven localities, including Seoul.
Mai went on to express his hope that Seoul will continue to ramp up ties and share their experience in the fields of urban management, smart traffic, staff training, and innovative start-ups.
Both sides also spent time discussing ways to launch tourism co-operation products in order to promote tourism activities moving forward.
In response, Mayor Oh Se-hoon expressed his delight at the growing co-operative relations between the RoK and Vietnam, while pledging to create favourable conditions for firms based in Seoul to invest in the Vietnamese metropolis in spheres such as urban transport, tourism and smart cities in the time head.
He outlined his desire for Ho Chi Minh City to continue facilitating the RoK businesses' operations to invest and conduct long-term business in the city.
He revealed that Ho Chi Minh City and Seoul are expected to sign a number of co-operation agreements in the advantageous fields of mutual concern in the future.