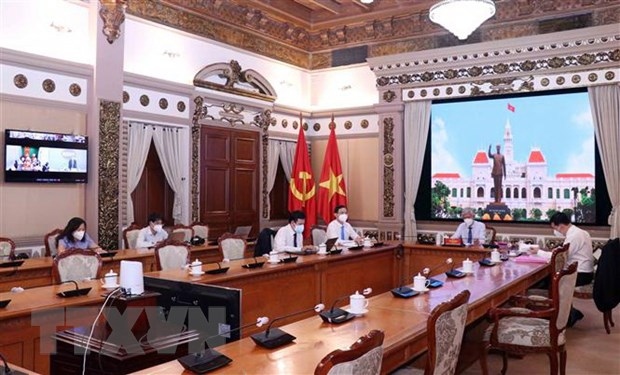 Vo Van Hoan, vice chairman of the Ho Chi Minh City People's Committee, made the affirmation during an online conference held on October 18 between 28 heads of Vietnamese diplomatic missions abroad for the 2021 to 2024 term, and representatives of 19 localities in key economic regions in the South and the Mekong Delta.
Hoan used the platform to suggest that the new heads of diplomatic missions in countries whose localities are identified as key points in foreign relations continue to help deal with issues which are of the southern city's concern
Most notably, the southern metropolis desires to ramp up co-operation with the US in the fields of smart cities, renewable energy, and innovation.
It also pays close attention to connecting with successful Vietnamese start-ups in the US, strengthening educational co-operation, and calling for the Vietnamese community residing in the US to continue their great contributions to contribute to the cause of national development.
This is in addition to boosting co-operation activities between Ho Chi Minh City and San Francisco, with the Californian city maintaining friendly and co-operative relations with the Vietnamese city since 1995 in terms of high technology and education.
Furthermore, Ho Chi Minh City hopes that diplomatic representative agencies in Germany will continue to help promote the relationship between the southern city and Frankfurt and Leipzig, as well as other German localities. This is in relation to the implementation of a memorandum of understanding (MOU) on co-operation in information technology, investment, trade, science, the environment, adaption to climate change, and tourism.
It also aspires to receive greater support in terms of calling partners to invest in the financial sector, developing a financial, science and technology centre, all of which are fields which are the strengths of Germany.
Municipal leaders therefore proposed that diplomatic missions in Japan continue to support and create favourable conditions for the city to share experience and study Japanese smart urban development models, typically those within the framework of the Japan-ASEAN Smart Cities Network.
They also underlined the necessity of augmenting co-operation in supplying medical equipment, transferring vaccine production technology, whilst also connecting businesses in the field of the environment and climate change to continue realising a low-carbon city development plan with Osaka.
The Vietnamese metropolis also wants Japanese localities to support its annual organisation of cultural festivals  in the Far East nation, while helping implement effectively agreements on tourism co-operation. This is along with attracting more Japanese visitors to the city moving into the new normal, enhancing cultural exchanges and Japanese teaching, whilst training municipal educational administrators and teachers.
As for the Chinese city of Shanghai, the southern city wishes to ramp up co-operation in the fields of construction, financial centre development, policy formulation, reform, education management, youth exchanges, and co-operation in general and tertiary education, specifically vocational training.
Moreover, bolstering co-operation with all countries and foreign localities for the successful implementation of municipal development projects remains key. This is particularly true as Ho Chi Minh City focuses on smart city projects, a financial centre development project, and a project on formation and development of an innovative, and highly interactive city in the East of the city.
In his remarks, Deputy Minister of Foreign Affairs To Anh Dung acknowledged proposals made by municipal leaders on the need for international co-operation relations to connect with foreign partners for socio-economic development activities in the city.
New Vietnamese Ambassadors and Consul Generals therefore pledged greater efforts to push forward foreign affairs as proposed by localities. This is in addition to fulfilling the role of connecting localities in the southern key economic region, provinces in the Mekong Delta, and foreign partners in the fields of economics, trade, investment, and science and technology.