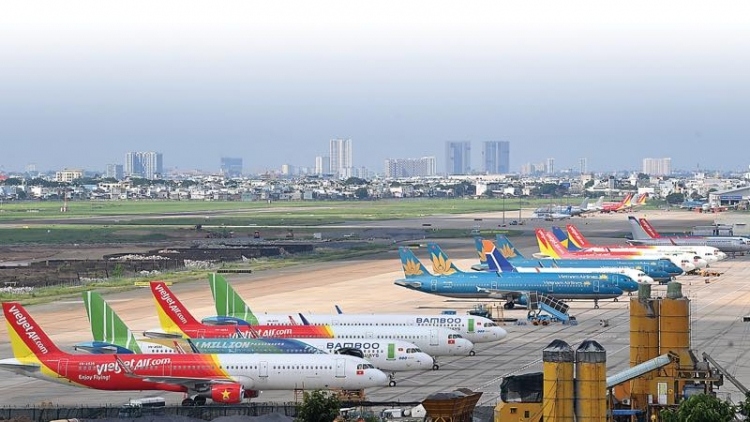 The move is necessary as it will help localities gradually restore economic development and bring people's lives back to normal, Deputy Prime Minister Le Van Thanh told an online meeting with relevant ministries and localities on October 8.
However, he noted easing air travel restrictions will pose a potential risk of virus infection that directly affects local socio-economic development and people's health.
He therefore suggested that the gradual resumption of domestic air routes should be done in a careful manner to ensure safety and avoid the spread of the virus through strict control of passengers at airports, in the air and when they return to their localities upon arrival.
In addition, he said localities must keep a close watch on passengers' movement and promptly isolate F0 cases (if any) in order to nip in a bud a possible outbreak of the virus in the community.
The Deputy Prime Minister asked the Ministry of Transport to work alongside the Ministry of health, Ministry of Public Security, Ministry of National Defence and localities to introduce temporary regulations and carry out the pilot scheme.
The Vietnam Aviation Business Association (VABA) earlier called on cities and provinces to facilitate the operation of regular domestic flights.
According to VABA, the high vaccination rate in Hanoi, Ho Chi Minh City and other localities will help reduce the probability of infection and the risk of death.
In addition, all passengers are required to undergo a quick test for the SARS-CoV-2 virus before boarding the plane. They must also turn on the COVID-19 tracking app (PC COVID) and not go to a concentrated isolation facility as previously required at the destination.
VABA reports that revenue of airlines has decreased to less than 10% compared to the pre-pandemic period. The prolonged coronavirus has caused the aviation industry to lose more than VND500 billion day in revenue, and the tourism industry to lose nearly VND2,000 billion a day.
To date, more than 10 localities that house airports have agreed to resume domestic air routes.