Fibre exports hit a record high of US$5.5 billion
Monday, 07:58, 24/01/2022
VOV.VN - The fibre industry achieved an export turnover of US$5.5 billion for the first time in 2021, up 13% in volume and 50% in value thanks to advantages in terms of increased yarn prices and numerous orders.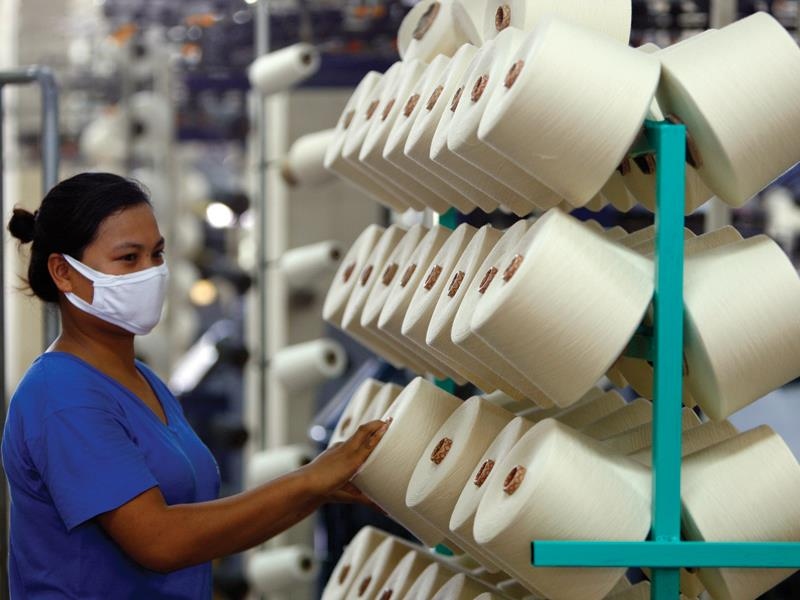 Despite being negatively affected by falling fibre prices and low market demand due the impact of the US-China trade war, and the COVID-19 pandemic during the two-year period (2019-2020), the fibre industry enjoyed high export growth as a result of rapid recovery.
In 2021, the price of export yarn soared by around 25% compared to 2020, in which cotton yarn has recorded the highest increase, followed by poly-visco yarn, poly yarn and poly-cotton blended yarn. Benefiting from high yarn prices, many businesses had fulfilled their orders far beyond the target set from the beginning of the year.
According to Nguyen Ngoc Binh,  deputy head of the Yarn Production and Business Department under the Vietnam National Textile and Garment Group (Vinatex), the fibre industry enjoyed plenty of advantages in 2021, thereby helping production, sales and export targets of local enterprises yield impressive results.
In late 2021, the yarn segment had contributed over 50% to Vinatex's total profit of VND1,200 billion.
According to a report from Vinatex, last year, despite being heavily affected by the pandemic, the group raked in more than US$16,430 billion in revenue, an increase of 10.7% compared to 2020 and recorded pre-tax profit of VND1,200 billion, posting a double increase in the same period, and accomplishing the recovery goal as prior to the pandemic with many higher targets set for the time to come.
If in the past, the garment industry accounted for about 80% of the group's profit, in 2021, the yarn segment had contributed over 50% of the total profit.  Vinatex's achievements were attributable to its greater investment strategy for the raw material segment that had been outlined five years ago.
Last year, in spite of the complicated pandemic situation, Vinatex put two new projects into operation as a way of continuing to expand its yarn supply capacity in 2022.
With the production recovery, the smooth resumption of supply chains, and relaxed and flexible pandemic control measures according to the Government's Resolution 128 on safe and flexible adaption to and effective control of the COVID-19 pandemic, domestic yarn production and exports are showing positive signs during the initial months of 2022.