FDI inflows record annual rise of 9.2% to over US$31 billion
Monday, 17:39, 27/12/2021
VOV.VN - Despite the negative impact of the COVID-19 pandemic, Vietnam has attracted US$31.15 billion in foreign direct investment (FDI) as of December 20, a year-on-year rise of 9.2%, according to the latest statistics from the Ministry of Planning and Investment.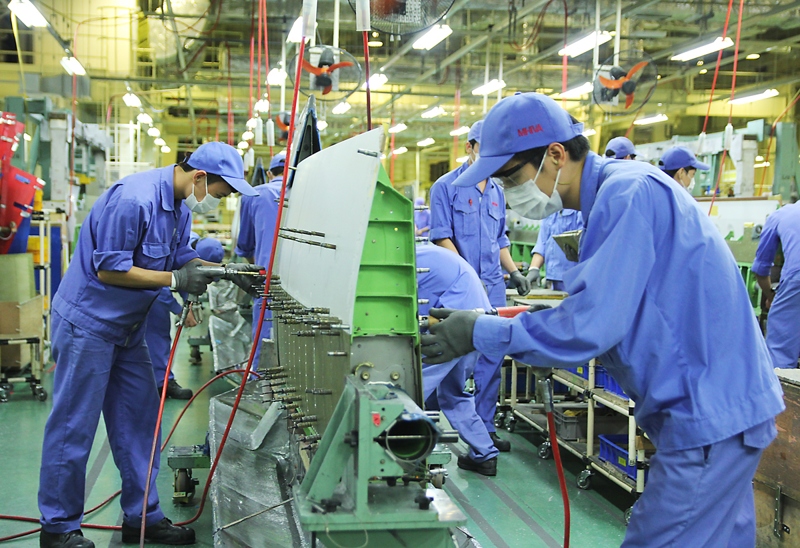 The country has welcomed 1,738 newly-licensed FDI projects capitalised at US$15.2 billion, down 31.1% in project numbers but up 4.1% in registered capital compared to 2020.
Furthermore, 985 operating projects were also permitted to raise their capital by over US$9 billion, representing an increase of 40.5% year on year.
The impressive growth is considered a bright spot in the overall picture of FDI attraction for the entire year, reflecting foreign investors' confidence and optimism in the local investment climate. 
Meanwhile, capital contributions and share purchases made by foreign investors stood at roughly US$6.9 billion, a decline of about 7.7% from the same period last year. A representative of the General Statistics Office (GSO) attributes the decline to the prolonged impact of social distancing measures against COVID-19.
In addition, the pandemic has also affected the merger and acquisition (M&A) market this year, which economists anticipate will see a boom next year.
Foreign financiers have injected their capital into 18 out of 21 economic sectors, with processing and manufacturing taking the lead, attracting over US$18.1 billion in capital or 58.2% of the total FDI.
Then come power production and distribution with over US$5.7 billion, real estate with US$2.6 billion, and wholesale and retail with more than US$1.4 billion.
Singapore led the pack of 106 countries and territories investing in the Vietnamese market with a total investment capital of over US$10.7 billion, making up 34.4% of the total and representing an annual rise of 19.1%. 
The Republic of Korea (RoK) ranked second with nearly US$5 billion, trailed by Japan with nearly US$3.9 billion.
According to Minister of Planning and Investment Nguyen Chi Dung, recent surveys indicate that 67% of European businesses have a positive assessment on the local business climate. Meanwhile, the Japanese business community has also expressed their optimism about prospects ahead for Vietnamese economic growth, with 47% of the firms planning to expand production and business in the country.
RoK businesses recently also unveiled their new investment plans in Vietnam, affirming that the Vietnamese market remains a safe and attractive investment destination for foreign investors moving into 2022.
Among localities, the northern port city of Hai Phong attracted the highest amount of FDI at over US$5.26 billion, representing a 3.5-fold increase from the same period last year, followed by Long An with US$3.84 billion, and Ho Chi Minh City with nearly US$3.74 billion.
Other localities, such as Binh Duong, Hanoi, Vinh Phuc, and Bac Ninh, also attracted large amounts of FDI this year.
Economists point out that given positive signs in FDI attraction this year, Vietnam has no other choice but to effectively contain the pandemic and at the same time to fine-tune its legal system in order to further attract investment.