Egyptian localities aspire to cooperate in areas of Vietnam's strength
Thursday, 08:56, 10/06/2021
VOV.VN - Numerous Egyptian localities are keen to promote co-operation with Vietnam in areas which are the country's strengths, such as seaports, logistics, gas, seafood, agriculture, tourism, and culture.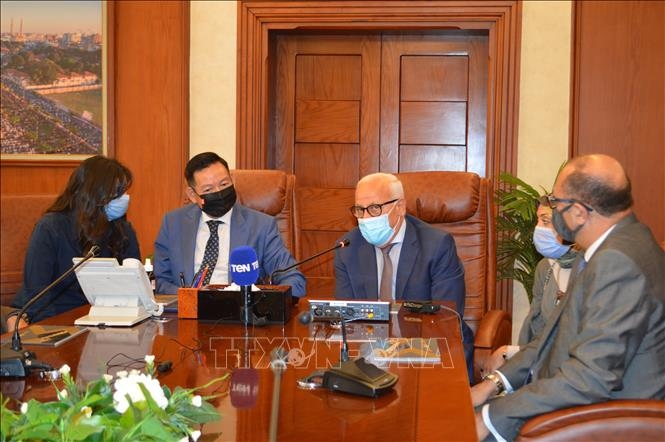 This view was shared during the course of a working sessions held on June 9 between Vietnamese Ambassador Tran Thanh Cong, the Governor of Port Said Adel e-Ghadban, and the Governor of Damietta, Manal Awad Mikhail to discuss ways to continue effectively implementing co-operation agreements and documents signed by both nations.
During the duration of the meetings, Ambassador Cong affirmed that both countries have enjoyed a strong friendship in both times of war as well as the current period of national construction.
The two sides have also seen important steps of development over recent years, especially following high-level visits in 2017 and 2018 by senior leaders, he added.
The Vietnamese diplomat therefore gave an overview of the nation's economic achievements, areas of strength, as well as current investment attraction policies. According to Ambassador Cong, the two countries have signed several documents and agreements aimed at strengthening bilateral relations in terms of economics, trade, and investment.
         
The Ambassador went on to suggest that on the basis of the strengths of the localities, seminars and conferences should be organised to promote trade and connect businesses as a means of creating the optimal conditions in which firms can learn about each other's respective strengths.
The provinces of Port Said and Damietta in Egypt are notable for having developed industries such as seaports and logistics, while Vietnam also boasts strengths in the marine economy and features a coastline of more than 3,200 km.
Ambassador Cong requested that the Egyptian side share their experience in port management and logistics, adding a suggestion that Port Said and Damietta provinces adopt preferential policies which can facilitate greater Vietnamese investment in the two localities.
In response , Governor e-Ghadban expressed his wish for the country to join with Port Said province in stepping up co-operation in areas where the locality possesses strengths in, such as seaports, logistics, gas, seafood, garments and textiles, agriculture, road construction, tourism, and culture.
He also anticipates Vietnamese businesses to invest in the East Port Said export processing zone.         
Furthermore, Governor Mikhail asked for both sides to ramp up co-operation in areas such as seaports, logistics, canned seafood, agriculture, furniture, medical equipment, apparel and textiles, and cultural exchange.
He expressed a desire to see Vietnamese businesses invest in the Damietta export processing zone, adding that her province is also keen to connect with a locality in Vietnam that has similar products for co-operation.
Both Port Said and Damietta have expressed their willingness to create favourable conditions for Vietnamese investors to engage in their export processing zones.