E-retailers pledge to move with the times
Sunday, 10:56, 26/12/2021
Vietnam's e-commerce sector is looking back on a year full of booming business, fuelled not only by increasing demand but also by technological innovations that foster more interaction between buyers and sellers.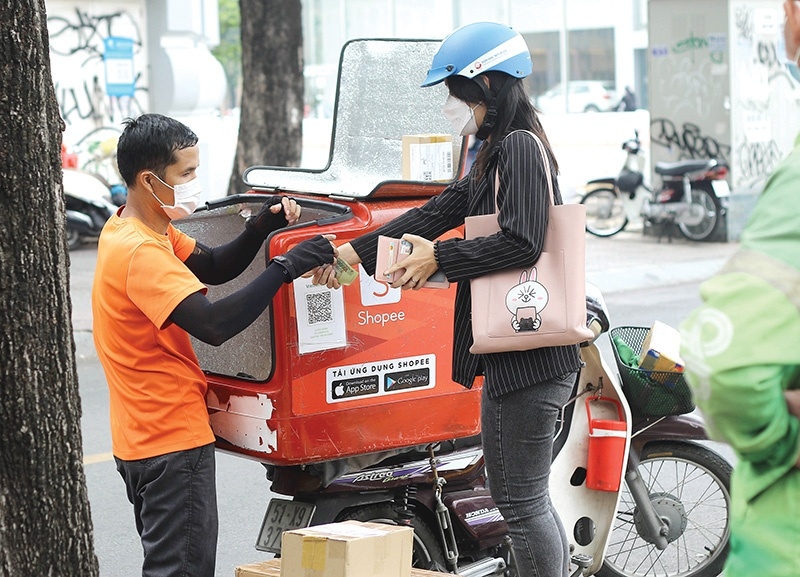 E-commerce revenues in Vietnam hit US$11.8 billion last year, posting a growth rate of 18%.
The rapid growth of the market is forecast to continue, as Vietnam is expected to be the fastest-growing e-commerce market in Southeast Asia by 2026, with gross merchandise value to reach $56 billion by 2026, 4.5 times the estimated value of 2021, according to a report by Facebook and American management consultancy Bain & Company.
Ngo Hoang Gia Khanh, vice president of Growth at Tiki, said, "People are now likely to shop online to buy essential items such as food and medicine. Moreover, e-commerce has become a sustainable channel for agricultural products."
Tiki has been rolling out solutions and services to cater to the increasing demand of customers. It launched TikiNGON with the mission of building a curated selection providing clean and healthy food and ingredients for daily meals to millions of Vietnamese families.
Tran Tuan Anh, managing director at Shopee Vietnam, said, "Businesses and sellers are implementing digital strategies to continue to reach users online. As online sales become a major distribution channel for brands and sellers, e-commerce platforms need to adapt and work with them on innovative retail strategies to engage customers in unique ways and strengthen their online presence."
Digital payments have become one of the preferred transaction methods on e-commerce platforms, allowing users and businesses to conduct transactions seamlessly and securely. For instance, Shopee provides a variety of integrated digital payment methods, one of which is its own ShopeePay.
In addition to shopping, users are gradually turning to e-commerce to serve the needs of interaction and entertainment at home. Therefore, Shopee has introduced a series of features to cater to these needs such as Shopee Feed, Shopee Live, and Shopee Gifts. "In the future, Shopee will continuously improve these features and introduce new ones to maintain interactions with consumers while ensuring the best experience for everyone in its ecosystem," Anh said.
Elsewhere, Lazada's in-app live streaming feature LazLize has witnessed impressive engagement. In the third quarter, LazLive's overall revenues increased by more than eight times against last year's period. The number of orders and shoppers on LazLive doubled during Lazada's shopping festival on November 11.
In addition, Lazada has added LazGame and LazCoin to draw in returning consumers. Some games like the Tree of Wishes and the Tree of Fortune have received an exponential increase in the number of users compared with pre-pandemic levels. Lazada has also organised a virtual home concert for shoppers to help them stay entertained while shopping at home.
The rapid growth of e-commerce is also driving unprecedented demand for logistics services in Vietnam.
Lazada has been pioneering modern technology and AI in its logistics infrastructure to ensure the fastest delivery times with the lowest cost. The company provides operational tools through real-time update panels, tracking, and chatbots.
In addition, Lazada has rolled out initiatives such as contactless delivery and electric bikes for delivery. It has replicated the drop-off point model at more than 2,000 convenience stores as well as applied a smart locker system. The company has established five more goods classification centres next to its main warehouse in Go Vap district of Ho Chi Minh City, helping to shorten transportation times.
Likewise, TikiNOW has officially integrated robots into operation. Each transports smart shelves called pods with the support of a barcode system on the floor. With a picking rate twice as high as usual methods and an error rate near zero, they are the optimal solution to help Tiki improve labour productivity, speed up the process, and deliver more goods to customers.
Currently, the robots are deployed at TikiNOW Smart Logistics Nha Be Fulfilment Centre. The company hopes to expand the model to all fulfilment centres to better meet the increasing shopping demand of customers.
At the same time, Shopee has implemented its Shopee Farm project to support farmers to introduce agricultural products from all provinces and cities in Vietnam on Shopee. In addition, the e-commerce giant also supports local farmers, cooperatives, and local businesses in accessing its online business model, building their brands, and promoting agricultural products on the platform.
Anh from Shopee said, "As consumers increasingly turn to e-commerce for their everyday needs, brands and sellers are simultaneously stepping up their digitalisation efforts and harnessing technology to engage with their target audience. With advantages in technology and operation, Shopee is flexible to support local sellers, businesses, and brands in setting up and managing online stores."
As the end of the year approaches, Shopee has launched the Shopee Celebrates Local project to focus on introducing local products to users. The project includes many offers and activities for sellers and buyers to help increase sales for Vietnamese businesses on the platform.
Meanwhile, Lazada has shortened registration procedures from two weeks to three hours in 2021, enabling businesses to quickly set up their virtual stalls and list their products online. The platform also shares e-commerce knowledge through different channels such as Lazada University, an online newspaper, seminars, and contests, and provides digital tools for marketing and sales on e-commerce platforms.