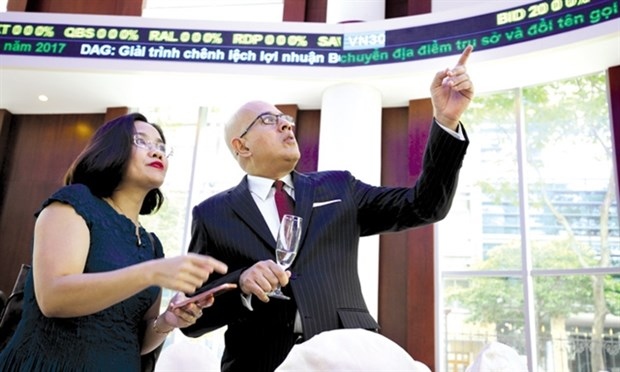 "ETF is often a cheaper and more efficient alternative to other investment funds, especially during periods of high volatility," a recent report by Ho Chi Minh City Securities Corporation (HSC) noted.

"Therefore, it is not surprising that Vietnam has followed the trend for ETF products."

ETF E1VFVN30, has grown impressively since its listing in October 2014. At peak time, the size of the fund was US$389 million, 42 times higher than originally. Currently, the fund's assets are US$372 million.

VFMVN Diamond ETF and SSIAM VNFIN Lead ETF, listed since May and March 2020, have also attracted much attention. Total assets under their management are currently at US$522 million and US$87.5 million, up 99 times and 47 times, respectively compared with when they were listed.

They have seen their net asset value (NAV) increasing faster than the general market, 33.1% and 44.7%, respectively.

Those that have performed poorly since listing include the SSIAM VNX50 ETF and the Vina Capital VN100 ETF.

The HSC report added, "The lesson learned so far is that ETFs simply based on the VN50 or VN100 indices perform worse than those based on selective indexes to suit the needs of hedge funds, or more knowledgeable domestic investors, such as VNDiamond and VNFIN Lead."

By far, the most successful ETF in attracting domestic capital is VFMVN Diamond ETF. This fund includes a number of stocks that have reached or are nearing the limit of foreign ownership. By purchasing Diamond ETF certificates, foreign investors can indirectly invest in Vietnamese stocks that have reached the maximum foreign ownership ratio.

Launched on May 2020 with an asset value of only US$4.5 million, the assets of the VFMVN Diamond ETF fund has increased 99 times to reach US$522 million at present and is currently the largest domestic ETF in Vietnam market.

This, according to HSC, could be attributed to new portfolio focusing on quality stocks.

The number of ETFs in Vietnam, including foreign ETFs and domestic ETFs, currently stands at 12 funds, seven of which are domestic ETFs, with a total value of assets of US$2.5 billion.

Globally, according to data compiled by ICI, assets in passive investment vehicles reached US$11.4 trillion at the end of November 2020, of which more than US$6 trillion were managed ETFs. According to Blackrock, assets in global ETFs are expected to reach US$12 trillion by the end of 2023.

The State Securities Commission (SSC) said in 2020 alone, there were five domestic ETFs established in Vietnam. These new ETFs are not only based on market capitalisation indices, such as the VN30 or VN100, but also adopt selective approach to meet the needs of hedge funds and the specific requirements of domestic investors.

Domestic ETFs in Vietnam are essentially open-ended funds and are managed by the State Securities Commission. They are usually listed on the HoSE and have to use a base index calculated by the HoSE, which is required by law.

Among the seven ETFs currently listed on HoSE, there are three ETFs using the VN30 index as the base, two ETFs using the VN100 and VNX50 indices as the base, and two using the VNDiamond and VNFIN Lead indices as the base.

Since domestic ETFs are listed on HoSE, investors need a securities trading account in Vietnam to trade.

ETFs are traded like any other stock on the HoSE with a minimum lot size of 100 fund certificates.

Among all the ETFs in Vietnam, the E1VFVN30 ETF is the only Vietnam ETF listed on Thailand stock market, with trading code E1VFVN3001. Foreign investors can buy ETFs in their home countries without setting up a trading account in Vietnam.