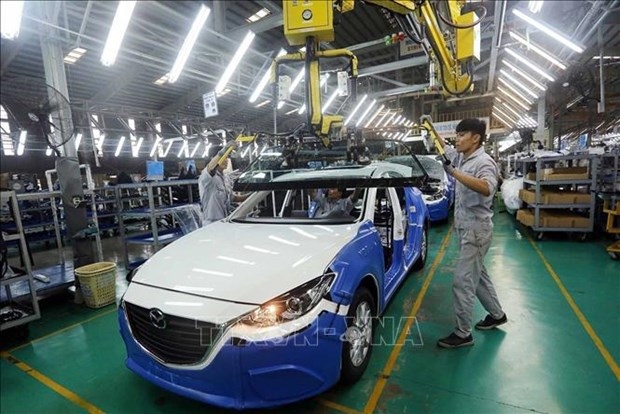 Daiki Mihara, General Director of Honda Vietnam, said the scarcity of the component currently has no impact on the production and assembling of the company, and it will try to minimise the impact, continue to monitor the situation, and protect the interests of its customers.

A representative of Toyota Vietnam also said the impact of the shortage is insignificant as orders are accepted and delivery made on time.

General Director of Suzuki Vietnam Co., Ltd. Toshiyuki Takahara said domestic models are somehow affected by the shortage, but the company is trying to meet the demand by ensuring the sources of raw materials for future supply.

As for the concern that the shortage may cause the number of locally assembled cars to decrease and increase prices, the Suzuki official said that production costs is now on the rise.

Meanwhile, the Honda official said this is a global issue and Honda Vietnam will deal with it with appropriate countermeasures.

According to experts in the automotive industry, each car has on average about 1,400 chips in hundreds of semiconductor parts and the number can amount to 3,000 in hi-tech vehicles such as electric or hybrid cars. Meanwhile, there are now almost no domestic enterprises capable of making a fully functional semiconductor chip.

The heavy reliance on overseas spare part manufactures, the disruption of supply chain due to COVID-19 pandemic, the US - China trade war and so on all have resulted in the shortage, they said.

Experts noted that although the level of technology is sometimes not as intensive as that in the US or European markets, automobiles both assembled in and imported to Vietnam are more or less affected by the chip shortage.

In Vietnam, the size of the auto market is only one-third of Thailand's and a quarter of Indonesia's, and as a result, the impact is not as visible as in other countries.

According to experts, the shortage of spare parts, especially semiconductor chips, can last until the end of this year or even into the first half of 2022. Activities of car manufacturers in the coming time will certainly feel the impact. Moreover, this shortage will make it difficult for the auto industry worldwide.

However, Suzuki official Takahara believes that the business will grow in the medium and long terms. But at the moment, it is impossible to say anything due to the spread of the COVID-19 pandemic.

Meanwhile, Mihara of Honda said there are still certain difficulties due to the impact of the COVID-19 pandemic on the economy, but expressed his belief that with effective support policies from the Government, the auto market will continue to grow this year.