Australia seeks chances for educational, agricultural cooperation with Can Tho
Tuesday, 09:07, 19/09/2023
The education and cuisine of Australia were introduced to the Mekong Delta city of Can Tho on September 18 with a view to further promoting bilateral connections.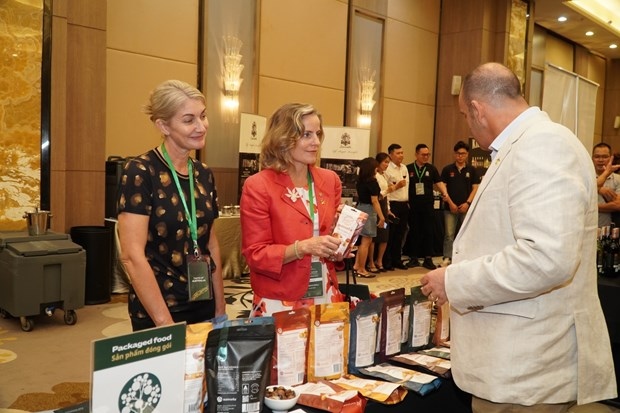 The programme, part of activities in celebration of the 50th anniversary of Vietnam - Australia diplomatic ties, was held by the Australian Trade and Investment Commission (Austrade) and the Australian Consulate General in Ho Chi Minh City.

It was an initiative of Austrade to introduce the country's potential and strengths in education - training and cuisine to key economic regions of Vietnam. The Australian delegation comprised 100 representatives from 25 training establishments; 45 food and beverage businesses; seafood, wine and fruit associations; and governments of Australian states.

Addressing the event, Rebecca Ball, senior trade and investment commissioner of Australia, said that through common efforts and commitments, both countries will obtain more achievements in trade and further reinforce friendship.

She elaborated that Vietnam is a leading exporter of coffee, rice, cashew nuts, peppercorn, and seafood. Meanwhile, Australia is famous for fruits, milk, wine, meat, and high-end seafood, giving the Vietnamese market more diverse choices and expanding seasonal business opportunities.

Besides, education has always played a key role in the bilateral relations, Ball went on, noting that the number of Vietnamese students in Australia has been rising considerably, and more Australian organisations are providing academic programmes in the Southeast Asian nation.

About 27,000 Vietnamese students are learning in Australia while 10,000 others are enrolling in Australian courses in Vietnam, she added.

Nguyen Thuc Hien, vice chairman of the Can Tho People's Committee, said bilateral economic and trade ties have been thriving. Trade between the two countries approximated US$16 billion in 2022, making Vietnam the 10th largest trading partner of Australia, which in turn ranked 7th among trading partners of the former.

The city is implementing a project on improving the awareness of creative education funded by the Asia Music Performing Arts Education (AMPA) of Australia. This project is a platform for more educational cooperation between the two sides, he said.

Hien called on Australia to help build Australian spaces at universities in Can Tho and send volunteers to teach English at local educational establishments in order to help with the city's development and strengthen the two countries' friendship.

In addition, Can Tho views applying science and technology to improve human resources, especially in agriculture, as one of the breakthrough steps. Given this, it welcomes and pledges to create the best possible conditions for Australian firms to explore investment chances in this field, Hien said.