Annual target of US$600 billion foreign trade within reach
Thursday, 13:06, 11/11/2021
VOV.VN - Vietnam's total import-export value over the opening 10 months of this year has grossed US$534 billion, and the country's economic recovery on track the Ministry of Industry and Trade (MoIT) says the year-end figure is likely to exceed the US$600 billion mark.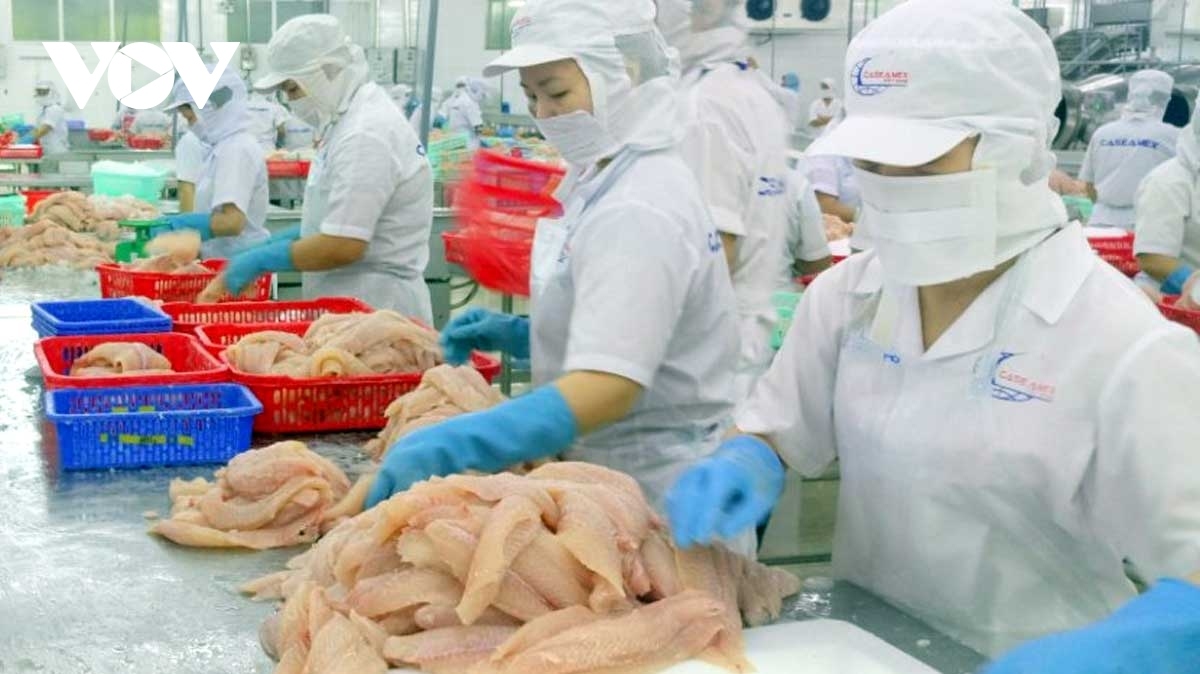 A 10-month socio-economic update by the General Statistics Office (GSO) indicates that Vietnam raked in US$267.93 billion from exports, an annual  rise of 16.6%, while it spent US$269.38 billion on imports, marking an increase of 28.2%.
Most notably, the country enjoyed a trade surplus of US$1.1 billion throughout October following months of slipping into a trade deficit, indicating that the economy is showing signs of recovery. 
According the MoIT, exports are in picking up as several businesses are now resuming operations throughout southern localities which are home to many industrial zones and export processing zones.
Businesses are gradually filling employment vacancies following the return of workers after the lifting of COVID-19 restrictions and are accelerating production to meet the orders of partners. 
Ho Quoc Luc, managing director of Sao Ta Food Company, predicts that Vietnamese shrimp exports will reach US$3.8 billion this year, a figure that is equivalent to or even higher than last year's export value.
At present, several major economies are recovering globally, duly helping fuel their demand for seafood, including shrimp. Without unexpected factors ahead, Vietnamese shrimp exports for 2022 are likely to beat this year's target, Luc believes.
Meanwhile, Diep Thanh Kiet, vice chairman of the Vietnam Leather, Footwear and Handbag Association (Lefaso), notes that Lefaso businesses have received an increasing number of orders after the country eased COVID-19 restrictions and reopened the local economy.
With plenty of domestic firms now relaunching operations following a long suspension, the sector's export value for the year is anticipated to hover around US$19 billion, or fall slightly short, says Kiet.
He also predicts that the sector is likely to achieve a 12% export growth rate next year, providing that the ongoing COVID-19 outbreak is brought completely under control.
Given these positive signs, the MoIT believes that Vietnamese trade value will surpass the US$600 billion mark this year, or 10% higher compared to last year's figure.
In order to meet this target, the MoIT will strive to accelerate trade promotions abroad ahead in the two remaining months of the year. It will primarily focus on expanding overseas markets and making the most of benefits from free trade agreements that it has signed with partners.
The MoIT will also work closely alongside relevant Chinese agencies in a bid to facilitate customs clearance for local products to enter the northern neighbour, the country's largest trading partner, through northern border gates, a MoIT representative says.
In addition, the Ministry has requested that localities regularly work alongside businesses in order to iron out snags that may occur in production and goods circulation.