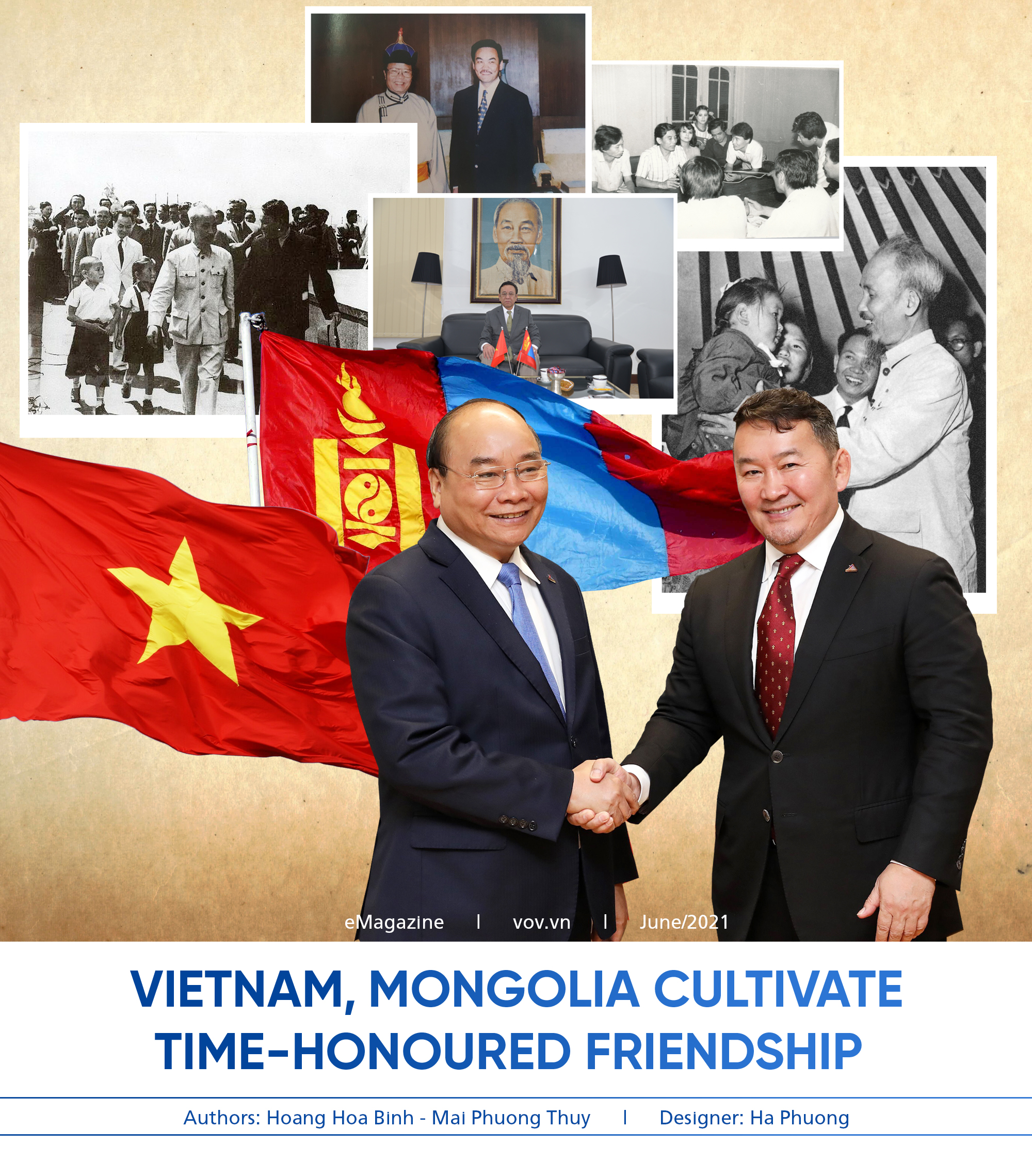 Despite experiencing the various ups and downs of history since the original establishment of diplomatic relations back in 1954, Vietnam has always tried to cultivate and develop a traditional friendship with Mongolia in a comprehensive manner towards a strategic partnership moving forward.
A visit paid to Mongolia by President of the Democratic Republic of Vietnam Ho Chi Minh in July, 1955, along with a return visit by the First Secretary of the Mongolian People's Revolutionary Party (MPRP) and Chairman of the Council of Ministers Yumjaagiin Tsedenbal in September, 1959, marked a new page in history as it set a solid foundation for future ties of friendship and co-operation between the two nations.
Both sides have therefore showed their close attachment and offered to provide mutual support in all circumstances ranging from difficult times during the wartime to periods of socio-economic development during peacetime.
The establishment of a cow farm named after a Mongolian national hero is a testimony to the mutual support.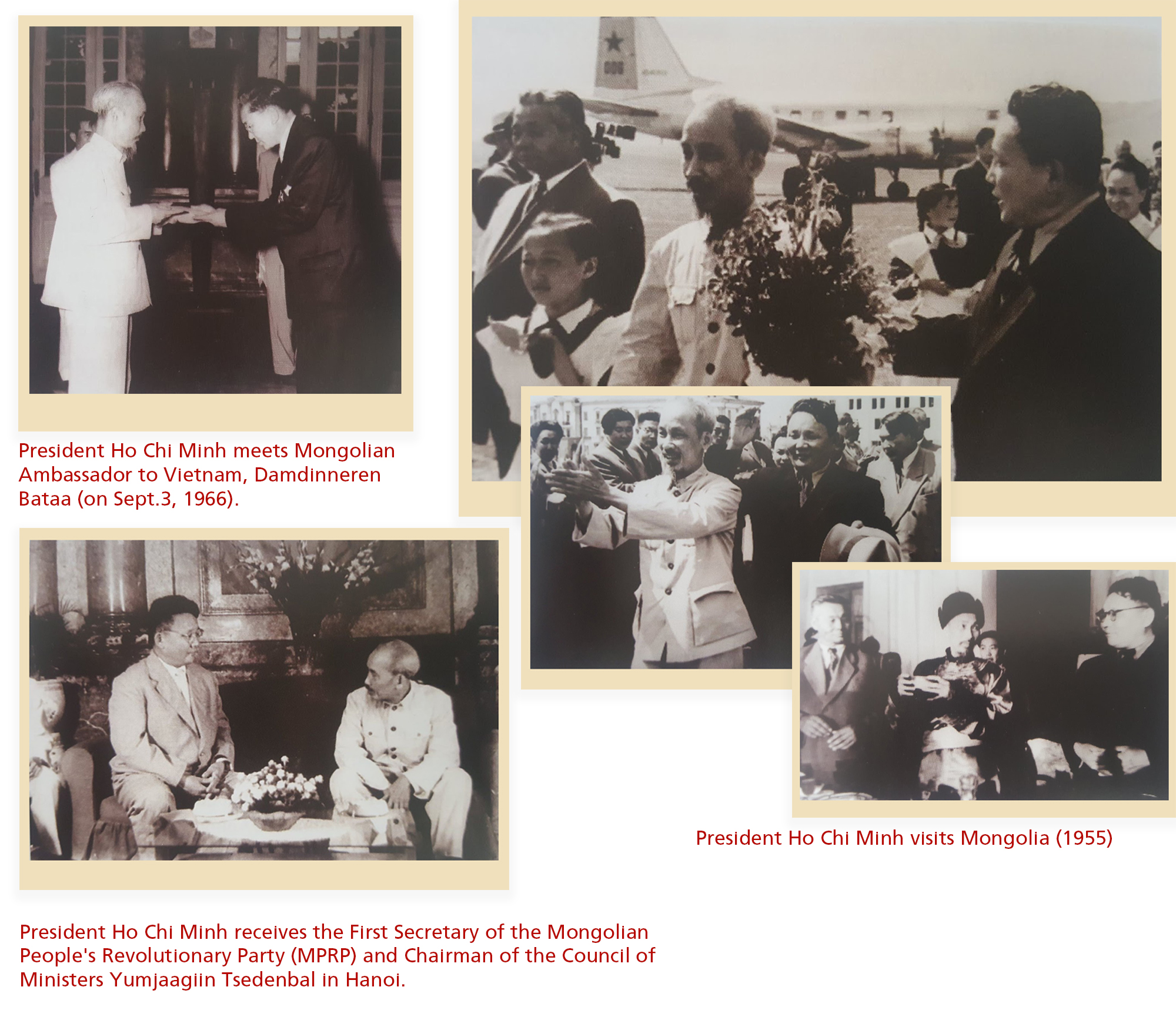 Originating from the international spirit of the proletariat, Mongolia is a country that is renowned for its vast steppe and has always stood alongside Vietnam, even during difficult periods when the Southeast Asian country embarked on the national construction process after victory at Dien Bien Phu against French colonial rule in 1954.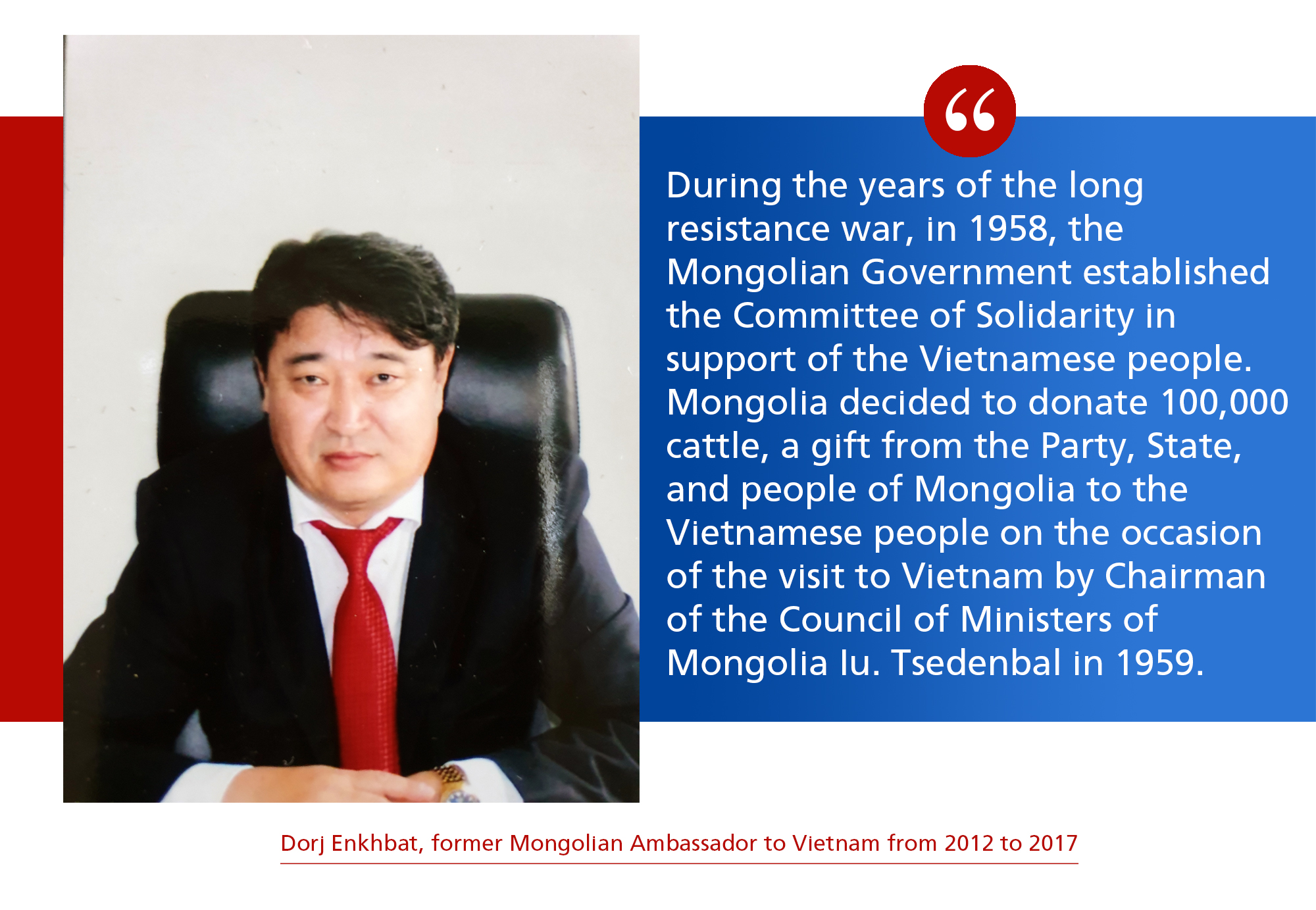 Dorj Enkhbat, former Mongolian Ambassador to Vietnam from 2012 to 2017 and advisor on Asia-Pacific affairs under the Ministry of Foreign Affairs of Mongolia, shared, "During the years of the long resistance war, in 1958, the Mongolian Government established the Committee of Solidarity in support of the Vietnamese people. Mongolia decided to donate 100,000 cattle, a gift from the Party, State, and people of Mongolia to the Vietnamese people on the occasion of the visit to Vietnam by Chairman of the Council of Ministers of Mongolia Iu. Tsedenbal in 1959."
The trip greatly contributed to boosting bilateral ties, while also affirming that the Mongolian Party, State, and people continued to support and stand shoulder-to-shoulder with Vietnamese people in their struggles for independence and national liberation.
Alongside the donation of 100,000 cattle, Mongolia moved to establish a cow farm named Sukhe Bator, named after a Mongolian national hero in Ba Vi district in the former Vietnamese province of Ha Tay, with its name later being changed into the Vietnam-Mongolia farm.
Tang Xuan Luu, director of Ba Vi Cattle and Meadow Research Center, said, "The Vietnam - Mongolia Friendship Farm was established under Decision No. 225 NNTCQD dated August 10, 1984, on the basis of the State-owned Ba Vi farm run by production team No. 2, No. 3, No. 5 with an area of more than 1000 ha to receive Mongolian cows for breeding in Vietnam."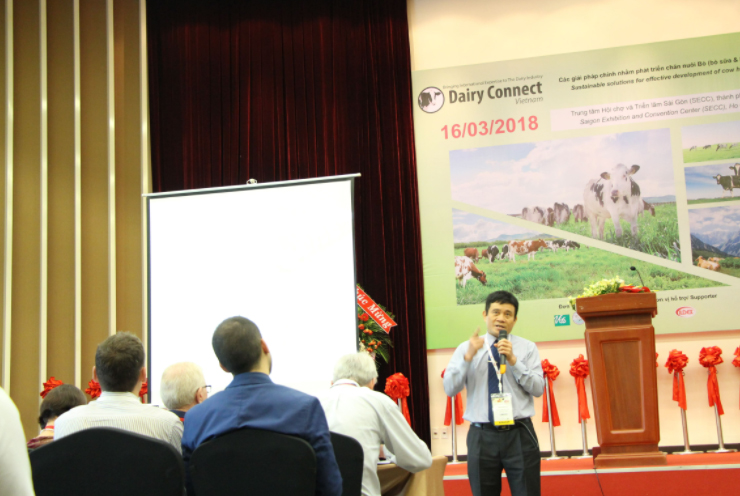 The herd of breeding cows donated by Mongolia are in the process of development and they have been bred to breed, which represents a valuable genetic resource which can serve as a basis for crossbreeding with Vietnamese cows in a process known as a biochemical programme.
"Although this herd no longer exists, it is a valuable genetic resource. From this gene resource, we have created a herd of Vietnamese cows with 50% hybrid blood called hybrid SiN. This is an important genetic source to improve the cow herd, also on the basis of that herd of hybrid SiN, we crossed with walrus cows to create a herd of Vietnamese hybrid dairy cows."
"We started with F1 cows at Ba Vi farm, with the whole country having had over 300,000 so far. As a result, experts noted their appreciation for the precious gift from the Mongolian people to Vietnam," Luu said.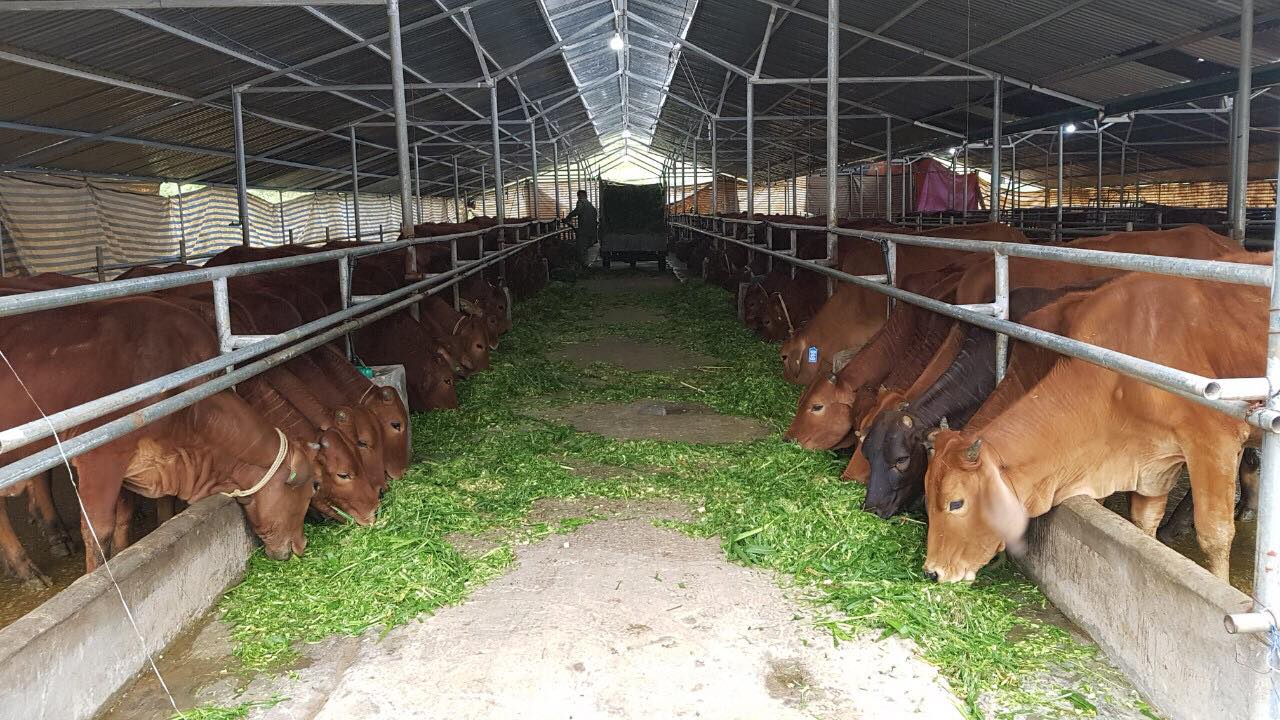 The Vietnam-Mongolia farm was later equitised by the Vietnamese State with a view of promoting its operational efficiency in line with this new context.
Featuring the participation of many private enterprises in Ba Vi district as part of the equitisation process, the farm applied advanced production techniques and technologies in order to expand its scope of operations, thereby being able to meet roughly 10% of milk demand in northern Vietnamese provinces.

Hoang Tuan Thinh, vice chairman of Vietnam-Mongolia Friendship Association, former Vietnamese student in Mongolia from 1975 to 1982, and former Ambassador of Vietnam to Mongolia from 2010 to 2014, described the valuable support Mongolian partners gave to the country during periods of conflict.
Most notably, Mongolia provided non-refundable aid many times to Vietnam during times when exchange visits were held by senior leaders of both nations throughout the war.
They were also proud to be one of the leading aid donors to the nation during the years of anti-American war resistance for the purpose of national reunification. If calculated per capita, at that time the Mongolian population was approximately two million, now it is 3.3 million, Mongolia could be considered to be the leading donor to the Vietnamese cause, Thinh said.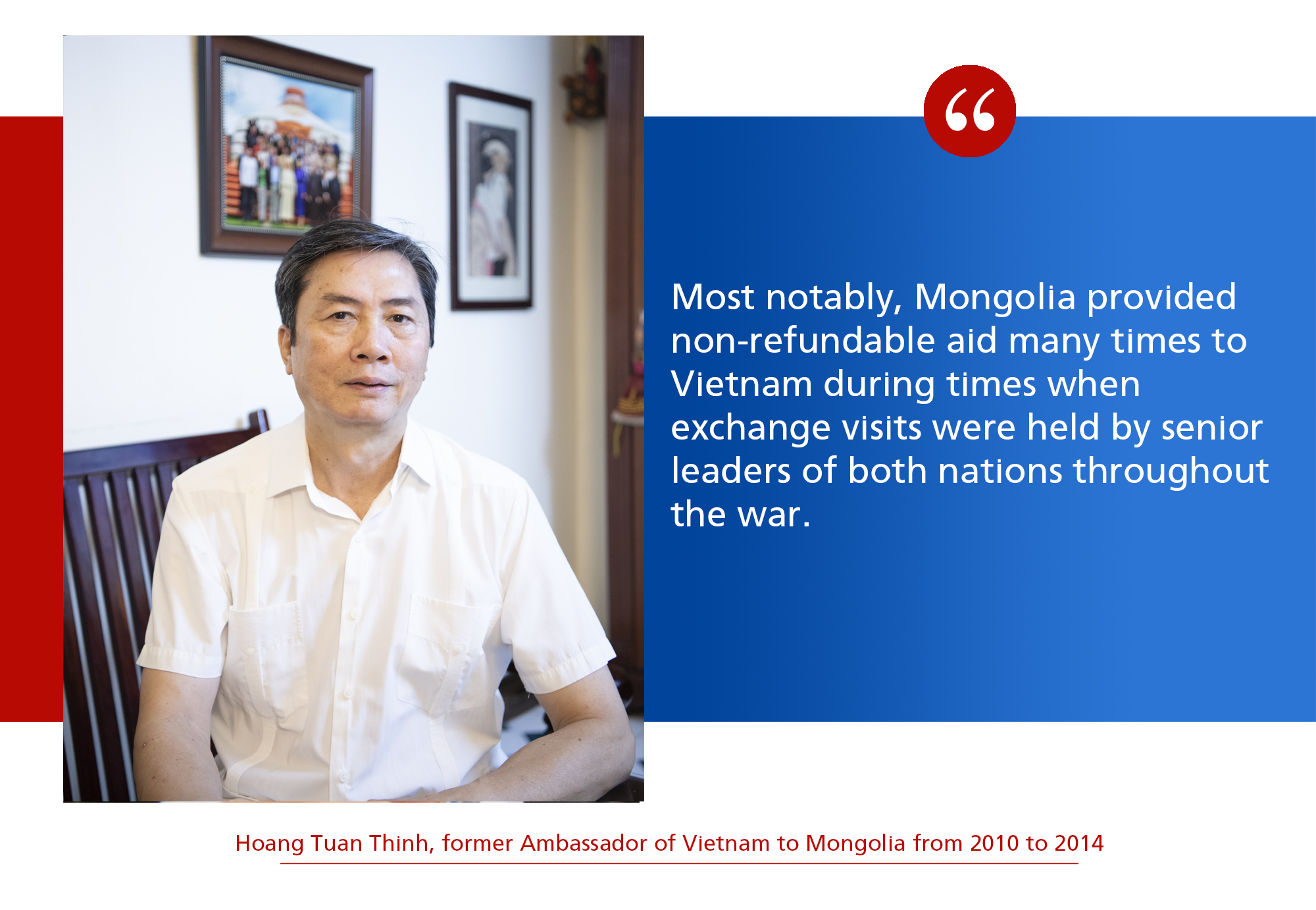 According to data detailing Mongolian aid, between 1956 and 1985 the central Asian nation offered more than 200 million tugrik in non-refundable aid to the country. In addition, from 1964 to 1975 Mongolia donated 27,000 tonnes of flour, 6.7 million metres of cotton fabric, 13,500 metres of woolen fabric, 332,000 metres of woolen blankets, 334,200 sheets of leather, 700,000 leather jackets, 465,000 tonnes of canned fish and canned meat, alongside 49,100 tonnes of wool yarn.
Moreover, they also helped the nation by providing 28 trains to transport shoe leather, car tires, and medicine. The value of these goods, plus the freight, was equivalent to over 160 million tugrik, during this period US$1 was the equivalent of three tugrik, he added.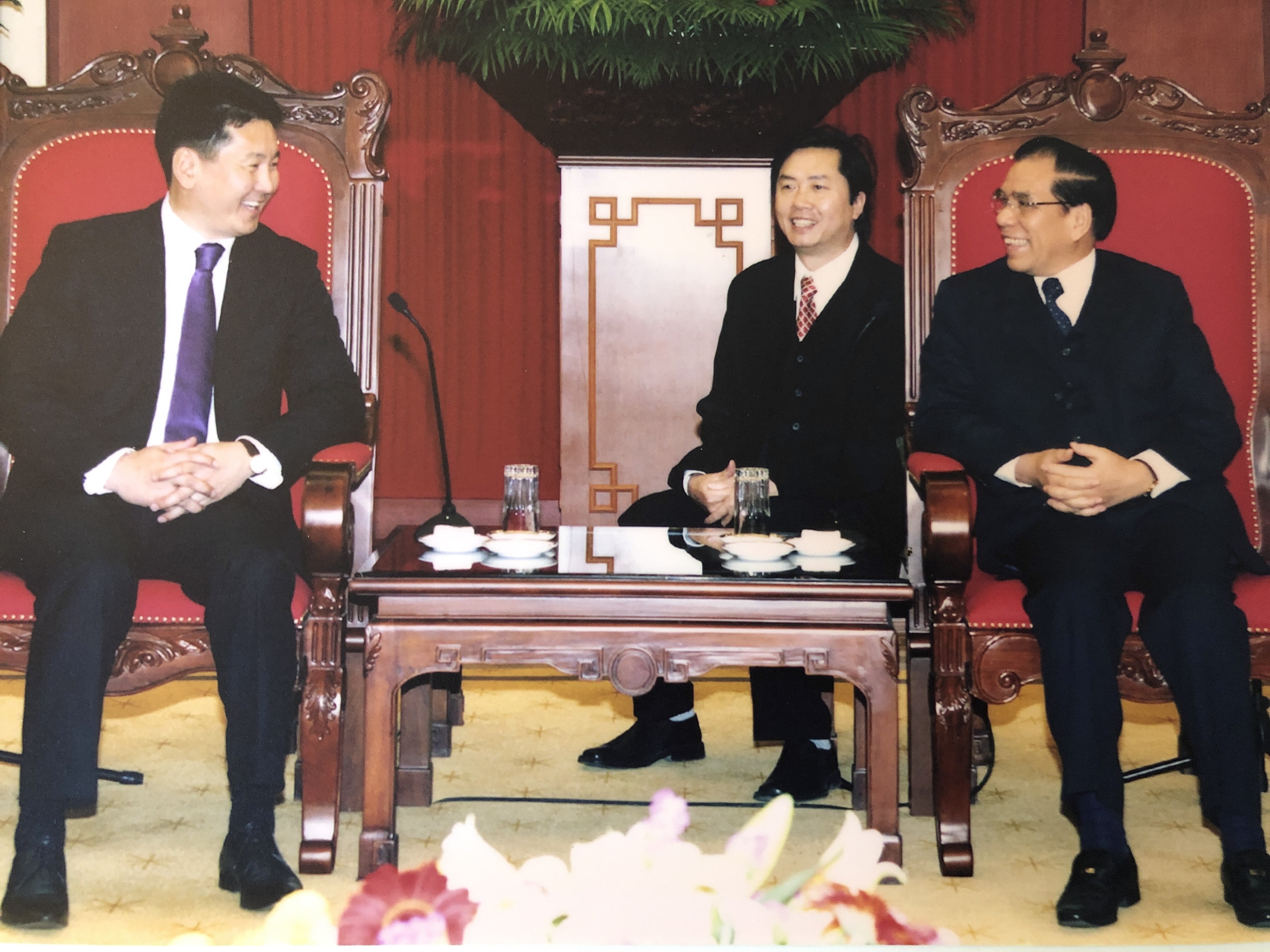 One key aspect of the close mutual ties is the fact that Mongolia became one of the first few countries to officially recognise Vietnam and move to establish bilateral diplomatic relations with the fledgling state.
Proof of this can be seen when Mongolia voiced support by sending a diplomatic note and officially announcing the establishment of mutual relations on November 17, 1954.
This occurred following a visit to the Soviet Union in January, 1950, when the great President Ho Chi Minh issued a "Declaration" to governments around the world stating, "The Government of the Democratic Republic of Vietnam is the only legitimate government of the entire Vietnamese people. Based on common interests, the Government of the Democratic Republic of Vietnam is ready to establish diplomatic relations with the Government of any country that respects Vietnam's equal rights, territorial sovereignty and national sovereignty, to join hands in building global peace and democracy."
The two countries exchanged diplomatic missions for the first time in 1955, with Mongolia going on to open a representative office in Hanoi in 1959. In response, the nation opened a representative office in Ulaanbaatar in 1960.
Most notably, both nations signed Treaties of Friendship and Cooperation three times in 1961, 1979, and 2000, along with a Trade Agreement in 1957, and the Cultural Cooperation Agreement in 1958. This is in addition to more than 20 bilateral co-operation agreements in economics, trade, culture, education, science, technology, and other fields, whilst also establishing the Intergovernmental Committee on economic, scientific, and technical cooperation in 1979.
Friendly ties between the two peoples were formed back during the French colonial period, before either country had officially established diplomatic ties. At that time, the Government and people of Mongolia stood side by side with their partners to support the spirit of the just struggle being undertaken by the Vietnamese people.
In line with this, 1946 saw the Government and people of Mongolia vehemently condemn the second invasion of Vietnam by French colonialists, with Mongolian leaders repeatedly expressing their stance against the military occupation.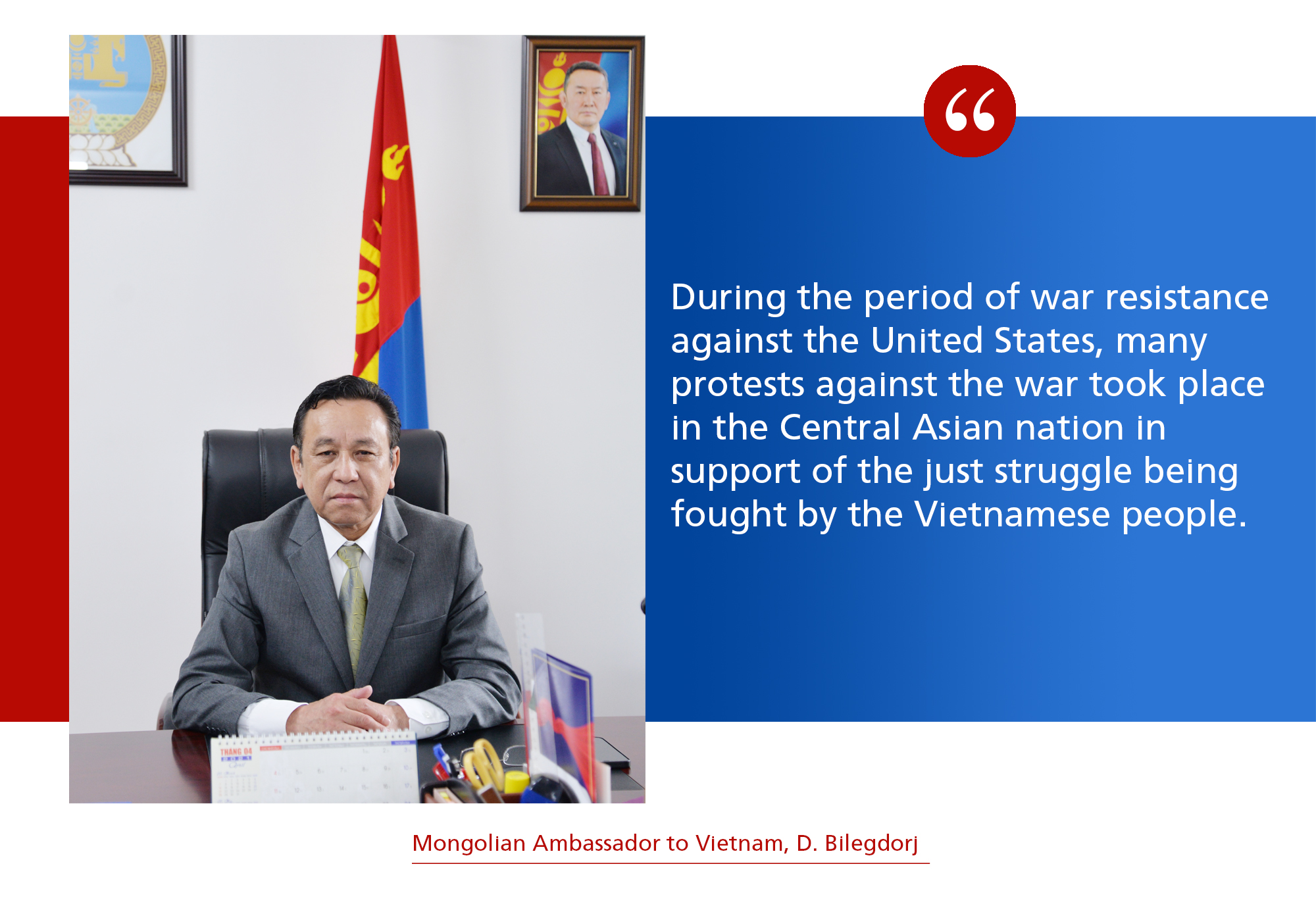 After the signing of the Geneva Agreement to conclude the war in Indochina, the Mongolian Government and people expressed their elation and appreciation for the great victory achieved by the Vietnamese people in their struggle for national independence and freedom.
Mongolia said that the great historical victory recorded by the Vietnamese people had ended the furnace of war in Indochina, thereby affirming that the Vietnamese people's victory over French colonialists is a testament that any nation can carry out just struggles and achieve glorious victories. In contrast, those who cause aggression and unjust wars will inevitably suffer complete defeat.
According to Mongolian Ambassador to Vietnam D. Bilegdorj, during the period of war resistance against the United States, many protests against the war took place in the Central Asian nation in support of the just struggle being fought by the Vietnamese people.

Before 1990, every year saw senior delegations at all levels from the two countries conduct exchange visits, with approximately 50 high-ranking Vietnamese delegations paying official friendship visits to Mongolia, whilst roughly 30 from the Mongolian side made the trip to the nation in return.
Since the 1990s, Mongolia still considers the country to be a traditional friend, an important partner, and a bridge which they can utilise to expand their co-operation with other ASEAN member states.
The relationship between the two sides has always ensured that an exchange of views has been maintained, along with close co-ordination and offers of mutual support at all international and regional forums. This can be seen through Mongolia supporting the nation's entry into the World Trade Organization (WTO), as well as the country's bid to become a non-permanent member of the UN Security Council (UNSC) for the 2008 to 2009 and 2020 to 2021 terms. It also supported Vietnamese candidacy for the 2010 to 2013 UNESCO Executive Council, whilst the nation served as a member of the UN Commission on Human Rights (UNCHR) for the 2014 to 2016 term.
In turn, Vietnam supported Mongolia in becoming a member of the Asia-Europe Meeting (ASEM), a partner of ASEAN's dialogue, and running for the UN's Economic and Social Council (ECOSOC) Executive Committee for the 2010 to 2013 term. It has also voiced support for Mongolia to become a member of the UNCHR for the 2016 to 2018 term.
The nation is therefore always ready to help their Mongolian partners to expand their relations with ASEAN member states, as well as supporting them in joining the Asia-Pacific Economic Cooperation (APEC) forum when the organisation admits new members.
Furthermore, both sides have also recognised the market economy of each other since 2013.
The political choices of each country therefore do not affect the traditional friendship and co-operation that exists due to both sides maintaining this relationship and co-operation whilst increasingly enhancing and expanding ties in a more practical manner.
Over recent years, the two nations have constantly stepped up co-operation across multiple fields, especially in terms of culture, education, and training.
With regard to cultural co-operation, a unique thing occurred in the bilateral relationship back in 2019 when Mongolia placed a statue of President Ho Chi Minh at high school named after him in Ulaanbaatar. They also established a cultural room that was also named after the former Vietnamese leader at the school in order to display paintings about Vietnam, its land, and people. All of these pieces were drawn by the school's students and gifts were provided by various Vietnamese delegations after their visits to the Mongolian school.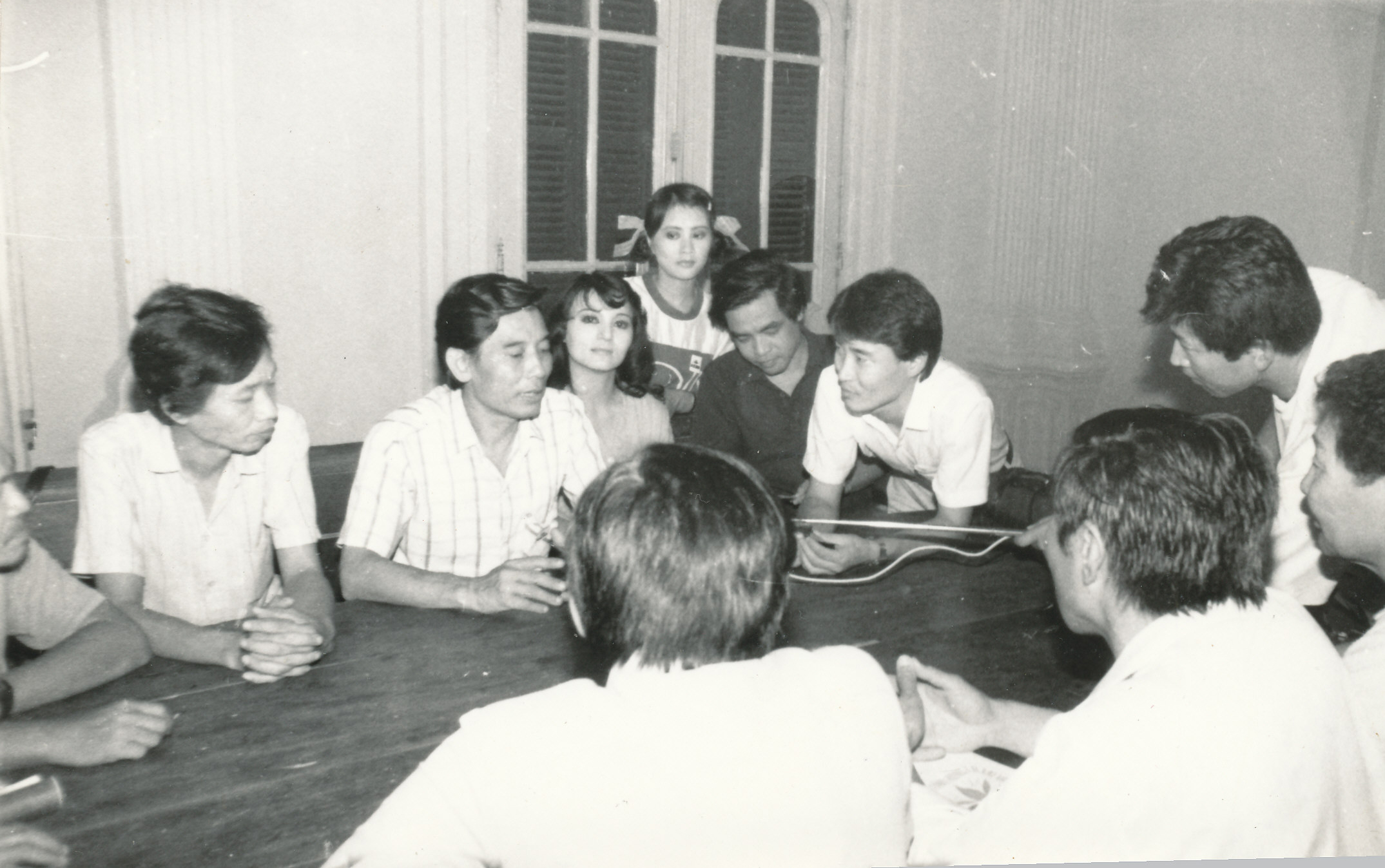 Before the 1990s, the two countries often exchanged art troupes with each other whenever celebrating major events. Each year saw Mongolia organise music festivals such as "Friend Melodies" and "International Circus Festival" featuring the regular participation of Vietnamese artists.
The majority of Vietnamese artists won great prizes and received medals of all kinds presented by the Ministry of Culture. At the request of Mongolia, the Vietnamese Ministry of Culture sent 25 restoration workers to repair historical and cultural relics, with this help being highly appreciated by the Mongolian side, thereby significantly contributing to promoting the nation's image within the Central Asian country.
Although cultural exchanges have been severely disrupted due to financial difficulties relating to sending delegations to perform in each country, both sides have been working to maintain this form of exchange, with Mongolia actively participating in the annual Hue Festival.
With regard to education and training, before the 1990s Mongolia helped to train over 100 science and technology staff at a tertiary level, along with sending some its students to the nation to study Vietnamese.
Since 2002, both sides have begun to resume co-operation activities in education and training through the agreement signed between the two Governments, with each year seeing Mongolia send five students to the nation, whilst three Vietnamese students are also sent in the other direction.
They signed an agreement on educational co-operation during the 2013 to 2016 period, under which Vietnam welcomes 15 Mongolian students each year, whilst five Vietnamese students are sent to the Central Asian country for training.
Mongolian Ambassador D. Bilegdorj stated, "Now in Vietnam, about 40 Mongolian students are studying on the scholarships which have been provided by the Vietnamese Government according to the Education Agreement signed by the two Governments of Mongolia and Vietnam."
"Vietnam usually receives about 10 to 15 Mongolia students each year, while Mongolia receives about five Vietnamese students to Mongolia on the Government scholarship. They are studying in different kinds of sectors, general subjects like tourism and international relations. Some students study in specific areas such as, chemicals, IT engineering, and so on."
"Exchanges of the two countries' students are very supportive. They are supporting to teach students to become necessary specialists for today's economy. Students not only learn expertise but also old culture. For example, students who study in Vietnam deeply understand Vietnamese culture and people. Some Mongolian students who graduated from Vietnam work in many areas. Some of them became doctors and diplomats to work in the Ministry of Foreign Affairs."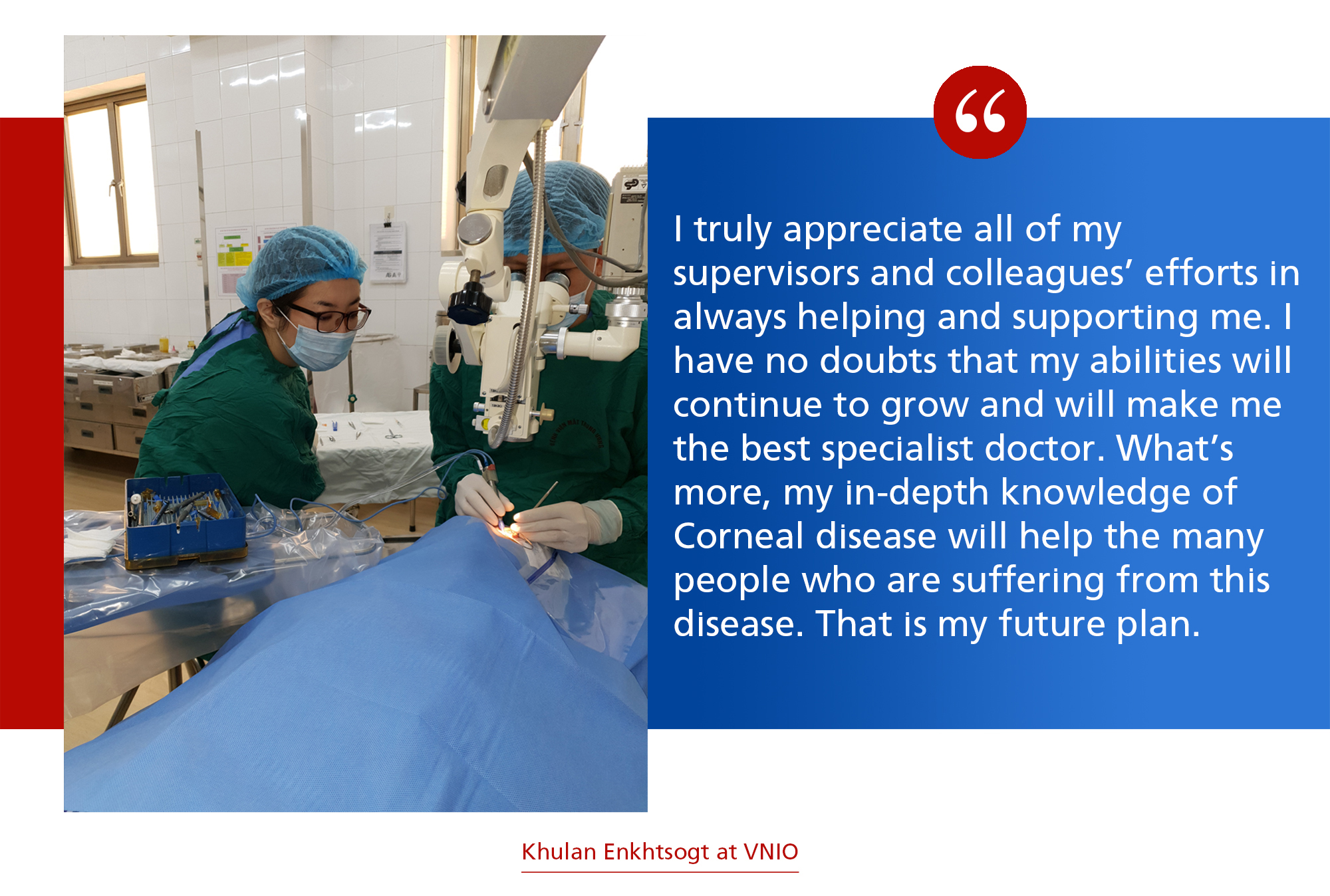 Khulan Enkhtsogt, a Mongolian student who is taking a training course at the Vietnam National Eye Hospital (VNEH) through the Fellowship Program, said, "I am studying at VNEH as a fellowship. I chose Cornea Department that offers a Fellowship programme. In brief, the requirements of this scheme are an in-depth continuation of the general eye disease after resident programme, but extend beyond the requirements of a general course. I've had an enormous amount of knowledge from my supervisors." I truly appreciate all of my supervisors and colleagues' efforts in always helping and supporting me. I have no doubts that my abilities will continue to grow and will make me the best specialist doctor. What's more, my in-depth knowledge of Corneal disease will help the many people who are suffering from this disease. That is my future plan. Finally, on behalf of all students from Mongolia, I would like to thank the leaders team at VNEH for giving us this opportunity and knowledge to shape our future."

Amid the current process of national construction and development, regional and international integration, the two countries will continue to support each other across a variety of fields, despite facing certain difficulties.
In the context of the global economic and financial crisis continuing to impact people's lives, leaders from both sides have spared no efforts in helping their respective nations overcome difficulties and stabilise socio-economic development.
During a recent reception held for Vietnamese Ambassador Doan Khanh Tam who paid a courtesy visit before embarking on his term of office in Mongolia, Foreign Minister B. Battsetseg affirmed that the Mongolian side places great importance on promoting comprehensive and extensive relations and co-operation. Indeed, they look forward to upgrading the relationship to a higher level with their Vietnamese partner as the country represents an important traditional partner in Southeast Asia.
The Central Asian nation is set to celebrate its 100th anniversary of the victory of the People's Revolution this year, Foreign Minister B. Battsetseg said, while also expressing his desire to welcome senior Vietnamese leaders, as well as those from the Vietnam Ministry of Foreign Affairs, in the near future.
Regarding the global fight against the novel coronavirus (COVID-19) pandemic, with Vietnam being viewed as a bright sport in global pandemic containment efforts, Ambassador D. Bilegdorj hailed Vietnamese achievements. He noted that the nation is one of the leading countries who are doing very well in fighting against the pandemic and also could also see economic development of around 3%.
"In Mongolia, our economy is down by 6%. Our Government is now discussing how to develop our economy."
"The Government is trying to develop the economy by giving loans of 3% a year interest. This is really preferential interest of 3% a year for small companies to recover in this difficult time. I would like to mention some of the diplomatic activities to cope with fighting the COVID-19 pandemic. Now many countries are doing teleconferences, organising online events rather than in person. For example, we organised an online political consultation between the two foreign ministries last December. We are looking for new ways to continue diplomatic activities," he added.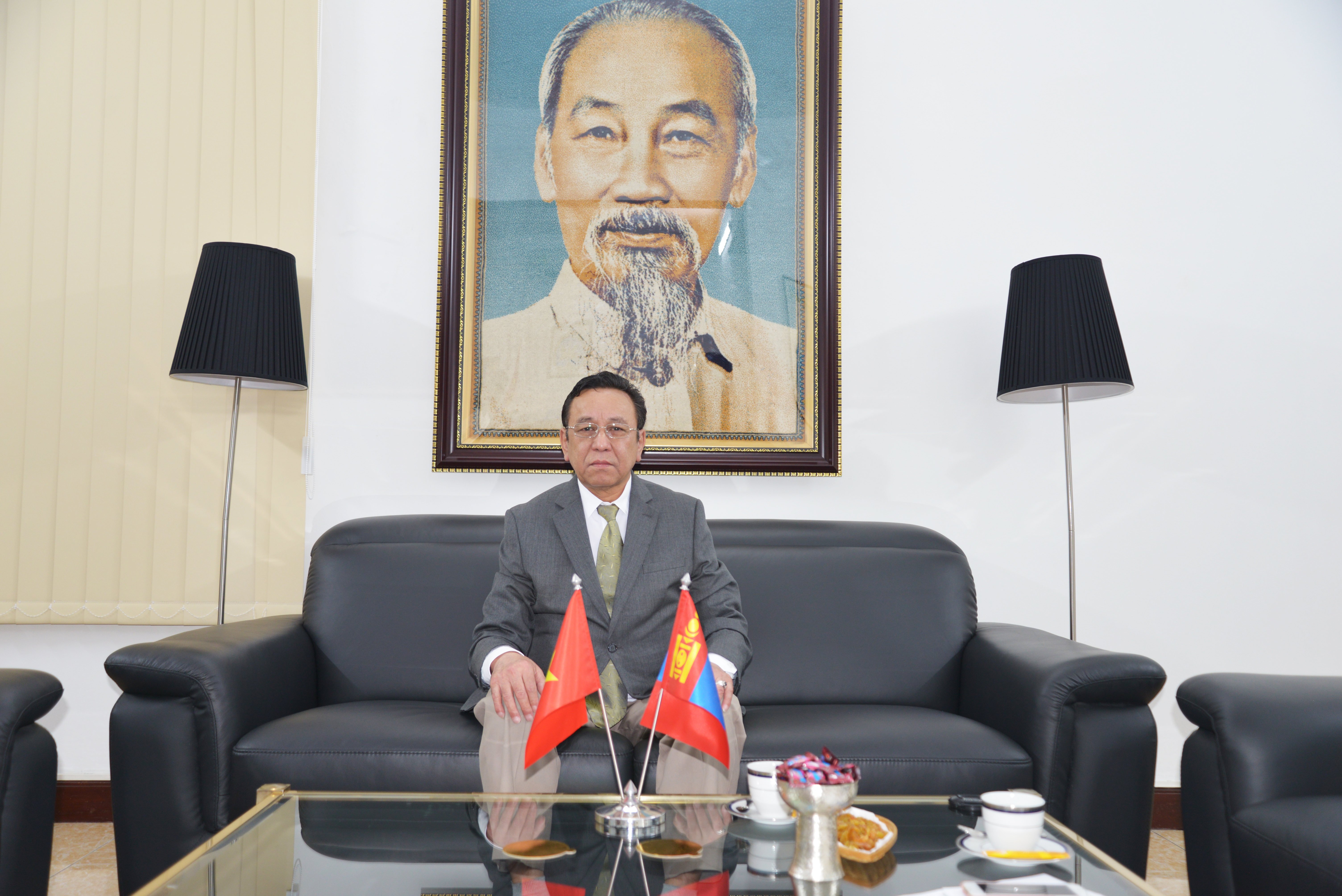 During this online political consultation, Vietnamese Deputy Foreign Minister Le Hoai Trung and his Mongolian counterpart Munkhjin Batsumber stated that the two sides had agreed to continue maintaining meetings and high-level delegation exchanges at all levels both during and after the COVID-19 pandemic. This is being done with a view to ramping up substantive co-operation across all fields, such as diplomacy, security, defence, economics, culture, education, and people-to-people exchange via numerous flexible forms.
Mongolian Deputy FM Batsumber also shared their successes and difficulties in pandemic prevention and control efforts, whilst adding his hope that Vietnam would share their experience in the research and production of COVID-19 vaccines.
In response, Deputy Minister Trung affirmed the country's willingness to share their experience and co-operate alongside Mongolia in pandemic prevention and control measures. He hopes that the Central Asian nation will continue to pay greater attention to Vietnamese citizens, as well as the Vietnamese Embassy staff in Mongolia and their families during the pandemic, along with facilitating travel, entry, and exit procedures for Vietnamese citizens.
"COVID-19 still exists and will negatively affect activities, including diplomatic activities, however, we are trying to do everything online, not in person. We are trying to boost co-operation with Vietnam," the Mongolian Ambassador confirmed.

According to the Mongolian Embassy in Vietnam, the two countries have signed around 145 agreements, treaties and MoU over the years. It is now working on 10 others that are critical in boosting bilateral co-operation and will be signed online, such as legal documents on visa issuance, a memorandum of understanding (MoU) on cultural co-operation and a MoU on economic co-operation.
Especially in recent years, the two countries have coordinated efforts to bolster cooperation in communication, and the signing of a memorandum of understanding on cooperation between two national broadcasters in 2018 is typical case in point.
Mongolia therefore views the Vietnamese market as key in helping it to diversify its import and export markets moving forward.
"Mongolia and Vietnam boast huge potential to promote relations and expand trade between the two countries, however, we have not reached US$100 million in trade volume, which was mentioned at the intergovernmental meeting in December 2019. We have huge potential but only problem is that transportation between the two countries," the Mongolian diplomat said.
In order to step up economic co-operation to match the potential of both countries, it remains necessary to focus on carrying out a number of specific measures in the near future. This includes considering and studying the ability to aggregate international transport demand on Mongolian intermodal routes which pass through China and Russia. This will therefore take full advantage of two-way transport and reduce transportation costs, whilst also accelerating the opening of a direct air route between Hanoi and Ulaanbaatar.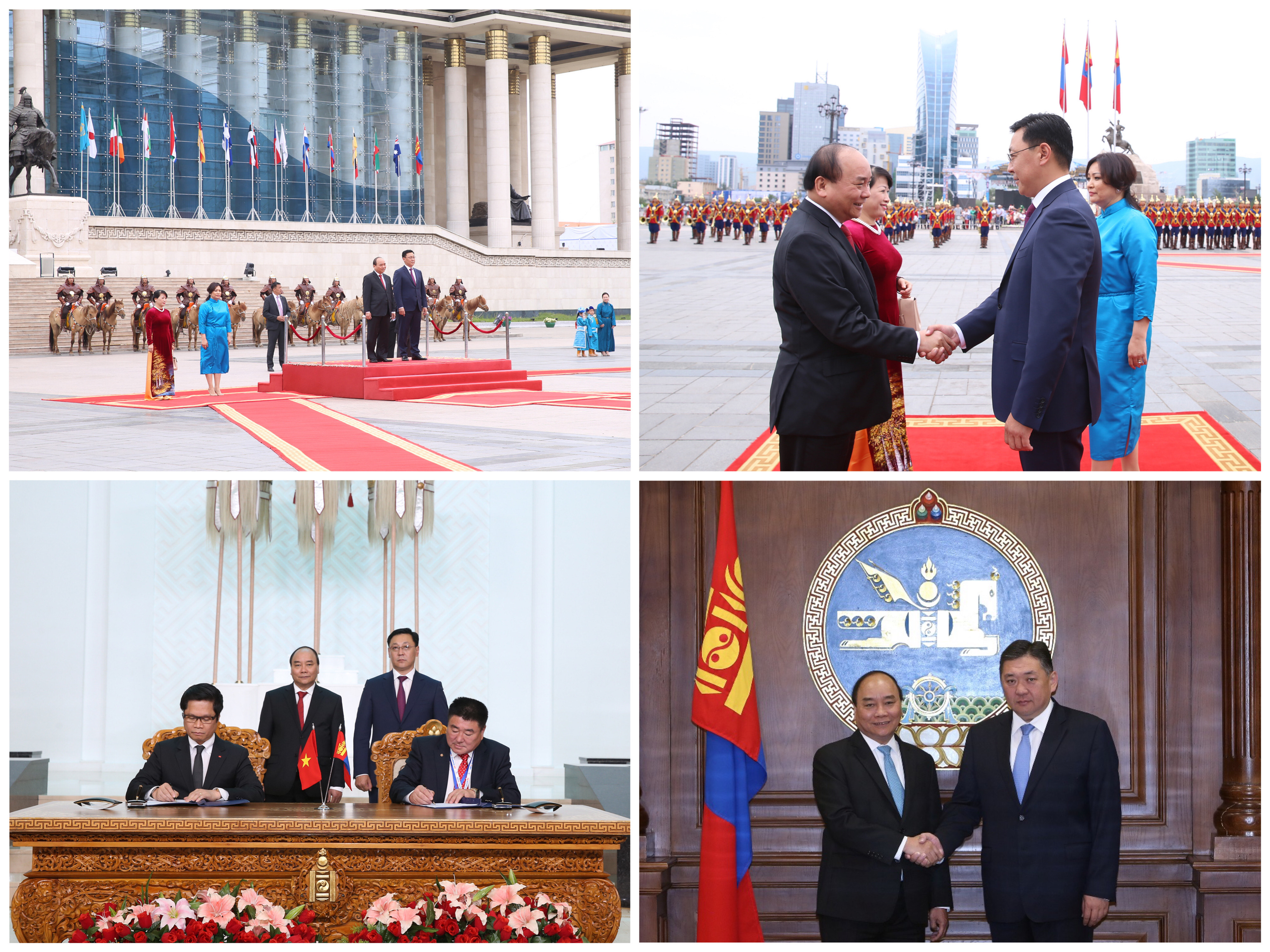 Furthermore, both sides must swiftly assess and mutually recognise each other's sanitary and phytosanitary standards regarding Vietnamese agricultural and aquatic products and Mongolian livestock products, including goats and sheep. This is due to the need to streamline administrative procedures and costs, thereby creating favourable conditions in which to boost the exchange of goods which are the strengths of both sides.
Mongolian Ambassador D. Bilegdorj said, "From 2020, Mongolia wants to start upgrading bilateral relations to a strategic partnership. Mongolia has established strategic partnership with Russia, China, and the US, so Mongolia hopes to establish the same strategic relations with Vietnam. Mongolia said that it is proposing the upgrade of relations. Now it is being discussed by the Vietnamese side."
Upon sharing this view,former Ambassador Enkhbat said, "We are two reliable partners with a long-standing traditional friendship. Therefore, what I think and wish the most is that time has come for the two countries to upgrade their relations to a strategic Partnership on a par with sound relations and cooperation between Mongolia and Vietnam."
With these joint efforts, coupled with political determination from the leaders of both nations, joint co-operative relations are destined to expand and develop in a multitude of fields towards developing into a strategic partnership in the near future as expected by their leaders./.
---