Woman preserves picturesque terraced fields in Mu Cang Chai
Sunday, 10:26, 19/06/2022
VOV.VN - Located in the heart of the national special scenic spot of Mu Cang Chai terraced fields in Yen Bai province, Mam Xoi hill literarily means a tray of glutinous rice.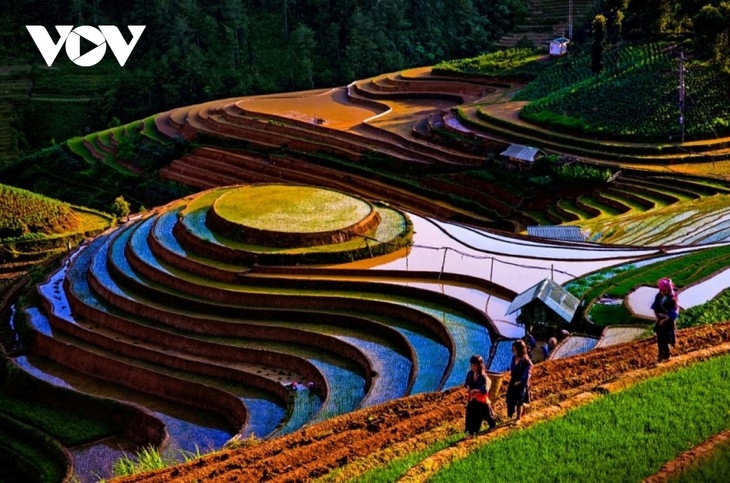 Not many visitors to this famous tourist destination know that the family of Mrs. Lu Thi Lin in Ta Chi Lu hamlet has spent a lot of time and effort cultivating and taking care of the terraced fields to keep them beautiful.
n the past the Mam Xoi hill and other terraced fields in La Pan Tan commune were unable to grow anything because of a water shortage. People released cows and buffalos in the fields, which damaged the edges and the landscape.
Lu Thi Ly and her family members assigned each other to guard and repair the terraced fields. She said "Guarding the field is not hard work but time consuming because our house is very far from the field. But we are voluntarily protecting and mending the fields damaged by the cattle."
Mrs. Ly said that it was hard to cultivate the land and repair, especially on rainy or sunny days. In late May they dredged ditches to route water from upstream to the field, which is about 5km, to prepare the land for sowing seeds and plowing. She recalled that 30 years ago, Mam Xoi hill was just like other mountains. When she got married, she and her husband went there to reclaim land.
They spent more than two months digging rocks and leveling the land all day and night using rudimentary tools such as hoes and shovels. They created a terraced field on the top of the mountain.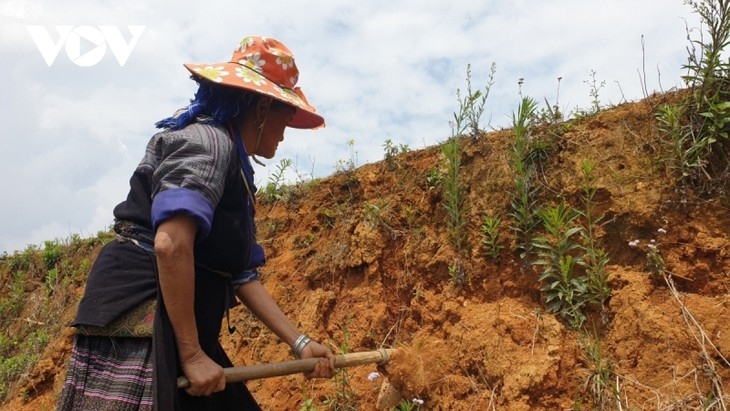 "Mountains here are rocky which is very difficult for ploughing. We used hoes and shovels to dig and collected rocks by hand. Some days we could only clear 2 square meters of land. In order to grow rice, we were determined to work," said Ly.
Ly's family can harvest 17 to 20 sacks of rice every crop and earn extra income from visitors. They have closely followed instructions of agricultural experts from fertilizing to applying pesticide to help the rice grow well and evenly. Ho A Chua, a son of Mrs. Ly, said: "The field is far from the water source. There are tens of families using the same water source so we have to dredge canals to get water to our field. We have one watchman at night and one during the day to get water."
Mrs. Ly is very happy that her rice field has become a famous tourist destination in the province. She is determined to tend the Mam Xoi hill to welcome more visitors. "My family wishes that the commune will help in rice production and instruct us to grow one more crop each year."
During harvest season Mam Xoi hill attracts thousands of visitors everyday to see the golden rice fields. The local authority and families agree that authorities will collect fees from visitors, pay the families, and use part of the money for upgrading roads on the hill.
Ho A Thanh, a culture official of La Pan Tan commune, pointed out that "Families have worked with the authority to protect the terraced fields, dredge canals, and reinforce banks."
The terraced field in Mu Cang Chaiwas recognized by the Ministry of Culture, Sports, and Tourism as a national scenic spot in 2007. It was listed as a Special National Relic in 2019.
Nguyen Tien Binh, Head of Mu Cang Chai district's Culture Office, said along with the Mam Xoi hill, there are many more attractive sites. The commune has launched measures to protect their core area of the Special National Relic and organize traditional festivals with local ethnic groups:
"We have enhanced communications to raise people's awareness and responsibility on preserving heritage values, maintaining traditional method of growing wet rice on terraced field, and promoting cultural traditions in order to offer friendly tourism activities," Binh added.
The Mong ethnic minority people in Mu Cang Chai have carved amazingly beautiful terraced fields on mountains that everyone who visits the land loves to admire.