"Vietnam We Thank You–Việt Nam Cố Lên": Touching messages from expats
Friday, 11:01, 24/04/2020
The messages have caught public attention and been widely shared over the last few days.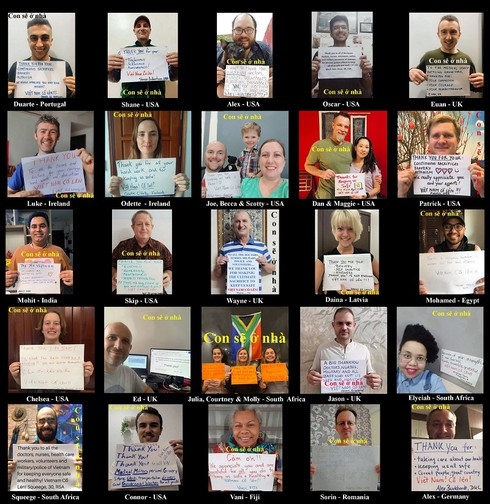 A number of expatriates in Vietnam have conveyed touching messages of thank-you to front-line workers and people in Vietnam for their sacrifice in the fight against the COVID-19 pandemic.
Inspired by people on the front lines of the coronavirus pandemic who are "risking their lives every day to keep others safe", Wayne Worrell wanted to express his thanks.
He spent time to make a video and called on his friends who are expatriates in Vietnam to join the campaign by saying how they felt by their actions, Wayne Worrell told Hanoitimes.
Earlier in mid-March, Wayne Worrell responded to a blood donation campaign in the context that Vietnam blood banks were low as people scared to give blood.
"Please do as we do, STAY HOME, STAY SAFE" is the message that the expats stressed.
The following photos were taken by the expats. Local media outlets like VnExpress, Laodong, and Vietnamtimes have reported the project.