Special features of Soc Trang's Khmer culture
Monday, 09:31, 10/07/2023
VOV.VN - The Khmer, one of 54 ethnic groups in Vietnam, live in the southern region, mainly in Soc Trang province. They have developed a rich cultural tradition, including clothing, art, architecture, music, dance, festivals, and religion.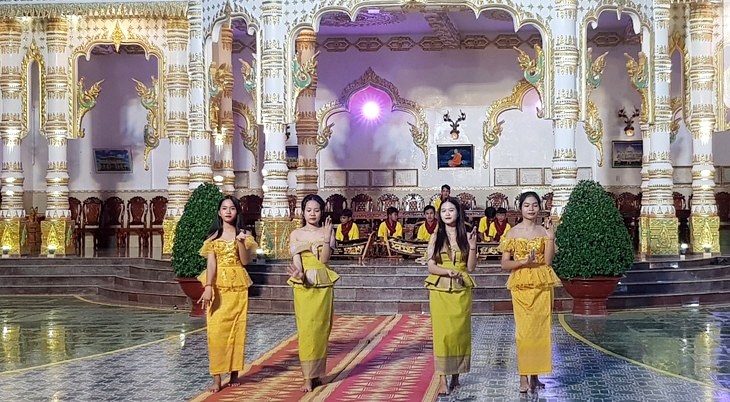 There are about 360,000 Khmer people living in Soc Trang, accounting for about 30% of the province's population. The province has has five officially recognized Khmer national intangible cultural heritages.
"In Soc Trang province we enjoy special features of the Khmer culture, including the Ok Om Bok festival, Du Ke theatrical performance art, Rom Vong folk dancing, Five-note folk music, and Ro Bam folk performances," says Son Thanh Liem, deputy director of the provincial Department of Culture, Sports, and Tourism.
"On the full-moon day of the 10th lunar month, we celebrate the Ngo Junk Race festival. Soc Trang has been recognized for having the largest number of Ngo junks and racers in Vietnam since 2005."
Any discussion of the Khmer culture should mention Du Ke theatrical art, a combination of singing, dancing, music, martial arts, and disguise. 
"Du Ke shows unity and cross-culture convergence of the Kinh, Khmer, and Hoa ethnic group. For many generations, Du Ke theatrical art has served both to entertain and to help people improve themselves and distinguish right from wrong and good from evil," says Luc Thanh Hiep, deputy head of the Khmer Art Troupe of Soc Trang province.
Rom Vong dance is deeply embedded in the spirit of the Khmer people. In addition to the traditional short dance scenes, innovative choreographers have begun to tell longer stories through dance.
"Rom Vong dance is a popular dance genre of the Khmer. We dance Rom Vong at pagoda ceremonies, community events, meetings, and the Chol Chnam Thmay New Year's celebration. The dance has been recognized as a national cultural heritage," says Trieu Thi Phuong of the Khmer Art Troupe.
Pagodas of the Khmer in Soc Trang and the surrounding region harmoniously integrate architecture, sculpture, and painting. There are 92 such pagodas in the province, among which Doi pagoda and Kh'Leang pagoda are national heritage sites.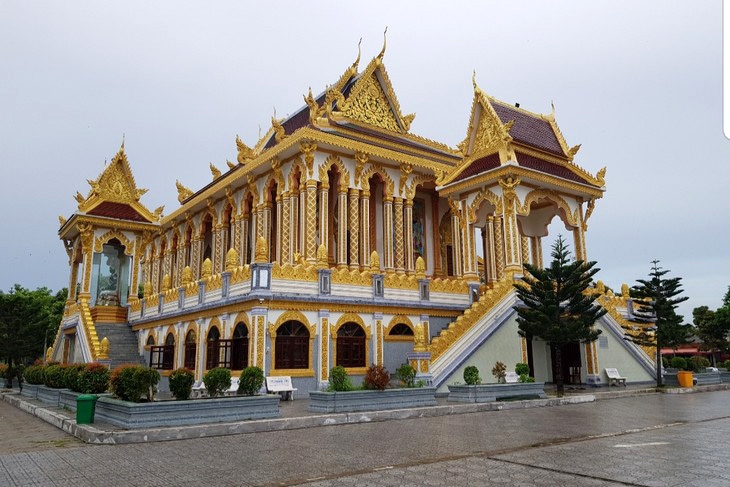 Tran Van Tha, deputy head of Soc Trang province's Buddhist Sangha and abbot of Ta Mon pagoda, explains, "Pagodas are places for followers to practice religion and organize festivals. The pagodas are Khmer religious centers and cultural venues. Pagodas have a very central position in Khmer life."
Khmer costumes are unique, sophisticated, and colorful. The Sompot Chong Kben skirt is worn by wrapping it around the waist, stretching it away from the body, and tying a knot. The knot is then pulled between the legs and held by a metal belt. 
Thach Thi Loan, who works at the Khmer Culture Exhibition Center, says, "Khmer costumes include casual clothing, clothes for work, and clothes for special occasions like festivals, weddings, and performances. The Sarong is a typical shirt which can be used to carry a baby or make a hammock. The Khmer often wear contrasting colors – for example, blue pants and a pink shirt. They prefer multicolor outfits to monotone."
Soc Trang has invested in revitalizing Du Ke and Ro Bam performances, organizing Kinh, Khmer, and Hoa costume festivals, upgrading the infrastructure for Ngo junk races and the traditional culture center in Ke Sach district. 
"We have worked with the Department of Culture, Sports, and Tourism to submit a Khmer culture preservation project to the provincial People's Committee. We intend to publish documents on the origin of Khmer festivals and costumes. The province has an exhibition center for Khmer cultural artifacts," says Ly Rotha, head of the provincial Committee for Ethnicity.