Making handicraft boats, new direction for boat building village in Dong Thap
Sunday, 11:11, 11/12/2022
VOV.VN - The 100-year-old Ba Dai boat building village in Long Hau commune in Dong Thap province was recognized as a national intangible cultural heritage in 2015 with dozens of local households seeking ways to preserve their traditional craft.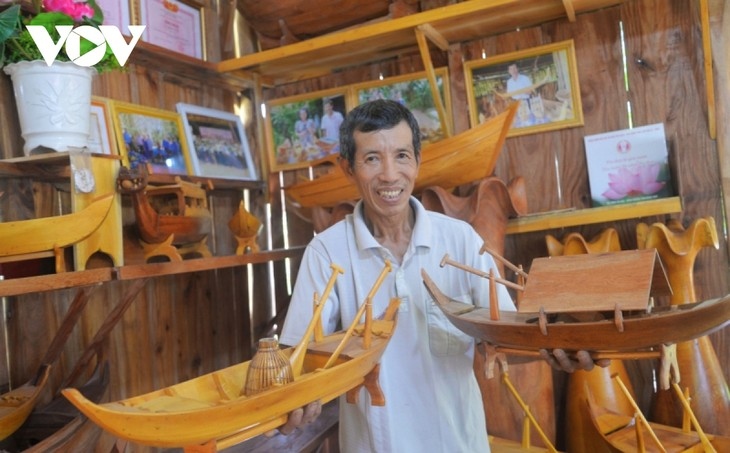 A few decades ago, when traffic remained difficult, the main means of transport for agricultural products were by waterway, Ba Dai boat building village in Long Hau commune was busy day and night. During the golden age, there were 220 households engaged in the craft, turning out tens of thousands of canoes and boats each year to meet the needs of people in Mekong Delta provinces and cities.
Today travel in the area has become more convenient; farm produce has been transported by car; wooden boats have been replaced by iron- or composite- hull ships.
Like other young people born and raised in Ba Dai canal, Nguyen Van Tot, known as Bay Tot, in Long Hung 2 hamlet in Lai Vung district, has been building boats since he was 15. The craft is not only his means of subsistence, but also his passion.
Aware of preserving the local cultural values, Tot couldn't help but think as the craft village faced numerous difficulties, gradually falling into oblivion. Many households could not survive. He himself had to stop working for a period of time.
Everything began to change when he built Xuong Cui, a type of small boat used to catch fish in canals, for his child to participate in a school creative competition, and won the first prize.
The product has since been much sought after. The mini eye-catching and authentic boats have become attractive in tourist areas and are also used to display agricultural products at conferences and trade promotion fairs.
They have been exported to Western countries and the US as they help many overseas Vietnamese feel less homesick. Tot said other villagers have followed his model.   
"I built this type of boat first for my child to take part in a competition. Then it was fate that I had an opportunity to work with tourism agencies. My products have been used for tourism, trade fairs, or to display flowers and fruits for promotions. First it is recognized as the provincial-level product and then fine art handicraft product of the traditional craft village. It has attracted foreign customers," Tot recalled.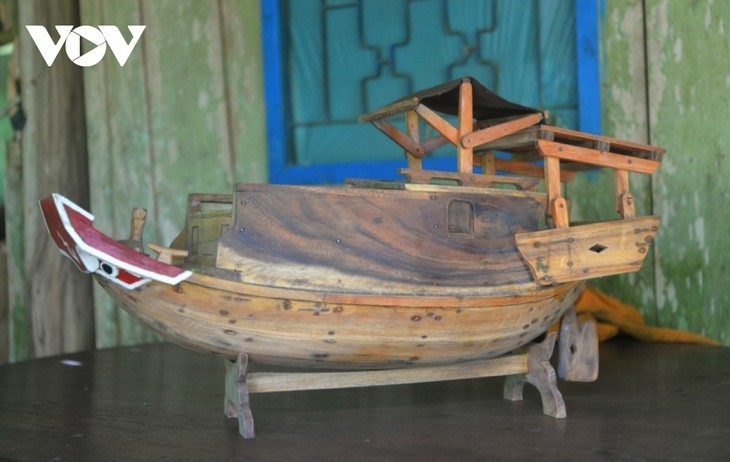 According to Tran Van Thanh, the cultural officer of Long Hau commune, there are only 20 households in Ba Dai village building boats, mainly to serve entertainment needs.
In the craft village development orientation, Long Hau commune has established a team to build miniature boats. This is a new product which is welcomed by the domestic and foreign markets.
Dong Thap province's Department of Culture, Sports and Tourism plans to promote the craft village's products at home and abroad and promulgated a preferential policy for artisans who have contributed to the development of the craft.
"We have developed a plan to maintain the craft village by changing to mainly handicraft boats," said Mr. Thanh.
"There are only several establishments in the village building boats because they already have customers in Ben Tre provinces and some other places with in advanced orders. The facilities do very little. It's not like in the past, almost all households were engaged in the craft and busy all day long, especially during the floating seasons," Thanh added. 
Ba Dai's miniature boats have become well known in the Mekong Delta localities and Ho Chi Minh City, as well as foreigners who order them as gifts. The products are sold at different prices, depending on the type, size, and quality of wood. Pioneering in small boats has helped Mr. Bay Tot stabilize a living and pursue a passion for the craft that he has been attached to for the past few decades.