Exploring folk dance of Kho Mu ethnic people in North Vietnam
Monday, 10:28, 21/03/2022
VOV.VN - Folk dances of the Kho Mu ethnic people in the northwestern region of Vietnam are closely associated with religious rituals, reflecting their strong will to conquer nature to develop the community.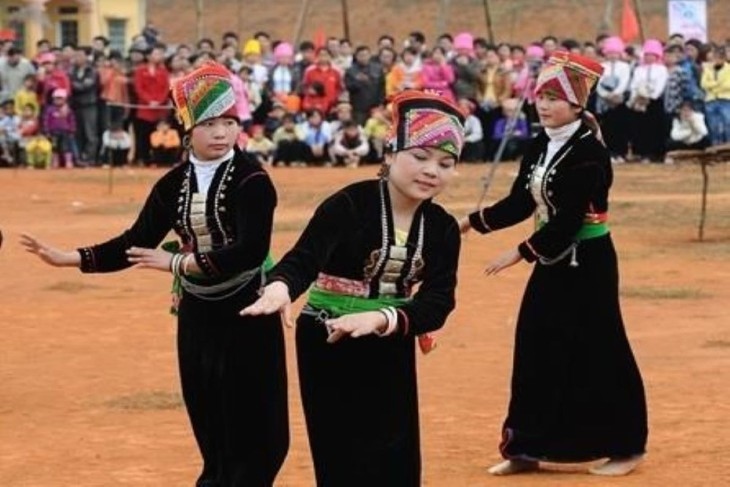 The Kho Mu is one of the oldest ethnic groups living together with 20 other ethnic minorities in the northern mountainous province of Lai Chau. With a small population and scattered living, the Kho Mu's cultural life is unique, which needs to be preserved and promoted.
Besides clothes, it's easy to differentiate the Kho Mu by their folk dance and singing. They dance to wish for good health, bumper crops, favorable weather, community relationships, and to harmonize themselves with nature.
Kho Mu folk dance movements are strong and graceful. When dancing, the whole body vibrates to show strong vitality. The dancers immerse themselves in the throbbing and sublimating sounds of the drums and gongs. 
Tham Phe hamlet of Than Uyen district has decided to form an art troupe of 14 members in an effort to preserve and restore Kho Mu culture.
"We meet twice a week to practice together," says Hoang Thi Thu, a local resident of Tham Phe hamlet. "Old people in the hamlet have taught folk dance, singing, and musical instrument to us and other children."
Like other ethnic groups, the Kho Mu have several musical instruments made of natural materials such as bamboo and rattan. Dao dao is a popular instrument made of rattan.  It has an average diameter of 3 to 4cm and a length of about 40-50cm. A dao dao has a body, a pipe wall, an air column, a partition, and two gaps on its body.
A dao dao looks very simple, but in order for it to sound good, the artisan should be skilled at choosing material, processing, and evaluating the sound.
The player holds the lower part of the dao dao with one hand and slams the upper part on the back of the other hand to make a sound.
The Kho Mu's folk dance is a combination of hand and body movements to the rhythm of dao dao. The dance is accompanied by gongs and drums. 
"Ancestors of the Kho Mu only had dao dao. A man played a dao dao to lure a girl. If she liked, she would meet him," recalls Hoang Van Tien, another local resident in Tham Phe hamlet.
Recognizing the values of traditional culture, the Kho Mu and the local authorities have paid special attention to preserving and promoting them.
Vu Van Hung, Head of the Culture and Information Office of Than Uyen district, says, "We help Tham Phe refurbish houses, relocate animal barns far from their houses, grow flowers in the hamlet, and train the art troupe. We aim to attract tourists."
A community-tourism model has contributed to preserving the traditional culture of the Kho Mu and made Tham Phe hamlet a fantastic tourist destination in Lai Chau province.