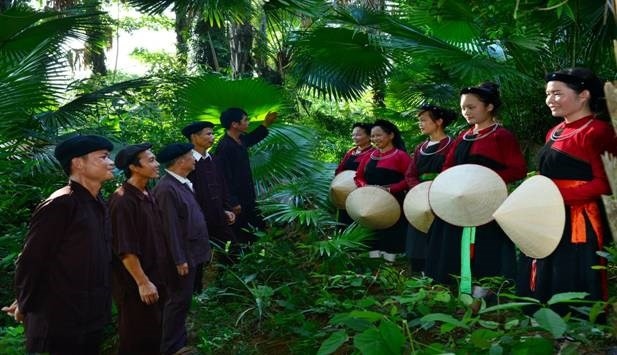 Sinh Ca is most popular among young Cao Lan people. In their singing, boys and girls ask about each other's life and express their feelings towards each other.
A Cao Lan boy often visits the house of the girl he likes to sing. Some even sing wherever they meet the girls they fancy on the street.
Artist Luc Van Binh, Deputy Chairman of Thanh Son commune, has a profound understanding of Sinh Ca as well as other cultural traditions of the Cao Lan.
"Sinh Ca song lyrics are similar among Cao Lan ethnic people living in Ba Che and in other areas. However, the way the singer demonstrates the song is different. Cao Lan people in Ba Che have kept the way their predecessors performed Sinh Ca intact," said Binh. 
Sinh Ca songs feature diverse topics, from personal stories, daily production, to natural phenomena. Each song often consists of 4 sentences which can be improvised in different contexts while keeping the original meaning, according to Binh.
"A song can be sung differently in different situations. For example, at a wedding, the lyrics of the song would be a man's offering a woman a glass of wine and if the woman agrees, they will become a couple. On the contrary, they will go different ways if the woman turns down the offering."
"In another context, a boy would sing to court a girl passing his door, comparing her to a beautiful bird and inviting the bird into his home to offer it either a glass of wine or water," he added. 
Sinh Ca songs are often performed without any musical instruments. However, the songs attract listeners with their melodious lyrics and the singers' passion and voice.
"There are enough Sinh Ca songs for us to sing continuously for 7 days and nights. When the women keep talking, the men can cleverly interrupt by humming a song. It's often easier for us to share our thoughts with other people through songs," Binh noted.
Sinh Ca songs are well preserved and passed down to the younger generations in Ba Che to keep Cao Lan ethnic people's valuable traditions alive.