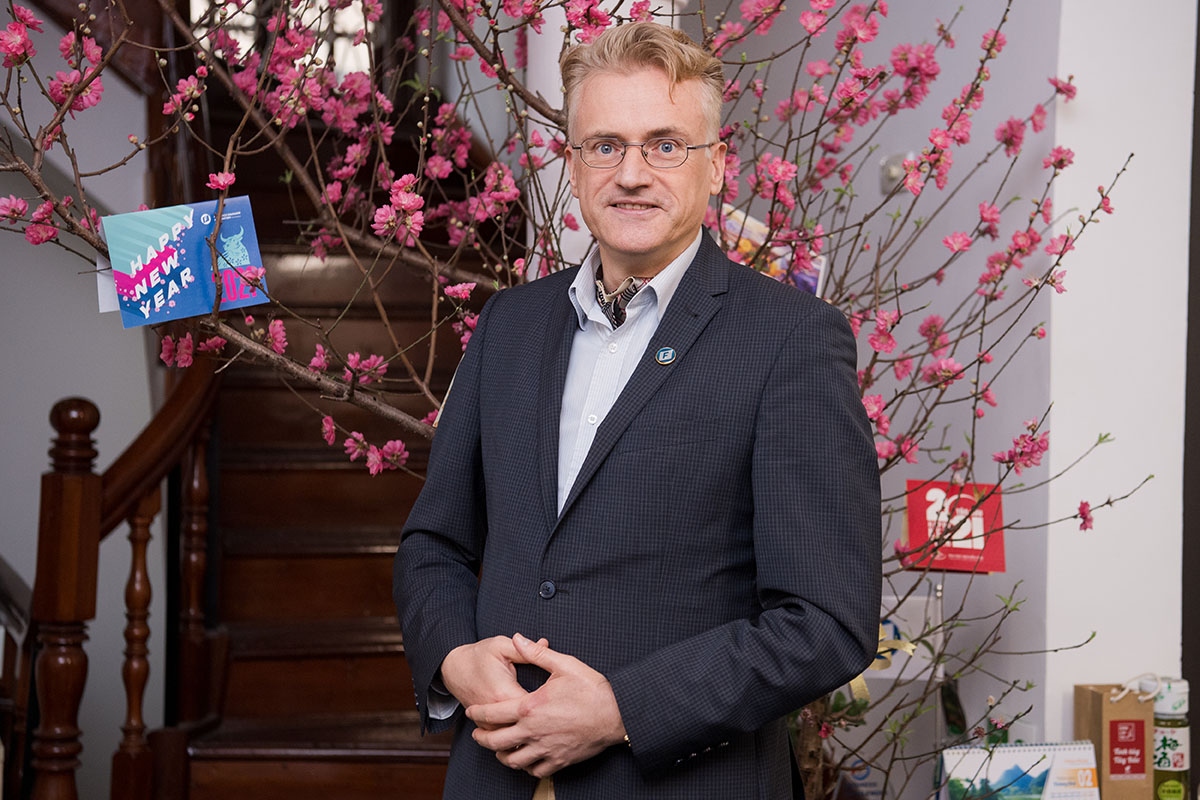 Let's find out about the German expert's feelings on Tet, as well as his assessment on Vietnamese development, in a recent interview granted to VOV.  
VOV: Vietnamese people are celebrating the traditional Lunar New Year festival. Have you ever stayed in Vietnam during the Tet holiday? And what do you know about it? 
Prof. Dr. Stoffers: Well, I had spent three Tet holidays in northern Vietnam during my first stay from 2009 to 2012. Most recently, my wife, a Vietnamese woman, and I decided to go to Mui Ne in Binh Thuan province in southern Vietnam as it is my wife's hometown for the Christmas holiday. This year we originally planned to spend the Tet holiday in the south, but due to travel restrictions, we had to cancel our plan and decided to stay here in Hanoi instead.  
This Tet is a special one because of the emergence of the SARS-CoV-2 virus that has forced many people to stay in Hanoi as opposed to travelling home as seen in previous years. I therefore expect Hanoi will not be as empty as it is normally during Tet because some people will remain here.
Vietnamese people will maintain their custom of visiting their relatives or friends during the holiday and I appreciate this practice. I really hope that many people can still travel and visit their loved one, whilst those who are unable to travel try to get in touch with their family via online apps, such as Zoom, in order to send kind regards and best wishes.  
VOV: What do you do during the Tet holiday in Vietnam? 
Prof. Dr. Stoffers: I like the atmosphere and the way people prepare for Tet, with the buildup starting last week, with some aspects even beginning several weeks ago. They prepare many things, from Banh Chung to peach trees, kumquat trees, and different kinds of fruit. For me, it is amazing to see people driving along bustling streets like Lac Long Quan or Au Co in order to buy festive trees.  
As you know due to the fresh COVID-19 outbreak, my wife and I will stay in Hanoi to enjoy a seven-day long Tet holiday. I can eat everything my wife prepares, from Banh Chung to fruit. I will sometimes go out to a restaurant or a coffee shop, or go out for a walk with my dog and relax. 
VOV: You seem to understand Vietnamese culture well. How do you get used to it? 
Prof. Dr. Stoffers: Actually, I have known about Vietnamese culture for more than 10 years. Before coming to Vietnam, I studied Southeast Asian history at university so I also acquired some knowledge about Vietnamese culture which I can say I am familiar with now.  
Moreover, I have learned Vietnamese at different levels so I can speak to my wife and my parents-in-law in their native language. I find the Vietnamese language very interesting to study and I will resume studying it after the Tet break.  
VOV: As far as I know you have been to Vietnam several times. Could you see any difference in the country now compared to several years ago?  
Prof. Dr. Stoffers: I came here one year and one month ago working as country director of Friedrich Naumann Foundation in Vietnam, but I first stayed here between 2009 and 2012 working for Deutsch Bank in Vietnam. 
As we all know, the country looks completely different from how it did 10 years ago, and I can feel the difference each year, sometimes from one month to another. Cities are becoming bigger and more modern, while transportation is developing quickly, but of course traffic jams still occur in big cities.  
What impresses me most is the considerable economic growth the nation has enjoyed over the past decade. Your country has achieved an annual economic growth rate of between 6% and 7%, with some provinces even seeing a double-digit growth rate. It is therefore safe to say Vietnam has enjoyed strong economic development in comparison to decades ago.  
Most notably, the Government did a very good job last year by not only keeping the COVID-19 pandemic in check but also trying to get the economy back on track. It is impressive that Vietnam enjoyed economic growth of 2.9% while most economies slipped into recession.  
VOV: Vietnam has set a target of becoming a developed nation by the middle of this century. What do you think Vietnam should do to meet this target? 
Prof. Dr. Stoffers: Well, among other things, I think the most important factor is education. If young people are well educated both at universities and vocational schools, then Vietnam will have the ability to develop more in the future.  
Secondly, the nation should do something to attract more Viet Kieu, Vietnamese expatriates, back to the country. What I have already observed is that during recent years more and more Viet Kieu have come back from the United States, Germany, France, Australia, and other places. They bring with them knowledge, new technology, and capital that the nation needs. Vietnam should therefore create an attractive environment so that Viet Kieu people can see their future here.  
Thirdly, Vietnam should continue along its path of economic liberalisation, which means free trade. The Government should try to support supply, not only demand. I have suggested that the Government try to perform in a way that the economy should not have so much debt. Vietnam's 58% debt ratio to GDP annually is not good, although it is better than most European nations. Indeed, the Government is able to do better.  
VOV: What would you like to say to Vietnamese people on the occasion of their traditional Lunar New Year festival this year? 
Prof. Dr. Stoffers: I wish Vietnamese people all the best for Tet, health, happiness, and success ahead in the new year, and all the best for people who are living, working, and studying here in Vietnam.