Fruit islands in Mekong Delta to explore
Wednesday, 10:47, 07/04/2021
A trip to the Mekong Delta is worth trying where tourists can emerge themselves in the nature and stay in fruit-laden orchards while enjoying the rustic countryside lifestyle.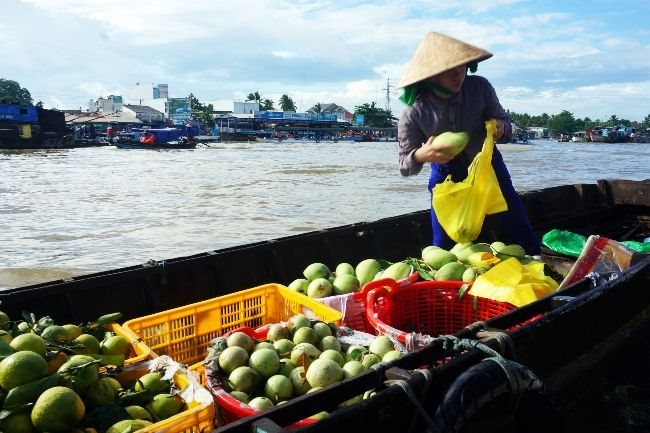 The trip offers tourists a chance to taste fresh tropical fruits, explore local life as well as the unique river culture and traditional craft villages and much more.
The following are three destinations in the Mekong Delta capable of providing satisfaction.
Can Tho's Phong Dien District
From the heart of Can Tho City, tourists follow National Route 1A leading to Soc Trang City. After passing Dau Sau and Cai Rang bridges, they turn right to reach Phong Dien District.
Among the tourist sites in Can Tho, Phong Dien is more well-known than its counterparts as the district is home to vast orchards. Moreover, its peacefulness also attracts many people.
The orchards in Phong Dien cover more than 6,000 hectares. Local farming households cultivate many kinds of fruit such as dau (Baccaurea), star apple, longan, durian, purple mangosteen, mango, jackfruit, papaya, to name but a few. The season of dau (Baccaurea) and bon bon (Lansium parasiticum) falls in March to June. Besides, summer is also the seasons of rambutan, mangosteen, durian and jackfruit.
An entrance ticket costs VND20,000-80,000 if they want to enter orchards and ecotourism sites.
An Binh Islet
An Binh Islet comprises An Binh, Hoa Ninh, Dong Phu and Binh Hoa communes in Long Ho District, Vinh Long Province. The islet on the Co Chien and Ham Luong rivers can be said to feature an "orchard culture."
An Binh Islet and Vinh Long City are separated by the Co Chien River. From the city, tourists can catch the An Binh ferry at Tien River Park to An Binh Islet. It takes them only 15 minutes to reach the location.
On the islet, tourists can visit  rambutan and longan orchards. Some of them are Chin Hoan and Chin Can rambutan orchards and Tam Ho longan orchard.
Also on the islet are Tien Chau Pagoda on the left bank of the Co Chien River and Cai Cuong ancient house which is a mixture of European and Asian architectures. Moreover, tourists can visit Phuoc Dinh Village which is famous for its old cherry apricot flower trees. Then, they can learn how to make local specialties or catch fishes by hand.
Visitors who want to stay overnight may use local people's homestay services. They may as well take part in the local lifestyle and enjoy delicacies such as deep fried tai tuong fish (Osphronemus goramy), fried spring roll, grilled snakehead fish, etc. 
Cai Mon: a fruit paradise
Cai Mon is an iconic village in the Mekong Delta. Being in Cho Lach District in Ben Tre Province, Cai Mon is dubbed as a land of fruits, seedlings and flowers. 
From Ben Tre City, tourists pass Ham Luong Bridge on National Route 60 and travel four kilometers more to reach Tan Thanh Binh-Mo Cay Bac intersection. Then, turn right to Provincial Road 882 which connects with National Route 57 and travel 10 kilometers further to get to Cai Mon fruit village.
Cai Mon's zigzag paths in the orchards please many tourists. Every year, the village provides a huge amount of fruits for markets in the south. Especially, durian grown there has a very special flavor.
Local flower gardens are also a highlight of Cai Mon. A wide range of flowers can be found there, including van tho (Tagetes erecta), cuc dai doa (Chrysanthemum grandiflorum), thuoc duoc (Dahlia Variablis Desh), cam chuong (Dianthus caryophyllus), cuc mam xoi (Chrysanthemum morifolium), etc.
Cai Moi Church built in 1872 is the oldest and biggest church in the delta.