Vietnam U19s held to goalless draw by hosts Indonesia
Sunday, 15:45, 03/07/2022
The Vietnam U19 national football team started their 2022 AFF U19 Championships with a goalless draw against the host Indonesia in Bekasi on July 2.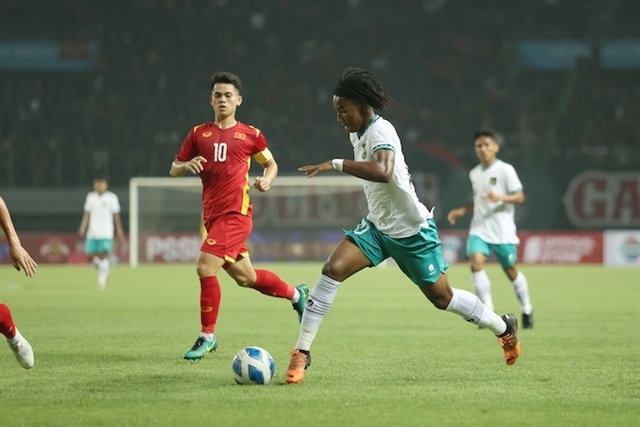 Most players of the Vietnam U19s are not used to playing in front of a large crowd. Their local U19s tournament only has around 40 spectators, compared to the 40,000 roaring Indonesians at the Patriot Candrabhaga Stadium.
Indonesia, in preparation for the 2023 FIFA U20 World Cup next summer when they will be the hosts, have their national team coach Shin Tae-yong take charge of the young U19 squad, which featured up-and-coming stars such as Ronaldo Kwateh.
Vietnam on the other hand, only have two players who played in last month's AFC U23 Asian Cup campaign: Khuat Van Khang and Nguyen Van Truong.
An overtly aggressive Indonesian side got going from the start, but Vietnam did not falter and had many dangerous counterattacks.
One of which turned into a golden opportunity in the final minute of the first half, when midfielder Nguyen Dinh Bac's shot unfortunately hit the bar. Mere moments later, Khuat Van Khang was through on goal but could not get his shot away and the first half ended goalless.
Coach Dũng and his players were better in the second half, with sharper counters that created chances. In the 55th minute, Nguyen Quoc Viet had only the keeper to beat, but Cahya Supriadi produced an excellent save. Ten minutes later, Van Truong's long range curling shot was dangerous but it only rattled the woodwork.
Indonesia had their fair bit of chances, obviously due to the amount of possession they had. The young Garudas' plays, however, were dull and predictable. Their attacks were headlined by Ronaldo Kwateh, but the striker was somewhat clumsy compared to his namesakes and squandered many chances.
The final ten minutes of the match, contradict to the first 80, was not exciting and both teams seemed to accept a draw.
With this result, both Vietnam and Indonesia are tied in third place, with Myanmar and Thailand in first and second respectively, after winning their opening matches earlier on July 2.
Coach Dung and his team will have lots of work to do before facing the Philippines on July 4. A draw with the hosts under such immense pressure, however, should be an acceptable result in a tough group.