Vietnam lose 0-1 to Japan in FIFA World Cup qualifier
Thursday, 23:05, 11/11/2021
VOV.VN - Junya Ito's only goal earned Japan three points in their World Cup qualifying clash with hosts Vietnam at Hanoi's My Dinh National Stadium on November 11 and sent the host team to the bottom of Group B after five losing matches.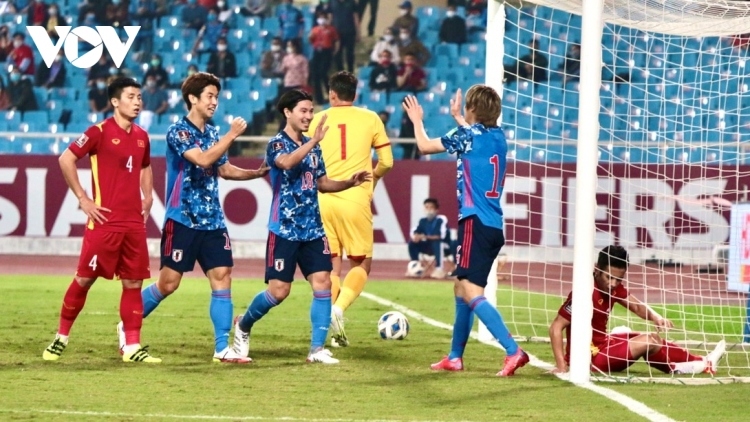 Japanese players deployed the pressing tactic in the middle of the field, making it difficult for their Vietnamese opponents to move the ball upward.
Entering the game, coach Park Hang-seo's players produced a pretty good performance, with Tuan Anh, Hoang Duc and Quang Hai trying to escape visitors' pressing tactic.
However, Japanese players with some playing in Europe flexed their muscle, making a difference in the 17th minute. Takumi Minamino ran past Nguyen Phong Hong Duy and threw a pass for Junya Ito who hammered home from a close range.
Tanaka should have scored another goal for Japan in the 40th minute, but the goal was refused by referee Hassan who consulted with VAR assistants and found the Japanese had been in offside position before kicking the ball.
None of the teams score a goal in the remaining time of the match.
This is Vietnam's fifth losing match in the third qualifying round of the 2022 FIFA World Cup. The defeat means Vietnam stayed at the bottom of Group B while Japan jumped to second place.
Addressing a press briefing after the match, Park admitted that Japan are a strong team and that he felt stressed that Vietnam had lost all five opening games.
"And now I understand how hard to earn a point in a match," said Park.
Meanwhile, Hajime Moriyasu was satisfied that his players had accomplished their goal of winning three points in Vietnam to raise their hope of entering the final round in Qatar. He also commended Vietnamese players for their good performance, saying they had played better than in the 2019 Asian Cup.
Park's players are scheduled to take on visiting Saudi Arabia opponents in Hanoi on November 16.