Tokyo 2020 Olympics: Fukushima leaders, residents support Vietnamese team
Thursday, 19:00, 22/07/2021
Fukushima always warmly welcomes and supports Vietnamese athletes, stated Kohata Hiroshi, Mayor of the city, which the host town of the Vietnamese delegation during the Tokyo 2020 Olympics.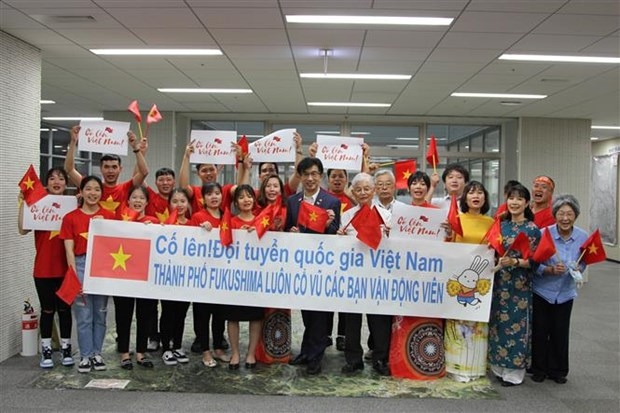 At a ceremony held by the locality to encourage the Vietnamese sport delegation, Hiroshi said that Fukushima chose to become the host town of Vietnam because he always feels "familiar" when thinking about Vietnam.

He highly valued the enthusiasm of Vietnamese people, especially those living in Fukushima. Along with close contacts between locals and the Vietnamese community, many Japanese firms based in Fukushima have had close relations with Vietnam, he noted.

Meanwhile, Yasuo Shiraiwa, Chairman of the Fukushima-Vietnam Friendship Association, showed a regret that he cannot directly support Vietnamese athletes at the stadium due to the Japanese government's COVID-19 prevention and control measures. He wished the Vietnamese team will show best performance.

Shiraiwa held that Fukushima's acting as the host town of the Vietnamese delegation is significant in boosting people-to-people exchange between the two sides. He said he believes that through sporting activities, the friendship between Vietnam and Japan as well as Fukushima in particular will be reinforced.

For his part, Bui Van Hoc, a representative from the Vietnamese Association in Fukushima, wished Vietnamese athletes good health for the highest performance during the sport event.

The ceremony drew a large number of local officials and residents who came to show support to Vietnam.
 
Located about 300km north east from Tokyo, Fukushima is the capital city of Fukushima prefecture. It has made careful preparations to receive the Vietnamese sport delegation coming to the city for training and exchanging on the threshold of the Olympic and Paralympic Games.