Quang Liem beats Indian prodigy Praggnanandhaa at FTX Crypto Cup
Saturday, 11:24, 20/08/2022
VOV.VN - Vietnamese GM Le Quang Liem defeated GM Rameshbabu Praggnanandhaa 2.5-0.5 to break the Indian prodigy's winning streak in the fifth round of the FTX Crypto Cup taking place in Miami on August 19.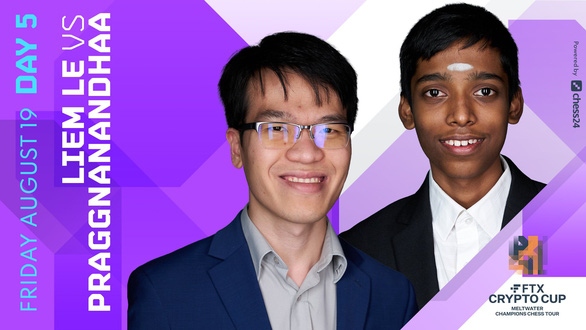 Vietnam's leading chess player took the white piece and held the Indian FM to a draw in the first game.
With break-through tactics, he won victory in the next two games, which helped him climb to fifth position with six points, and bag US$15,000.
Praggnanandhaa was the youngest international Grandmaster in history at the age of 10, and he was promoted to Grandmaster at the age of 12.
In February 2022, he became the youngest player in history to defeat Chess King Magnus Carlsen (Norway), at the age of 16 at Airthings Masters. In the first main stage in Oslo, the Indian prodigy also beat Quang Liem with a score of 2.5-0.5.
At present, Praggnanandhaa has finished second in the second main stage of the FTX Crypto Cup with 12 points, one point less than Chess King Carlsen.
The penultimate round of the tournament is expected to take place from 23:00 on August 20, Hanoi time, as Quang Liem meets Anish Giri.
The remaining matches include Alizera Firouzja - Magnus.Carlsen, Rameshbabu Praggnanandhaa - Jan-Krzyszt Duda and  Hans Niemann – Levon Aronian.