Quang Liem again overwhelmed by Magnus Carlsen at Generation Cup 2022
Monday, 12:32, 19/09/2022
VOV.VN - Vietnam's leading chess player Le Quang Liem was defeated by "World Chess King" Magnus Carlsen on the opening day of the Julius Baer Generation Cup 2022 on September 19.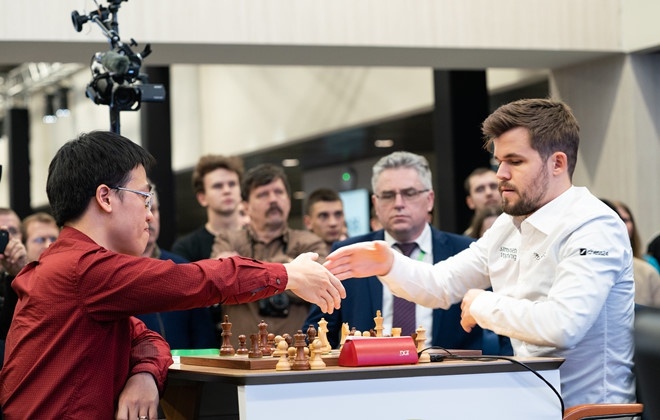 Liem went into the first match holding the white pawn but could not create any advantages over the Norwegian grandmaster and then conceded a defeat after 43 moves.
The three previous matches at the tournament saw Liem suffer a loss at the hands of Erigaisi Arjun of India before being held to two draws with Radoslaw Wojtaszek of Poland and Vincent Keymer of Germany.
He has earned a total of two points after four matches and now temporarily ranks in 14th place.
At present, "World Chess King" Magnus Carlsen tops the rankings with 10 points.
Liem will continue to face off against Adhiban Baskaran of India, Anish Giri of the Netherlands, David Navara of the Czech Republic, and Hans Niemann of the US in the second day of the tournament.
The top Vietnamese chess player caused a major shock as he defeated reigning Carlsen for the first time ever on the second day of the Oslo Esports Cup in Norway on April 24. He then suffered defeats to the Norwegian grandmaster in their subsequent clashes, with the latest recorded a month ago during the FTX Crypto Cup as part of the Champions Chess Tour 2022.