OneWay Marathon offers unique sports tourism experience
Thursday, 09:48, 08/12/2022
A new running event, OneWay Marathon – Step over Your Limit, was launched on December 6 on the beautiful island of Cat Ba, the northern port city of Hai Phong.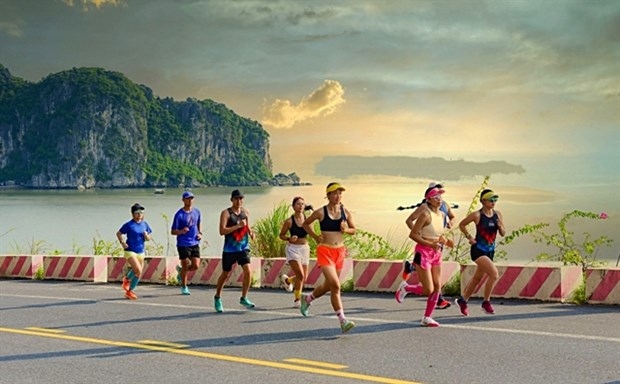 The island's first-ever running event on December 12 is expected to give runners a unique experience and precious bonuses at home.

"OneWay will be different from other marathons as competitors will run through the most beautiful routes on Cat Ba Island in the afternoon," said Bui Minh Tuan, head of the organising board, at a press briefing in Hanoi on December 6.

"We choose three routes of 5km, 10km and 21km based on the advice of the Vietnam Athletics Federation officials. All routes are designed to help Cat Ba show off its magnificent landscape and fresh air.

"Runners will enjoy splendid views of nature under the stunning sunset on the beach. However, they also face challenges when passing through the island's parks, forests, and hilly and downhill routes, especially the 21km track. It is a tourism sport event," he said.

Tuan said more than 3,000 professional and amateur runners have registered to participate in the marathon. He expects that many more people will join the race after the official launch.

Organisers will deliver 24 prizes to top runners in three categories.

Female winners will take home an electric motorbike from sponsors VinFast, and another will be given to the winner of the Lucky Draw at the OneWay Marathon Festival on December 12.

Part of the cash collected from the marathon will be given to Operation Smile, an international medical charity that has provided hundreds of thousands of free surgeries for children and young adults in developing countries who are born with cleft lip, cleft palate, or other facial deformities. Ten scholarships will be delivered to poor students of Cat Ba, while another part will support treatment for infertile couples across the country.

Taking part in the briefing, Nguyen Quang Vinh, deputy chairman of the Cat Hai district People's Committee, welcomed runners and their families and friends to Cat Ba.

"Cat Ba has been one of the must-visit destinations in Vietnam for both local and international tourists for years. We are an archipelago which is composed of more than 36 islands. We are one of the world's Biosphere Reserves and member of the Club of the Most Beautiful Bays of the World," Vinh said.

"Coming to Cat Ba, visitors will have a chance to enjoy the wonders of nature, the idyllic way of life, and the savoury seafood."

He added the local authority and organisers were working hard to complete the final touches for the tournament. Runners and tourists will be treated to the best hospitality and natural beauty on the islands.

The tournament is co-organised by the Doanh Nhan Tre (Young Businessmen) online magazine, Voice of Vietnam and the Vietnam Journalist Association.