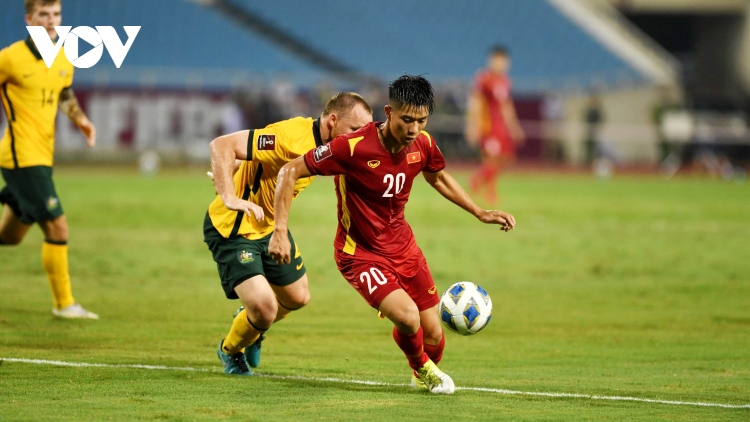 Coach Park Hang-seo had three changes in the starting lineup of Vietnam when he chose Van Lam, Tien Dung and Hong Duy from the beginning. Vietnamese players maintained their tactic of 'parking the bus' with the 5-4-1 formation giving priority to defense.
Park's tactic proved effective when his players resisted well pressure of their opponents. Even the hosts carved out their first scoring chance. On 7 minutes, Van Duc touched the ball smoothly for Quang Hai to face the Australian goal, but the 24-year-old midfielder sliced well wide from inside the box.
The hosts should have been rewarded a penalty on 28 minutes when Australian defender Rhyan Grant touched the ball with his hand inside the box. However, Referee Abdulrahman Ibrahim of Qatar refused the chance after consulting with video assistant referee.
Three minutes before the interval, Ajdin Hrustic delicately passed the ball to Rhyan Grant silently venturing down from the right. The Australian defender made no mistake in heading home out of goalkeeper Van Lam's reach, giving Australia the lead.
In the second half, the hosts pressured their opponents in an effort to seek an equalizer, however they tried in vain. In the last minute of extra time, substitute Duc Chinh missed an unfortunate scoring chance when he came down to face Ryan.
Losing the second match in a row, Vietnam continued to finish 5th in Group D, trailing China that were also overwhelmed 1-0 by Japan in another WC qualifier later the same day.
Vietnam will fly to the United Arab Emirates in an away match against China on October 7.