2022 AFF U23 Championship: Vietnam progress to semi-finals
Tuesday, 21:47, 22/02/2022
VOV.VN - Vietnam overwhelmed Thailand 1-0 in their second Group C match of the ongoing 2022 AFF U23 Championship in Phnom Penh (Cambodia) on February 22 evening, sending them to the semi-finals.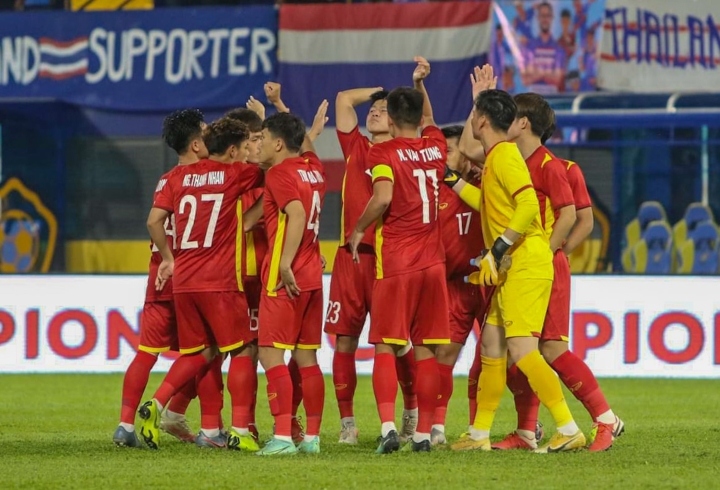 With nine players put in quarantine for medical surveillance following their SARS-CoV-2 infection, coach Dinh The Nam found it difficult to arrange the line-up for the game. But he later breathed a sigh of relief when four U23 players dispatched by the Vietnam Football Federation arrived on time from Vietnam.
As all players were not in good form, they were told to play slowly and at the same time promote their defence line, because just a draw could send them to the top of the group and to the semi-finals.
But Vietnamese player did more than that. After the first 20 minutes, they started to take control of the game and produce attacks. In the 28th minute, Nguyen Trung Thanh, from the free kick, hit a dangerous left-footed shot into the back of the net, putting Vietnam ahead.
The Thai players carved out several scoring chances to threaten Xuan Hoang's goal in the last minutes of the first half, but the Vietnamese goalkeeper played well to protect the net until the break.
After the interval, Thailand applied the pressing tactic in an attempt to find an equalizer but they did not pose any threat to goalkeeper Xuan Hoang.
With two winning matches, Vietnam stay atop Group C and take on Timor Leste in a semi-final, while Thailand will face Laos in the other semi-final.