World Cycling Day 2022 marked in Hue city
Saturday, 17:15, 17/09/2022
VOV.VN - The central province of Thua Thien Hue hosted the award ceremony of the 'Hue-City of Bicycles' competition on September 17 in response to World Cycling Day.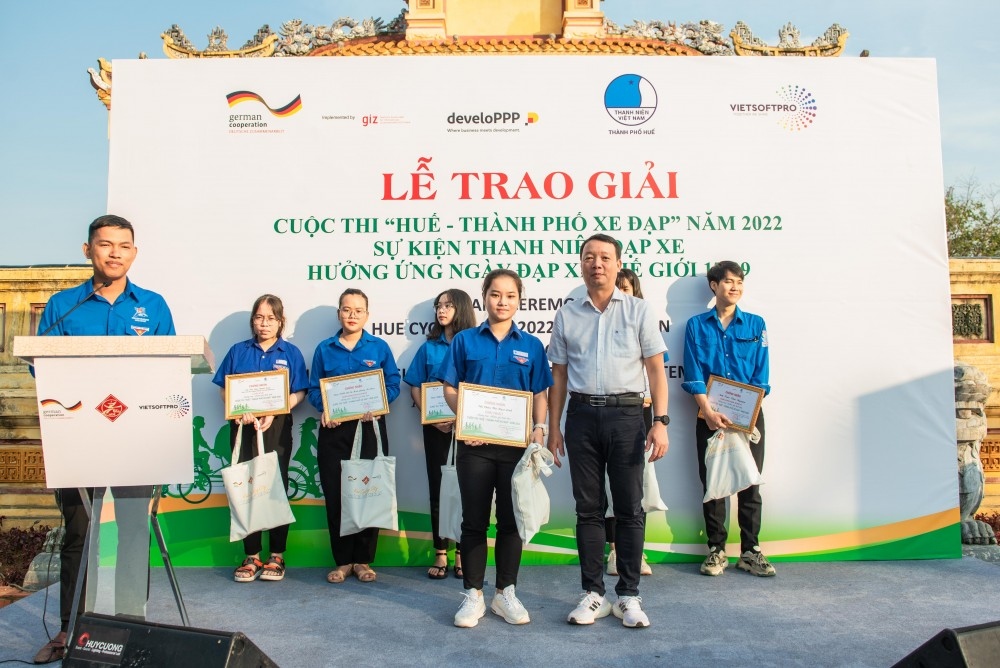 The event was jointly held by the Vietnam Youth Union of Hue in collaboration with the German Agency for International Cooperation (GIZ) and Vietsoftpro Joint Stock Company.
Following over a month since the launch of the "Hue - Bicycle City" contest, the event has successfully captured the attention of Hue's residents who love cycling, with the organisers selecting 11 of the best works out of a total of 25 entries for the award.
The first prize in public voting was given to Chau Thi Ngoc Linh with a video clip introducing various interesting destinations for cyclists in the ancient capital.
The first prize awarded through the judging panel went to authors Nguyen Sinh Vu and Duong Nhat Nam who came up with the idea of ​​​​"Planning bicycle routes and arranging separate bicycle lanes on traffic routes in Hue city".
The same day saw the Youth Cycling event held in response to World Cycling Day on September 17. More than 40 young people have since utilised the Public Sharing Bike system - Hue Smart Bike which has been deployed since June in order to boost cycling along the green roads of Hue.
The young generation will greatly contribute to spreading the bike-riding culture, promoting tourism development, and also helping to preserve and promote the various heritage values ​​of Hue, according to organisers.
With the ultimate goal of developing green transport for the central city, the Public Sharing Bike model in Hue will create favourable conditions in which both locals and tourists can participate in cycling and make use of bicycles as a means of public transport every day.
The use of bicycles combined with public transport is anticipated to create a more complete urban public transport network while simultaneously encouraging people to make use of public transport in order to reduce urban congestion, especially at peak hours.
The move will also help to significantly reduce greenhouse gas emissions and improve urban air quality, which is the trend of modern urban development moving towards green and sustainable urban development.