Workshop seeks to develop green workforce for energy transition in Vietnam
Wednesday, 12:29, 20/09/2023
VOV.VN - Policymakers, labour experts and scientists attended a workshop in Hanoi on September 20 to share experience in developing green workforce for energy transition in Vietnam.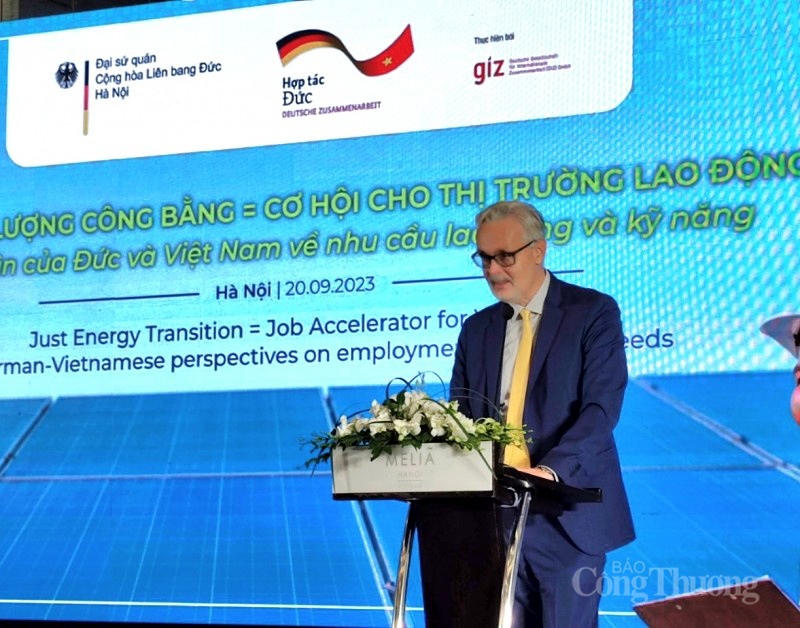 In his opening speech, German Ambassador to Vietnam Guido Hildner highly appreciated Vietnam's ambitious goals of delivering the carbon neutralization commitment by 2050 and joining the Just Energy Transition Partnership (JETP) alongside the group of seven most industrialised nations.
He recalled the first German project on renewable energy in Vietnam in 2009 and said both sides have since planned to implement a number of joint cooperation projects worth more than EUR1 billion.
Germany is a long-term and reliable partner for Vietnam, affirmed the diplomat.
He shared German experience in energy transition, saying this is a complex process but brings about great benefits to the economy and people.
Taking the floor, the Vice Chairman of the National Assembly's Science, Technology and Environment Committee, Ta Dinh Thi, said energy transition would create new opportunities to promote global economic growth in a more sustainable and equitable manner, and at the same time, minimize the negative impact of climate change and improve the quality of human life.
Vietnam has been working on a strategic framework and related policies in order to meet its net-zero commitment by 2050 delivered at the 26th UN Conference on Climate Change - COP26, said Thi.
However, to ensure a successful and effective energy transition, he stressed that seeking green employment opportunities in the labour market requires a roadmap for training and transferring high quality human resources in the field of green energy, to bring into full play existing human resources on the one hand, and promote science-technology advances and new labour skills related to energy transition on the other hand.
Meanwhile, in her speech, Deputy Minister of Labour, Invalids and Social Affairs Nguyen Thi Ha, said her ministry would introduce solutions aimed at promoting employment opportunities and developing skills closely linked to energy transition in Vietnam.
In order to create more employment opportunities, the ministry will perfect mechanisms and policies for developing industries and value chains related to energy transition, work out occupational standards associated with renewable energy industries, and improve the quality of human resource training in vocational education centres to meet human resource requirements for energy transition, Ha revealed.
Delegates shared global success stories and underlined the importance of nurturing the workforce, and formulating policies with a long-term vision to promote the development of new jobs related to energy transition.
They also specifically discussed other topics such as wind energy, solar energy, women's role in the energy sector, energy efficiency, and green transport. They confirmed the urgency of enhancing skills development and employment promotion measures to realize employment potential. They also stressed the need to pay attention to gender equality and promote women's role in the energy transition process.