VNPT – VinaPhone awarded first-class Labour Order
Friday, 18:47, 25/06/2021
The Vietnam Posts and Telecommunications Group (VNPT) -VinaPhone was awarded the Labour Order, first class, during a recemony held in Hanoi on June 25 marking the 25th anniversary of the first Vietnamese mobile phone service provider.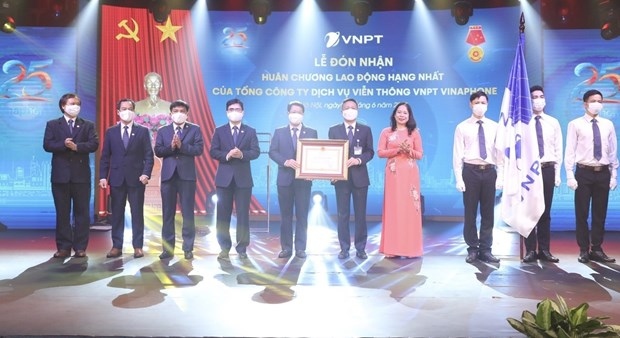 Speaking at the event, Chairman of the VNPT Member Council Pham Duc Long noted that the distinction offers VNPT-VinaPhone a driving force to further develop in the future amid digital transformation process.
Founded on June 26, 1996, VinaPhone became the first telecom service provider to cover all cities and provinces nationwide after three years. It recorded 1 million subscribers in 2002 and 12 million subscribers in 2008.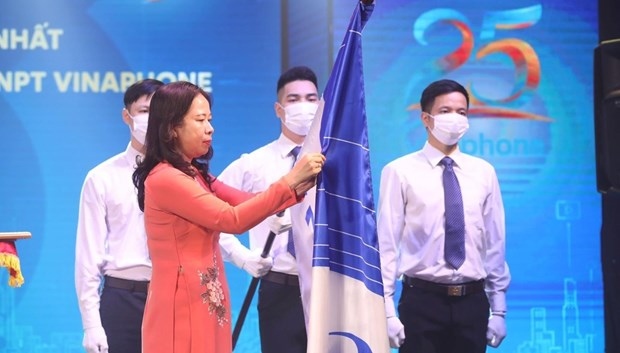 It now boasts an infrastructure capable of meeting national demand for defence-security, disater prevention and control, and nearly 30 million subscribers. Apart from the over 37,000 3G and more than 34,000 4G transmitting stations, it is one of the first units to successfully pilot the commercialisation of 5G technology in Hanoi and Ho Chi Minh City. Annually, internet traffic on mobile networks increases by about 70% on average.
Long stressed that the growth of VinaPhone and the trust of more than 30 million clients are a result of brainpower and efforts by generations of engineers and staff of the VNPT Net Corporation and VNPT-VinaPhone in the 63 cities and provinces across the country.
General Director of VNPT-VinaPhone Nguyen Truong Giang said this year, 10%-30% of its staff will move to the field of digital transformation to offer more convenient and modern services.