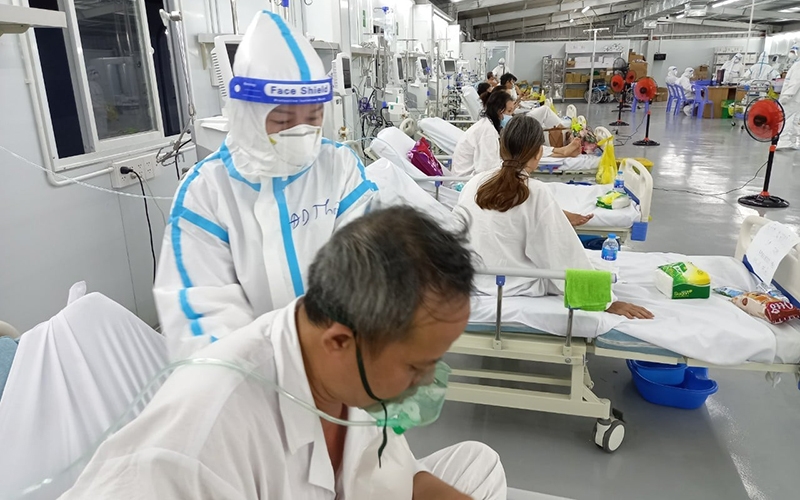 An ICU centre run by Vietnam-Germany Friendship Hospital has taken shape at field hospital No13 in Binh Chanh district of Ho Chi Minh City. It has so far received 98 severe COVID-19 patients since being put into operation several days ago.
"The number of severe patients in need of treatment is very large as we have received thousands of calls during the past few days," said Prof. Dr. Tran Binh Giang, director of Vietnam-Germany Friendship Hospital.
As many as 320 doctors, nurses, and orderlies have been dispatched to the ICU centre to participate in the important mission of treating critically-ill patients and minimising the death rate.
"As the COVID-19 disease evolves very quickly, all the doctors and nurses on duty have to race against time to save patients' lives," said Dr. Giang.
According to the health professional, 200 of the 500 beds available have been reserved for critically-ill patients on invasive and non-invasive mechanical ventilation. In addition, 200 beds are specifically for patients in need of oxygen support, whilst a further 100 beds are for patients whose symptoms turn mild after receiving treatment.
"With a modernly equipped centre put into operation and a contingent of doctors at work, hopefully we will cure many seriously ill patients and reduce the number of fatalities," stressed Dr. Giang.
The ICU centre in Binh Chanh district represents one of five such centres established in Ho Chi Minh City, the current epicentre of the nation's latest COVID-19 outbreak. Indeed, 12 such centres have been established nationwide to provide intensive care and treatment to severe and severely ill patients.
In the Mekong River Delta, a regional ICU centre located inside Can Tho General Hospital, is scheduled to be put into use on August 16 once construction is fully complete.
The centre, the largest of its kind in the Mekong Delta region, has been tasked with assisting Can Tho General Hospital in treating severe and severely-ill patients that have surged in numbers over recent days.
The 200-bed facility is fully equipped with a 20-tonne compressed oxygen system, modern medical devices such as ventilators and monitors, along with highly-trained human resources.
Currently, doctors are treating more than 600 several and critically-ill COVID-19 patients in ICUs, with many relying on ECMO, a life-support therapy.
Vietnam has confirmed over 5,700 COVID-19 deaths since the start of the initial outbreak in January, 2020. The majority of cases suffer from underlying health illnesses such as hypertension, diabetes (type II), and multi-organ failure.