Vietnam country of safety: Algerian Ambassador
Tuesday, 15:18, 24/01/2023
VOV.VN - Vietnamese people are very happy, whilst the world should recognise Vietnam as a very safe country, Algerian Ambassador to Vietnam Boubazine Abdelhamid said during a recent media interview given during the Lunar New Year, known locally as Tet.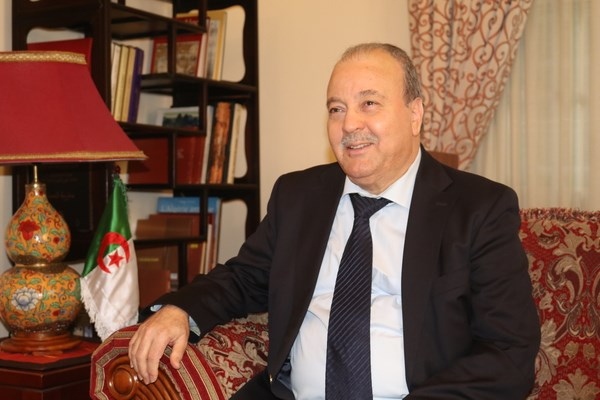 The nation has a peaceful and well-educated society that is without wide-spread acts of violence, in which local people are friendly, the Ambassador said, adding that Vietnam can be proud of itself due to its numerous achievements for local citizens.
He stressed that Vietnam is a country where human rights are respected, with this being shown through the nation's active engagement in UN peacekeeping activities. Congratulating Vietnam on its election to the UN Human Rights Council, Ambassador Abdelhamid expressed his confidence that the nation will be a good representative of the council and will strive to protect human rights without any discrimination.
"Vietnam and Algeria will work together at the UN Human Rights Council and we will defend our viewpoints for human rights - the rights to life," said the diplomat.
The Algerian Ambassador went on to express his admiration for progress and socio-economic achievements that the country has recorded since launching the "Doi Moi" (Renewal) cause in 1986. The long-term planning, wise choices, and proper policies implemented by Vietnamese leaders have helped the country to make great strides in terms of socio-economic development, he said.

From a nation enduring food shortages, the country has now ensured food supply for its people and has developed into a leading global exporter of rice and farm produce, he noted. In addition, the agriculture sector has recorded excellent attainments and the country's industry has also seen sustainable development, he said.

According to the diplomat, the nation is currently one of the most open economies in the world with the engagement in 70 bilateral and multilateral trade agreements. This year, Vietnam and Algeria will strive to strengthen trade co-operation. However, some agreements in terms of trade, maritime transport, and other areas need to be extended and renewed, thereby creating further motivation for the growth of the joint partnership.
The Algerian Ambassador noted that since the two countries first established diplomatic relations on October 28, 1962, bilateral ties have continuously been reinforced and developed. Both countries have therefore given each other political, moral, and material support during national building and safeguarding efforts in each country. Bilateral ties in economics, trade, science, and technology have also seen progress, he said.
Asserting that COVID-19 prevented delegation and trade exchanges to be held between the two nations, he went on to add that the organisation of the 12th meeting of the Vietnam-Algeria Joint Committee in Hanoi will create new momentum toward bilateral relations.
In terms of investments, the oil and gas exploration and exploitation project by PetroVietnam Exploration Production Corporation (PVEP) has become a symbol of the joint economic partnership.

Regarding the foundations of the traditional relationship, bilateral linkages in culture can be seen as a bright spot in ties between the two countries, thereby becoming a bridge connecting both sides, he said.
Ambassador Abdelhamid said that he arrived in Vietnam just ahead of the New Year, which is followed by the Vietnamese traditional Lunar New Year.
"Through this special time, I realize the close attachment of Vietnamese people to their traditional culture that has been developed over centuries. Tet is an occasion for Vietnamese people to show the strong bond with their family and the strong connections among generations, and more deeply, the remembering of their roots," he added.