Vietnam among top 10 countries with largest installed solar power capacity
Thursday, 18:05, 18/11/2021
VOV.VN - Visual Capitalist, one of the fastest growing publishers globally which focuses on producing content on energy, technology, and the global economy, has listed Vietnam among the world's top 10 for largest installed solar power capacity.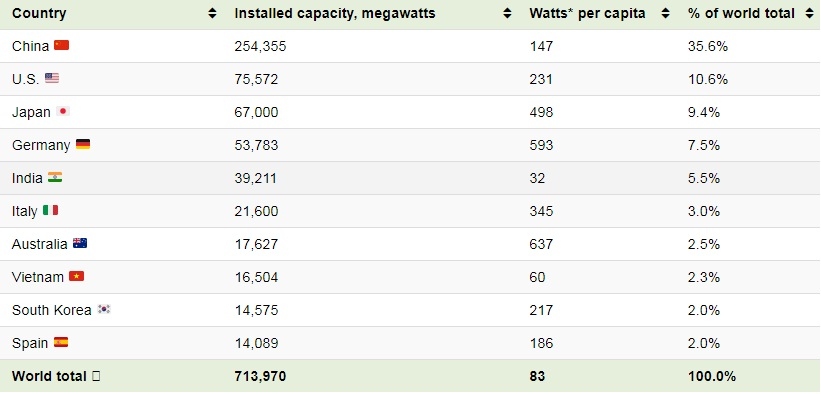 The website quoted data from the International Renewable Energy Agency (IRENA) which mapped the solar power capacity of each country during the year. This includes both solar photovoltaic (PV) and concentrated solar power capacity.
The results indicate that the country ranked in eighth place in the list, with the capacity of installed solar power nationwide reaching 16,504 MW, accounting for 2.3% of global capacity. Indeed, its solar power capacity reached 60 W per capita.
China remains as the undisputed leader in terms of solar installations, with 35.6% of global capacity, according to Visual Capitalist. The country has the world's largest wind and solar project in the pipeline, which could add a further 400,000MW to its overall clean energy capacity.
Following behind China is the United States, which reached 75,572 MW of solar power capacity, making up 10.6%.
The remaining countries among the top 10 include Japan with 9.4%, Germany with 7.5%, India with 5.5%, Australia with 2.5%, the Republic of Korea with 2%, and Spain with 2%.