Vice President visits Evangelical Church of Vietnam (South)
Sunday, 01:25, 20/12/2020
Vice President Dang Thi Ngoc Thinh visited and extended Christmas and New Year greetings to the Evangelical Church of Vietnam (South) and its President, Pastor Thai Phuoc Truong, in Ho Chi Minh City on December 19.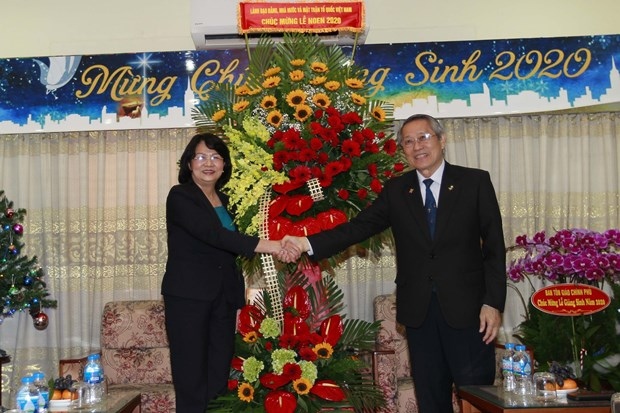 Offering the best wishes to pastors of the Evangelical Church of Vietnam (South), Thinh appreciated contributions by pastors, dignitaries, and followers of the Church to national development, and voiced her hope that Protestants will continue to lead a good secular and religious life and help with national construction.

She noted Protestants have complied with the Party's guidelines and the State's laws and greatly contributed to their localities in various aspects while many dignitaries have served as members of Vietnam Fatherland Front committees at all levels.

In particular, the Vice President added, in the face of recent disasters in the central and Central Highlands regions, the Church has carried out many practical and effective activities to assist residents there in addressing disaster consequences.

For his part, Pastor Truong highlighted Protestants' consistent trust in the Party and State and their active participation in local campaigns.

The followers have also striven to overcome difficulties and engage in voluntary activities to help the poor and support compatriots in the central and Central Highlands regions to weather the pandemic's impact and natural disasters' aftermath, he added.