President Ho Chi Minh remembered on 133rd birth anniversary abroad
Sunday, 14:28, 21/05/2023
Various activities were held in many places around the world to mark the 133rd birth anniversary of President Ho Chi Minh, who is hailed as a brilliant leader, a national liberation hero of Vietnam, a world cultural figure, an exemplary international communist soldier, and a close friend of peace-loving and socially progressive nations worldwide.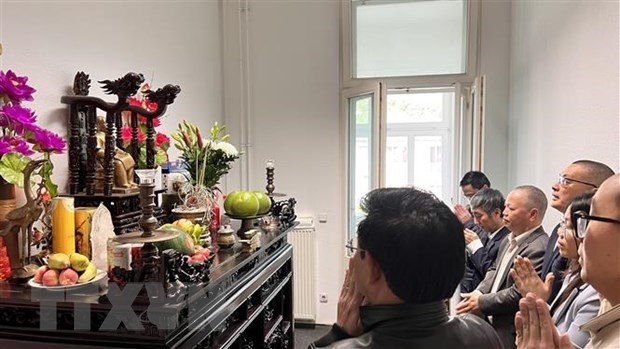 In Turin city of Italy on May 19, Vietnam's Honorary Consul Sandra Scagliotti, in collaboration with various associations, libraries, universities and publishers, organised a meeting on the theme "Vietnam and Ho Chi Minh in Italy."

In Milan city, the Italy-Vietnam Friendship Association in Lombardy also organised events on the occasion. 

A ceremony was also held at the Vietnamese Embassy in Rome on May 19 to celebrate the late leader's birthday.
         
The same day, an incense-offering ceremony took place at the Vietnamese Embassy in Germany to express their profound respect and boundless gratitude towards the beloved leader of the Vietnamese people.

Similar events were also held in Slovakia, Laos and Thailand.

On the occasion, the Vietnamese students in Hong Kong (China) visited Victoria prison, which is closely associated with the revolutionary activities of the late Vietnamese leader from January 1930 to January 1933.