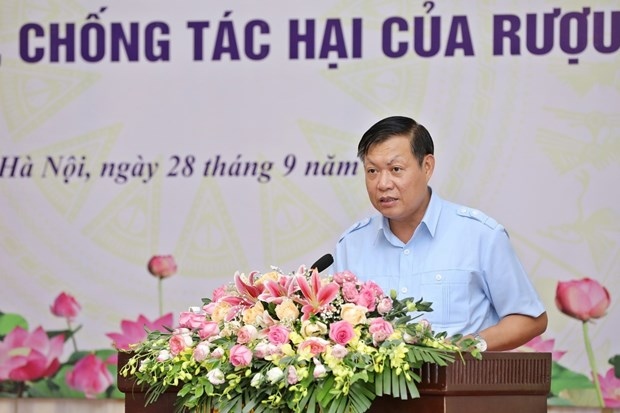 At the Ministry of Health's meeting on the enforcement of the law on alcohol harm prevention and control, he said Vietnam's health sector has obtained a number of achievements in caring for, protecting and improving people's health.

However, apart from coping with infectious diseases, the settlement of non-communicable diseases is always a challenge to the sector, Tuyen said, noting that alcohol use is one of the risk factors of non-communicable diseases.

According to the World Health Organisation (WHO), alcohol ranks fifth among the top 10 causes of death in the world and also a cause of many chronic diseases. Alcohol abuse also affects family and social relations and undermines the quality of human resources and population.

Tuyen pointed out that drinking alcohol is one of the three leading causes of traffic accidents among males aged between 15 and 49.  The cost of settling alcohol-related traffic accidents accounts for about 1% of GDP. Meanwhile, the cost of treating six cancers (breast cancer, colorectal cancer, liver cancer, mouth cancer, stomach cancer, cervical cancer) with alcohol among the main causes is also a burden on many families and the society.

Statistics indicate an upward trend in the average per capita alcohol consumption among people aged 15 and above, both male and female, in Vietnam. The rate of alcohol use among adolescents and the youth is about 80 percent for males and 36 percent for females.

Notably, more than 40 percent of males use alcohol at the hazardous level, which is drinking 60 grammes of alcohol and over at least once within 30 days.

The deputy minister said given considerable hazards of spirits and beer to public health and social issues, most of countries around the world have strictly controlled alcoholic beverages and discouraged consumption.

In Vietnam, the law on alcohol harm prevention and control took effect on January 1, 2020 with a view to preventing and minimising health, social and economic consequences resulted from alcohol abuse.
Calling for as strong engagement in the fight against alcohol harms as the COVID-19 combat, he suggested localities set up their own steering boards for alcohol harm prevention and control, assign concrete tasks to each sector and level of authority, build plans for law implementation, and ensure drastic actions that match local conditions.

Tuyen recommended anti-alcohol harm moves be included in work regulations of organisations and agencies by such as banning drinking spirits and beer before and during working hours and driving vehicles, stipulating agency leaders' responsibility if their staff commit violations, and including anti-alcohol harm tasks in resolutions of provincial-level People's Councils to enhance law enforcement.