More Vietnamese nurses and caregivers sent to work in Japan
Thursday, 17:49, 28/07/2022
VOV.VN - A ceremony was held on July 28 in Hanoi to send off 150 Vietnamese nurses and caregivers as they go to work in Japan under the terms of the Vietnam-Japan Economic Partnership Agreement (VJEPA).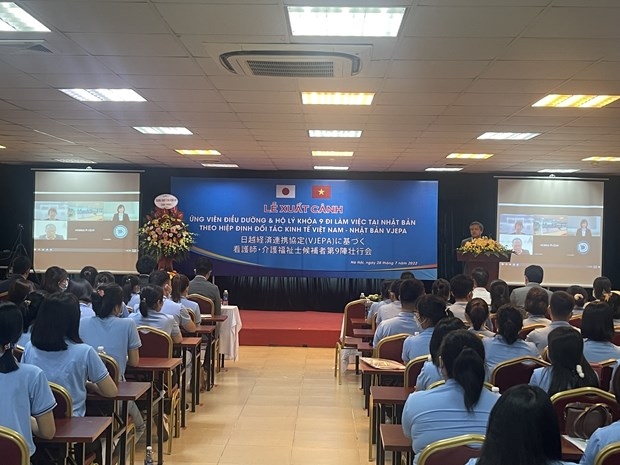 The event was held jointly by the Department of Overseas Labour, the Japanese Embassy in Vietnam, and Japanese Language School ARC Academy.
The Vietnamese candidates have successfully completed Japanese language courses and met all other requirements under the VJEPA programme.
Since 2012, the VJEPA scheme has launched a total of 10 training courses and has taken nearly 1,700 Vietnamese candidates to work at various Japanese hospitals and elderly care facilities.
Pham Viet Huong, deputy director of the Department of Overseas Labour, said Japan is currently enduring a serious shortage of human resources, especially in the medical field. She revealed the Department of Overseas Labor is now accepting applications for the selection of nurses and caregivers until the end of October 31.
Selected candidates include young people under the age of 35 who have graduated from college or those who hold a bachelor's degree in nursing and general nursing. The Japanese and Vietnamese governments will cover the costs of Japanese language learning for one year, accommodation, and living expenses during training courses.
While studying and working in Japan, the candidates will receive a salary of between VND27 - 30 million.
Candidates who wish to participate in the programme can apply directly at the Department of Overseas Labour, or alternatively they can send their applications via post to 41B Ly Thai To, Hoan Kiem district, Hanoi, or submit them at the website www.dolab.gov.vn.