Japan bank Aozora donates US$45,000 to Vietnam COVID-19 vaccine fund
Thursday, 16:05, 01/07/2021
VOV.VN - Japan's Aozora bank has decided to donate JPY5 million (US$45,000) to Vietnam's recently established fund in support of its ongoing fight against COVID-19.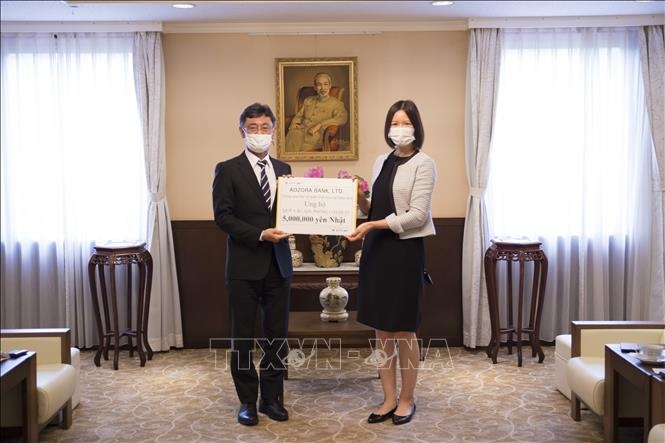 Addressing the handover ceremony in Tokyo on July 1, Aozora's managing executive officer Ito Takeshi highly appreciated the Vietnamese Government's COVID-19 vaccine fund, hoping the donation will help Vietnam timely secure enough COVID-19 vaccines for domestic use.
Aozora expects the latest outbreak in Vietnam will be kept in check and all socio-economic activities will soon return to normal, he said.
The bank executive also hailed the government's bold measures to halt the spread of the virus, resulting in a low infection rate compared to Japan.
Vietnamese Councellor Lam Thi Thanh Phuong thanked the bank's management for the gift, which she said would motivate the Vietnamese Government accelerate vaccination work and soon bring the COVID-19 pandemic under control.
Japan is a pioneer in helping Vietnam combat the COVID-19 pandemic. It donated nearly one million doses of the AstraZeneca COVID-19 vaccine to Vietnam in mid-June and the batch was later transferred to Ho Chi Minh City for its largest ever vaccination campaign.
The Japanese Government recently announced its decision to donate another one million doses of the AstraZeneca vaccine to Vietnam. The vaccine is due to arrive in Vietnam on July 1 and 8.
In addition, Japanese businesses operating in Vietnam also lent a helping hand to support the COVID-19 fight in the country.