Incense offering ceremony for Vietnamese martyrs held in Cambodia
Monday, 22:13, 21/12/2020
A delegation led by Vietnamese Ambassador to Cambodia Vu Quang Minh offered incense to fallen soldiers at the Vietnam - Cambodia Friendship Monument in Phnom Penh on December 21.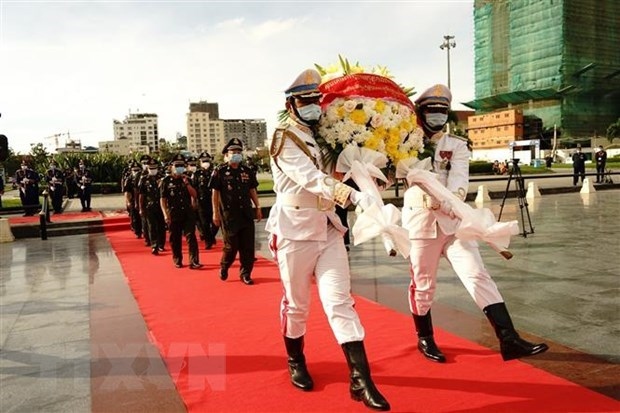 The event was part of activities to mark the 31st anniversary of Vietnam's All People's Defence Festival and the 76th anniversary of the Vietnam People's Army (December 22).

A delegation from the Royal Cambodian Army led by Defence Ministry Secretary of State Gen. El Van Sarat also attended.

They observed a minute's silence for Vietnamese voluntary soldiers who laid down their lives in Cambodia during the war.

Tens of thousands of Vietnamese voluntary soldiers and experts died while performing international duty in Cambodia during wartime, and the remains of many of them are still not found. The Governments of the two countries have coordinated to conduct search for and repatriate the remains for many years.

Over the last two decades, the An Giang provincial Military Command's Team K93 has collected and repatriated 1,956 remains of martyrs who were Vietnamese voluntary soldiers and experts in Cambodia, 251 of whom have been identified.

Earlier, on December 18 and 19, the Vietnamese Consulates General in Preah Sihanouk and Battambang provinces also organised incense offering ceremonies in memory of Vietnamese war heroes who sacrificed their lives in Cambodia.