HCM City to tighten social distancing measures as COVID-19 cases skyrocket
Wednesday, 19:58, 07/07/2021
VOV.VN - Ho Chi Minh City, the largest coronavirus hotspot in Vietnam, has decided to impose social distancing with stricter anti-coronavirus measures over two weeks, starting on July 9, as its daily count of infections continuously breaks the record.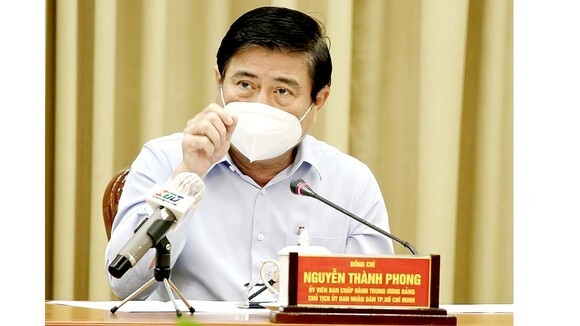 Addressing an urgent meeting on July 7, Nguyen Thanh Phong, chairman of the municipal administration, admitted that the city is going through "a real war" and it "must accept to sacrifice short-term benefits to prevent and control the fresh outbreak".
"The city will apply the Prime Minister's Directive 16 for a period of two weeks, starting from 00:00 on July 9," Phong announced the administration's decision, adding that stronger prevention measures will be implemented.
Under the directive, social distancing will be imposed on a locality if it runs a great risk of virus spreading in the community. All residents are required to stay indoors and are only allowed to go out for food or other necessities.
Gatherings of more than two persons are not allowed in public places or at schools, hospitals and State offices. All business services will be temporarily shut, except for shops that offer daily necessary items and prevention measures must be strictly implemented.
In addition, public transport services will also be suspended, except for special cases.
Phong said that the city has developed scenarios to deal with pandemic developments in all circumstances. He assured the residents that the city has stockpiled sufficient commodities for local consumption, and warned them not to gather in crowds for food hoarding.
"The residents should stay calm and believe in the city's pandemic prevention measures," he said.
He appealed for the residents' sympathy when the city applies social distancing measures on a large scale, and expected the fresh outbreak would be brought under control if such measures are fully and strictly observed.
HCM City has constantly changed its social distancing measures since May 31, but the number of daily confirmed infections has increased considerably, from some hundreds to close to 1,000 these days.
HCM City has currently recorded more than 8,000 cases following the resurgence of the virus in late April.