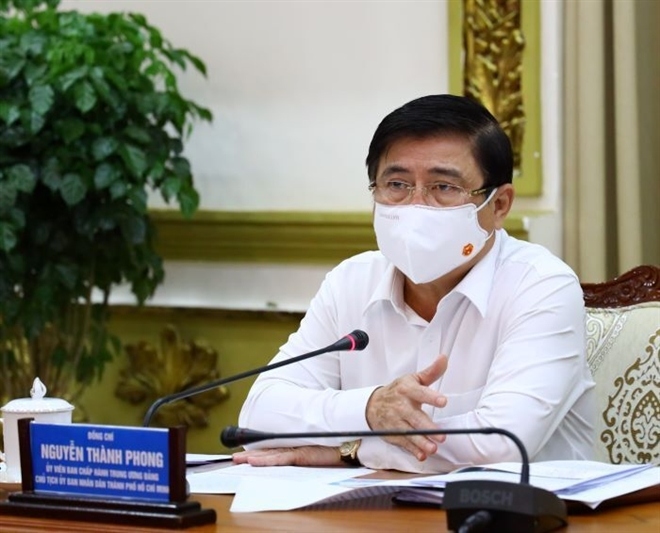 "We must be highly vigilant against a possible large outbreak of COVID-19 in the city," Phong told a meeting on May 10 of the municipal Steering Committee on COVID-19 Prevention and Control, referring to recent relapse cases which were detected after individuals left quarantine facilities.
He noted that HCM City typically hosts large numbers of people in concentrated quarantine facilities of various sizes, thereby making it easier for cross-transmission to occur in these areas. Furthermore, he added that these individuals could still pose a threat of carrying the virus and spreading it to the local community, even after completing a mandatory quarantine period and recording negative tests.
Another risk comes from hospitals which receive large numbers of patients and their relatives from across the country each day. In addition, the southern city is also at high risk from acts of illegal entry across borders via air, sea, and land routes, according to Phong.
Amid the current situation, measures to tackle the latest COVID-19 wave must be even more drastic and should involve a dramatic shift from being defensive to counterattacking, as recently emphasised by the Prime Minister, Phong noted.
He underlined the need to swiftly reestablish road traffic checkpoints whilst strictly observing relevant COVID-19 rules at Tan Son Nhat International Airport, as well as 60 seaports, hospitals, and industrial parks throughout the city.
Furthermore, a request has been made that the local health sector prepare all resources, including increasing testing capacity, as part of efforts to deal with the worst-case scenario.
He also insisted that local residents strictly follow the Ministry of Health's COVID-19 rules, including donning face masks, avoiding large gatherings, and keeping a safe distance when in public places.
Vietnam is experiencing its fourth wave of COVID-19, with more than 400 new cases confirmed across 26 cities and provinces nationwide since the virus recurred on April 28. HCM City itself has only recorded one case.